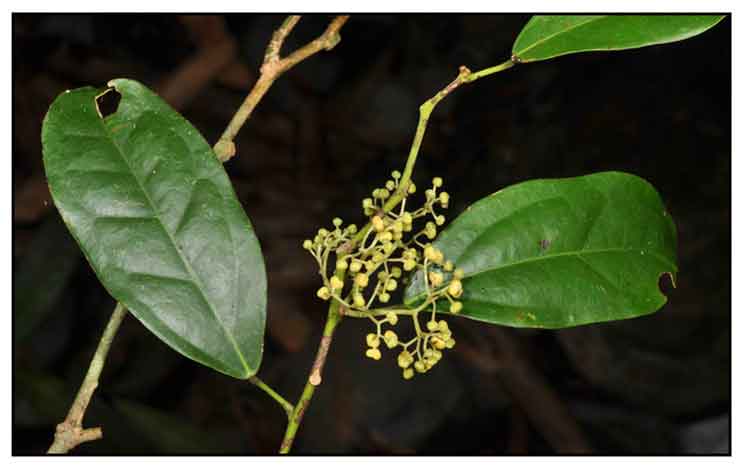 Botany
Ambal is a half-erect or climbing shrub growing to a height of one meter or more. Leaves are rather leathery, shining, elliptic-ovate to oblong-elliptic, 13 to 30 centimeters long, with a pointed tip. Flowers are crowded, small and yellowish. Fruit is ellipsoid-globose, 10 to 15 millimeters long.
Distribution
- Endemic in thickets and forests at low and medium altitudes in Nueva Ecija, Rizal, Quezon, Laguna, Batangas, and Sorsogon Provinces in Luzon; and in Alabat; Samar, Leyte; Negros; and Mindanao.
Constituents
- Yields six alkaloids: pycnarrhine, ambaline and ambalininine are non-phenolic; pycnaminde, pycnarrhinine, and pycnarrhenamine are phenolic.
- Chromatography of ethanolic extract yielded phaeanthine-2-α-N-axide (1) and pycmanilline (2), characterized as new bisbenzylisoquinoline alkaloids. Compound 1 was reduced to phaeanthine (3), while compoun 2, a secobisbenzylisoquinoline alkaloid was prepared via oxidation of phaeanthine. (1)
- A dichlormethane methane extract of air-dried leaves yielded stigmast-4-en-3,6-dione (1) and stigmast-4-3n-3-one (2). (see study below) (3)

Properties
- Root is tonic, cicatrizant, vulnerary, febrifuge and emmenagogue.
- Also considered abortifacient.

Parts used
Roots and stems.

Uses
Folkloric
- Warm infusion applied on skin ulcers.
- Powdered roots used to treat cholera and other intestinal diseases.
- Powdered roots taken internally as a tonic.
- Infusion used by pregnant women in parturition.
- Warm infusion used as vaginal wash after childbirth.
- For wound healing: used as cicatrizant and vulnerary.
- Used for fever and to stimulate menstruation.
- Used for snakebites and wounds; also, as tonic.
Studies
• Bisbenzylisoquinoline Alkaloids: An ethanolic extract of pycrarrhena manillensis yielded bisbenzylisoquinoline alkaloids, phaeanthine-2'α-N-axide and pycmanilline. (see constituents above) (1)
• Antimicrobial Activity / Sterols / Leaves: A dichlormethane methane extract of air-dried leaves yielded stigmast-4-en-3,6-dione (1) and stigmast-4-3n-3-one (2). Both compounds exhibited moderate antifungal activity against C. albicans and low antibacterial activity against E. coli and P. aeruginosa. Compound 2 showed slight activity against S. aureus. (3)

Availability
Wild-crafted.