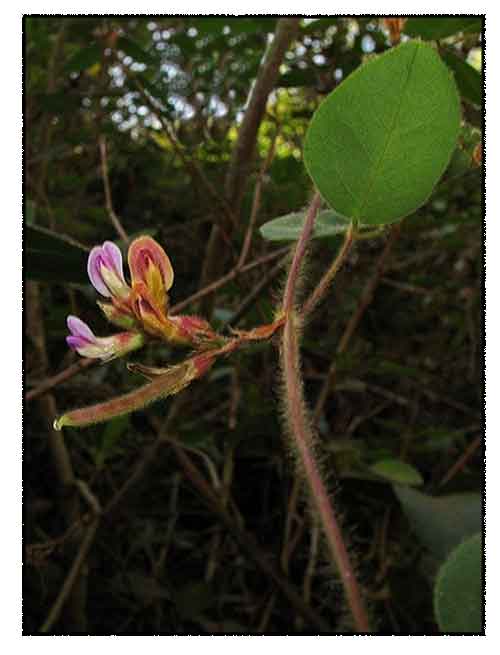 Botany
Shuteria involucrata is a herb, 1-3 m. Stems twining, slender, densely pubescent or glabrous. Leaves pinnately 3-foliolate; stipules ovate-lan­ceolate, persistent; petiole 2.5-7.5 cm; stipels linear; leaflets broadly ovate, ovate, or suborbicular, 1.5-6.5 × 1.1-5.5 cm, membranous to thinly papery, base rounded, apex rounded, slightly concave, with small mucro. Raceme axillary, axis 9-15 cm, lower 2 or 3 nodes with reduced, sessile, circular or reni­form leaflets; peduncle 1-2.5 cm. Flowers ca. 10 mm; bracts and bracteoles lanceolate, persistent. Calyx tubular, 4-lobed; lobes lanceolate, shorter than tube. Corolla red, purple, or light purple; standard elliptic-obovate, apex slightly obtuse, slightly emarginate; wings oblong, subequal to keels. Ovary sessile. Legume linear, compressed, 3-5 × 0.2-0.6 cm, apex beaked, dehiscent or indehiscent. Seeds 5 or 6, brown, lustrous. (Flora of China)
Distribution
- Native to the Philippines.  (2)
- In Benguet, Mountain Province, in open slopes and in thickets associated with pine forests, at altitudes of 600-2500 meters.
- Native to Assam, Cambodia, China, Himalaya, India, Myanmar, Nepal, Pakistan, Thailand, Vietnam.   (1)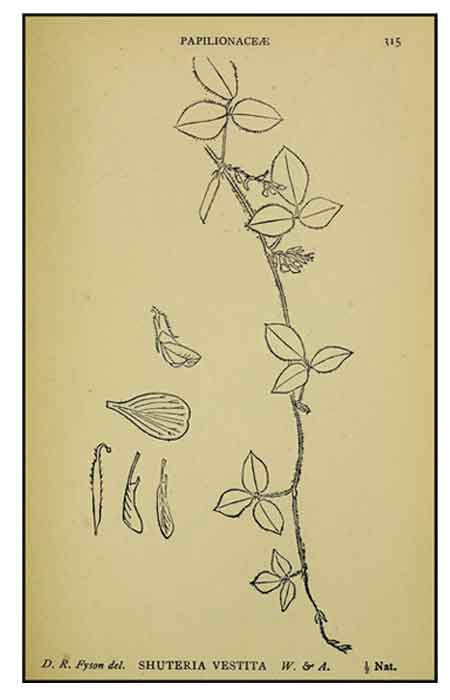 Constituents
- Phytochemical screening of various extracts of dry plant material yielded alkaloids, carbohydrates, flavonoids, glycosides, phenolic compounds, proteins, saponin, steroids, tannin, and terpenoids. All were present in the ethanol extract; methanol, less carbohydrates; water, less phenolic compounds and steroids. (see study below) (4)
- Study of various extracts of whole plant parts yielded alkaloids, carbohydrates, carotenoids, coumarin, essential oil, flavonoids, glycosides, gum & mucilage, lipids & fat, phenols, proteins, quinines, resin, saponin, starch, tannin, terpenoids, vitamin C, and phytosterols in varying concentrations. (5)
-Study isolated two pairs of flavanone enantiomers, (±)-involucrasins A (1) and B (2), rare representatives of 5-dehydroxy/5-demethoxy-2',3',4'-trisubstituted flavanones. (see study below) (7)
- Study of ethanol extract of S. involucrata leaves yielded alkaloids, carbohydrates, coumerin, flavonoids, glycosides, lipids and fat, phenols, proteins, quinines, resin, saponin, starch, steroids, tannin, terpenoids, and vitamin C & ascorbic acid. GC-MS analysis identified 24 different compounds: major compounds were methyl phenyl(2-piperidinyl)acetate, 3-cyclohexene-1- methanol,alpha,alpha,4-trimethyl-acetate, coumarin, eugenol, 9H-Pyrido[3,4-b]indole, 1-methyl, Di-n-octyl phthalate, 9,12,15- Octadecatrienoic acid, (Z,Z,Z), behenic alcohol, 4,4'-((p-Phenylene)diisopropylidene)diphenol and stigmast-5-en-3-ol. (see study below) (8)
- Study of ethanol extract of whole plant of Shuteria sinensis isolated two new chalcones, 2',3,4,4'-tetrahydroxy-2-prenylchalcone (1) and 3-methoxy-2',4,4'-trihydroxy-2-prenylchalcone (2), together with two known compounds, munsericin (3) and 3,4-dihydroxylonchocarpin (4). (see study below) (10)
Properties
- Studies have suggest antimicrobial, anti-inflammatory, glucose-modulating, antioxidant, anticancer, antiproliferative properties.

Parts used
Leaves, aerial parts.

Uses
Edibility
- No reported fo
Folkloric
- No reported folkloric medicinal use in the Philippines.
- Used for treatment of asthma.
- In India, leaves used for treatment of boils.
Others
- Tying: In the Philippines, stems used for stringing fish and tying.

Studies
• Antimicrobial: Study evaluated various extracts of dry plant material for antimicrobial activity by disc diffusion method against six pathogens. Of the six, S. aureus, P. aeruginosa, and C. albicans showed susceptibility to the extract. Ethanol, methanol, and water extract exhibited good activity against gram positive and gram negative bacteria and fungus. Of the six, S. aureus, P. aeruginosa, and C. albicans showed more susceptibility to the extract. (see constituents above) (4)
• Anti-Inflammatory / Involucrasin C: Study isolated (±)-Involucrasin C (1), a pair of new 2,3-dihydro-1H-indene enantiomers, along with an enantiomeric analog (2). Both 1 and 2 significantly inhibited the secretion of pro-infammatory cytokines IL-6, TNF-α, and IL-ß, suggesting the two natural 2,3-dihydro-1H-indene derivatives may be active components of S. involucrata and may block inflammation in the initial stage. (6)
• Involucrasins A and B / Antiproliferative Against Cancer Cell Lines: Study isolated two pairs of flavanone enantiomers, (±)-involucrasins A (1) and B (2), rare representatives of 5-dehydroxy/5-demethoxy-2',3',4'-trisubstituted flavanones. Involucrasin B (2) exhibited anti-proliferative activity against Caco-2, MCF-7, MDA-MB-468, and HCT116 cell lines with IC50s in range of 7.9-22.7 µM. Involucrasin A (1) exhibited weak inhibitory activity against Caco-2 and MCF-7 cells lines with IC50s of 25.8 and 26.5 µM, respectively. (7)
• Antioxidant / Leaves: Study of ethanol extract of S. involucrata leaves yielded alkaloids, carbohydrates, coumerin, flavonoids, glycosides, lipids and fat, phenols, proteins, quinines, resin, saponin, starch, steroids, tannin, terpenoids, and vitamin C & ascorbic acid. GC-MS analysis identified 24 different compounds. By DPPH assay, the ethanolic extract exhibited highest inhibitory effect of radicals with IC50 of 59.92 µM. (see constituents above) (8)
• Renifolin F / Effect on Ovalbumin-Induced Asthma: Study evaluated renifolin F, a prenylated chalcone isolated from S. involucrata for effect on an in vivo mouse model of allergic asthma using ovalbumin (OVA) as inducer. Renifolin F attenuated airway hyper-reactivity and airway inflammation in the OVA-induced asthmatic model by inhibiting the regulation of ILC2s in the lung, thereby, reducing the upstream inflammatory cytokines IL-25, IL-33, and TSLP; the downstream inflammatory cytokines IL-4, IL-5, IL-9m and IL-13 of ILC2s; and co-stimulatory factors IL-2 and IL-7, and expression of microRNA-155 in the lung. Results suggest therapeutic potential of Renofolin F on OVA-induced airway inflammation. (9)
• Glucose Metabolism Activity / Chalcones: Study of ethanol extract of whole plant of Shuteria sinensis isolated two new chalcones, 2',3,4,4'-tetrahydroxy-2-prenylchalcone (1) and 3-methoxy-2',4,4'-trihydroxy-2-prenylchalcone (2), together with two known compounds, munsericin (3) and 3,4-dihydroxylonchocarpin (4). Glucose metabolism activity was tested, and compounds 3 and 4 showed effect on glucose consumption of insulin-resistant HepG2 cells. (10)
Availability
Wild-crafted.