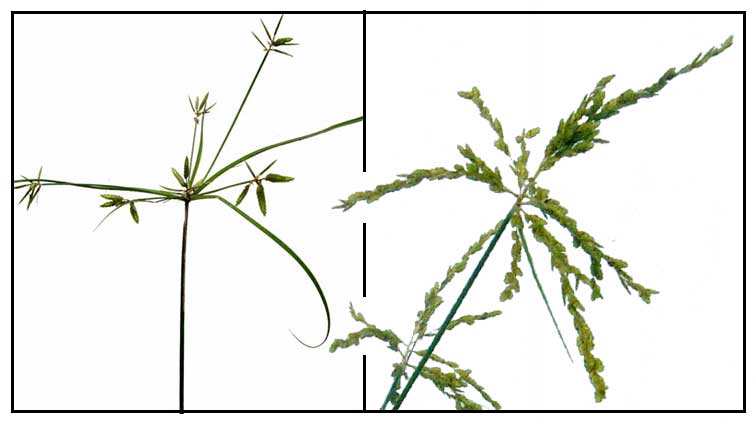 Botany
Alinang is a tufted, glabrous annual herb, occasionally perennial, growing to a height of 10 to 70 centimeters. Roots are fibrous, 15 to 75. Stems are sharply 3-angled, tufted, smooth, 5 to 80 centimeters high. Leaves are short and long, 2 to 5 millimeters wide; sheath, reddish or purplish brown, enveloping the stem at the base. Umbels are 3 to 30 centimeters in diameter, the rays long and short, few to many. Spikes are loosely spicate. Spikelets are numerous, yellow or brown, 3 to 10 millimeters long. Glumes are 6 to 20, obovate, hardly imbricate, about 1.2 millimeters long, 3- to 5-angled, oblong ovoid.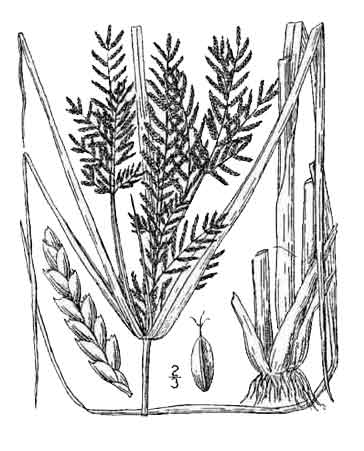 Distribution
- A very common paddy weed in open, wet places.
- Also found in China, Japan and Korea. In South East Asia: Bangladesh, Cambodia, India, Indonesia, Laos, Malaysia, Myanmar, Nepal, Pakistan, Sri Lanka, Thailand and Vietnam. Also in Australia, Fiji, Swaziland, and West Africa. (3)
Properties
- Tonic, stimulant, stomachic and astringent.
- Study has shown larvicidal, mosquitocidal property.

Parts utilized
Tubers, leaves.

Uses
Folkloric
- Decoction of ground tubers used for fevers.
- Among the Mundas of Chota Nagpur, tuber is ground together with Cyperus rotundus and taken for fever.
- In India, plant is considered tonic, stimulant, stomachic and astringent.
Studies
• Larvicidal / Mosquito Control: Study of leaves of six Cyperus species of varying ages were tested on the larvae of yellow fever mosquito. Only Cyperus iria was found to have significant levels of JH III (juvenile hormone III) and suggests a potential for a safe, inexpensive and readily available mosquito larvicidal for the yellow fever mosquito Aedes aegypti. (1)
• Antioxidant: Study of wetland medicinal plants for antioxidant capacities in the TEAC assay ranged from 7.53 µM to 1753.41 µM Trolox/mg water extract and 5.69 µM to 2074.35 µM Trolox/mg for methanol extracts. C. iria water extract showed 762.94 ±33.80 µM Trolox/mg while the methanol extract showed 769.41 ±53.57 µM Trolox/mg. Study also reports on reducing capacity value, DPPH assay, and total polyphenol contents. (6)

Availability
Wild-crafted.