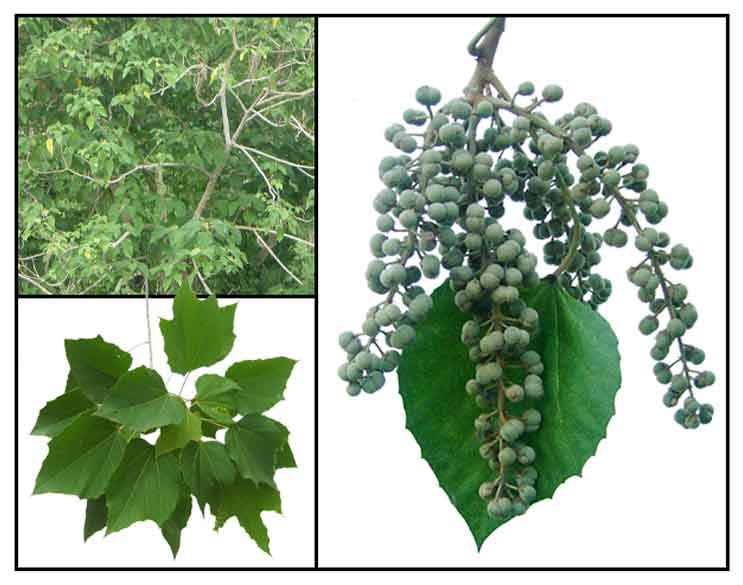 Gen info
- Melanolepis multiglandulosa is a plant species of the family Euphorbiaceae, first described in 1826.
Botany
- Alim is a shrub or small tree, 4 to 10 meters high, with stellate hairs giving a velvety appearance. Leaves are large, orbicular-ovate, 10 to 25 centimeters long, very broad, with a heart-shaped base, pointed at the tip, and often deeply three- to five-lobed, with coarsely toothed margins. Flowers are greenish yellow. Fruit is a capsule, about millimeters each way, smooth and consisting of 2 or 3 parts.
Distribution
- Native to the Philippines.
- Common in thickets and secondary forests at low and medium altitudes throughout the Philippines.
- Also native to Bismarck Archipelago, Borneo, Cambodia, Caroline Is., Jawa, Lesser Sunda Is., Malaya, Maluku, Marianas, Nansei-shoto, New Guinea, Solomon Is., Sulawesi, Sumatera, Taiwan, Thailand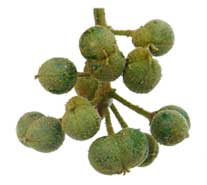 Constituents
- Study of roots yielded the known triterpenoids friedelin (6), alpha-amyrin-acetate (7), oleanic acid (8), olean-12-en-3-beta,28-diol (9), as well as campesterol (1a), stigmasterol (1b), beta-sitosterol (1c), 5-alpha-stigmastan-3,6-dione (2), stigmast-4-en-3-one (3a), stigmast-4,22-dien-3-one (3b), 6-beta-hydroxystigmast-4-en-3-one (4), campesterol-3-O-beta-D-glucoside (5a), stigmasterol-3-O-beta-D-glucoside (5b), beta-sitsterol-3-O-beta-D-glucoside (5c) and sucrose (10). (7)
- Roots have yielded triterpenes viz. friedelin, α-amyrin-acetate, oleanic acid, olean-12-en-3'-beta',28-diol, as well as steroids including campesterol, stigmasterol, ß-sitosterol, campesterol-3-O-beta-D-glucoside, stigmasterol-3-O-beta-D-glucoside, beta--sitosterol-3-O-beta-D-glucoside, 5-alpha-stigmastan-3,6-dione, stigmast-4-en-3-one, stigmast-4,22-dien-3-one and 6-beta-hydroxystigmast-4-en-3-one.
- Methanolic extract of roots yielded friedelin, oleanolic acid, olean-12-en-3β,28-diol, β-amyrin acetate, 6β- hydroxystigmast-4-en-3-one, stigmast-4-en-3-one & stigmast- 4,22-dien-3-one, 5α-stigmast-3,6-dione, phytosterols (campesterol, 11.44%; stigmasterol, 52.00﹪; β-sitosterol, 36.56%), phytosterol-3-O-β-D-glucosides (campesterol-3-O-β-D-glucoside , 14.91%; stigmasterol-3-O-β-D-glucoside, 47.54%; β-sitosterol- 3-O-β-D-glucoside,37.55% ) and D-sucrose. (10)
- Dichloromethane extracts yielded taraxeryl fatty acid esters (1), squalene (2), (E)-3-alkenoic acids (3), ß-carotene (4), a mixture of ß-sitosterol (5a) and stigmasterol (5b), long-chain fatty alcohols (6), and long-chain hydrocarbons (7) from leaves; and 7,triacylglycerols (8) and long-chain saturated fatty acid esters (9) from the twigs. (11)
- Phytochemical screening of leaves yielded alkaloids, saponins, tannins, terpenoids, steroid, and flavonoids. (see study below) (14)
Properties
- Sudorific, vermifuge, antiviral.
- Studies have suggested antiviral, antioxidant, antihyperglycemic properties.
Parts utilized
Bark, leaves, flowers.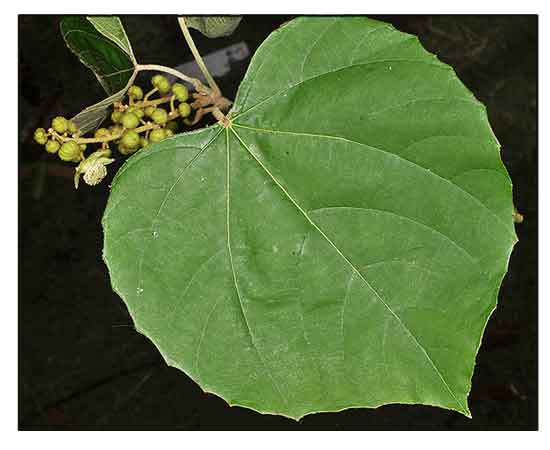 Uses
Edibility
- In Sumatra, leaves mixed with tape (fermented flour from cereals) to sweeten the taste.
Folkloric
- In the Philippines, bark leaves, and flowers, fresh or slightly heated, applied to the skin as sudorific for chest pains and fever. For pain, leaves are applied on painful body part and left over-night. (14)
- Bark scraped from the stem and wrapped around fractured bone. For asthma, piece of bark is stripped off the stem and tied around the neck like a necklace and left for 3 days. (14)
- Leaves applied to the forehead to relieve headaches. (16)
- Bark used for sore throat by the Subanens in Dumingag, Zamboanga del Sur. (8)
- In Peninsular Malaysia and Indonesia, leaves, sometimes in a mixture with ginger, used as a poultice against different kinds of scurf.
- In Peninsular Malaysia and Sumatra, decoction of leaves used as vermifuge.
- In Sulawesi, decoction of leaves used for cough; in Sabah, bark decoction used for the same.
- Decoction of leaves used as vermifuge.
- Bark used for chest pains; leaves or flowers on the wrist for fever.
- In Papua, New Guinea, one of the plants used to treat centipede and snake bites. Bark is chewed, juice swallowed or rubbed on affected area. (3) Glue-like sap applied to new cuts to stop bleeding. Bark used against lice. (9) Infusion of crushed dried leaves in cold water drunk to treat constipation, chest affections and tuberculosis.
- In Taiwan, roots used as anti-infection, diuretic, and insecticide. (4)
- In Cameroon, stem extract used for treatment of hepatitis. (15)
- In the Northern Mariana Islands, decoction of tips of young leaves used as urinary tract cleanser. (17)
Others
- Dyeing: Ashes of old leaves used as additive to Bixa orellana in dyeing.
- Wood: Wood makes good firewood.
- Food wrapping: Leaves used to wrap cooked foods.
Studies
• Anti-Viral / Hepatitis C Virus / Stem: Study evaluated the ethanol extracts of 21 samples from 17 species of medicinal plants for anti-HCV activities using Huh7.5 cells and HCV strains of 9 different genotypes. Results showed four of 21 samples including M. multiglandulosa stems showed antiviral activities against HCV genotypes. MM stem showed dose-dependent anti-HCV activity with IC50 17.1 µg/ml. (6)
• Methyl Esters / Biodiesel / Seed Oil: Study reports on the preparation of methyl esters (biodiesel) from the seed oil of Melanolepis multiglandulosa under standard conditions. The methyl esters generally meet the biodiesel standards. (12)
• Antioxidant / Antihyperglycemic / Leaves: Study evaluated Melanolepis multiglandulosa leaf extract for antioxidant and antihyperglycemic activity using alpha-amylase assay. Using DPPH assay, a 100% leaf extract showed highest antioxidant potency, with ascorbic acid as control. The extract showed antihyperglycemic activity with inhibition of alpha-amylase, exhibiting highest percentage of inhibition with leaf extract concentration of 1%, with the antidiabetic drug Acarbose as control. (see constituents above) (13)

Availability
Wild-crafted.