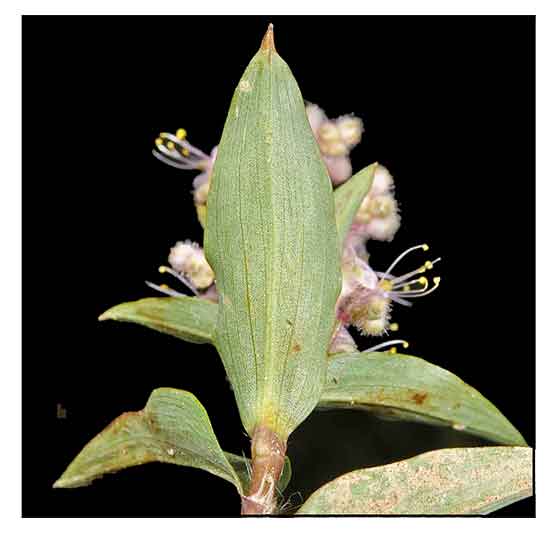 Gen info
- Floscopa is a genus of plants in the family Commelinaceae, which was first described in 1790. It comprises about 20 species.
- The specific epithet scandens dervives from Latin scandere meaning 'climbing'.
Botany
Alibañgon is a small trailing perennial herb, velvety throughout with multicellular hairs. Stems are stout, erect and creeping below, 20 to 70 centimeters long. Leaves are lanceolate, 3 to 9 centimeters long, 1 to 2 centimeters wide, sessile or petioled. Panicles are short-stalked, pyramidal with long, erect or ascending, many-flowered branches. Flowers are small and subglobose. Sepals are villous and the petals are white, lilac or rosy. Capsules are 2 to 3 millimeters long, orbicular or ellipsoid and compressed. Seeds are glaucous.
A small trailing subscandent herb, stems 20--70 cm, simple, prostrate proximally. Plants glandular pubescent throughout with multicellular hairs, or hairy only on leaf sheaths and inflorescences, sometimes sheaths hairy only on 1 side. Leaves usually sessile or with short, winged petiole; leaf blade elliptic to lanceolate, 4--12 × 1--3 cm, adaxially with scaly processes. Inflorescences several, terminal and axillary, each a broomlike panicle to 8 × 4 cm, densely glandular with long hairs; peduncle nearly absent; pedicels very short. Sepals shallowly boat-shaped. Petals blue or purple. Fertile stamens 6; filaments glabrous. Capsule ovoid, compressed, ca. 2 × 2 mm. Seeds gray-blue, semiellipsoid, ca. 1.5 mm, shallowly radiate striate. (Flora of China)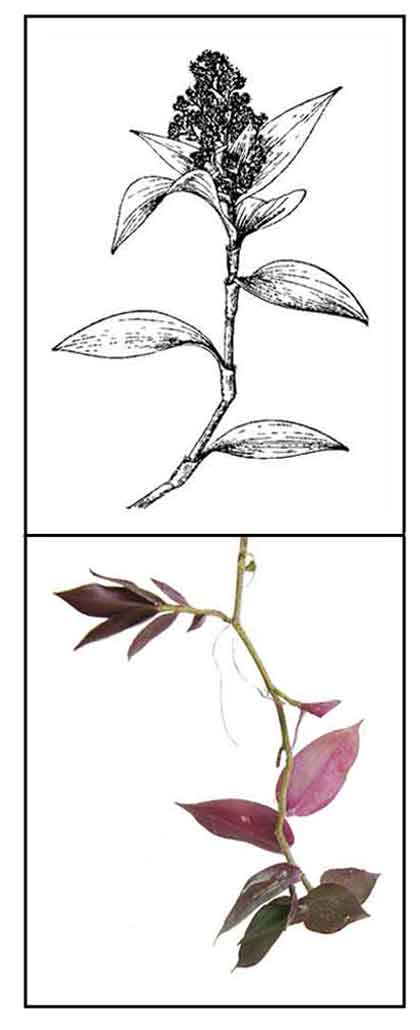 Distribution
- Native to the Philippines.
- In wet places along streams at low and medium altitudes, in most or all islands and provinces.
- Also native to Andaman Is., Assam, Bangladesh, Cambodia, China, Hainan, Himalaya, India, Jawa, Laos, Malaya, Myanmar, Nepal, Nicobar Isl, Queensland, Sri Lanka, Taiwan, Thailand, Tibet, Vietnam. (5)
- Along watersides, in swampy, sunny or shaded localities, up to 1500 m altitude.
Constituents
- A methanol extract showed high amounts of phenols (198.41 mg catechol equivalent CE/g extract and flavonoids (101.70 mg quercetin equivalent/g extract, which was higher than hexane and ethyl acetate extracts. (see study below)
Properties
- Studies have showed antituberculin, antioxidant, anti-inflammatory properties.
Parts utilized
Leaves, stem juice, whole plant.
Uses
Edibility
- In New Guinea, leaves and young shoots cultivated as supplementary food.
Folkloric
- Plant is used for broken bones.
- In Bangladesh, leaf paste used for poisonous stings; juice squeezed on sore eyes. Plant also used as application for fractured bones. (3)
- Plant used for fever, pyoderma, abscesses and acute nephritis.
- In Peniinsular Malaysia, juice squeezed on eyes to treat sore eyes and ophthalmia. Decoction of whole plants used internally after childbirth.
- In India, leaf or stem juice used on sore eyes. (4)
- In Uttar Pradesh, India, three drops of stem juice applied to eyes three times daily for conjunctivitis. (6)
- In China, used as febrifuge; also for abscesses, pyodermas, and nephritis.
Others
- Decorative: Suitable as aquarium plant.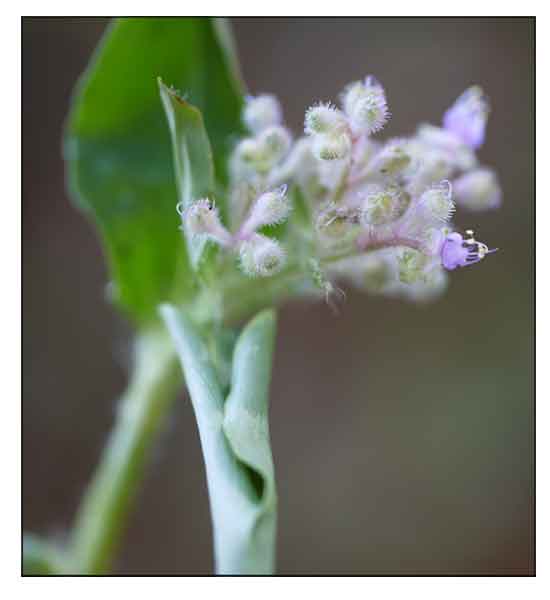 Studies
• Component in Anti-Tuberculin Medicine / Invention: Invention discloses the use of a traditional Chinese composition in preparation of an anti-tuberculin medicine: 18 parts of hairy vein agrimony roots, 15 parts frog orchid tub4r, 20 parts common aeschymomene leaf flower, 12 parts Litsea glutinosa, and 20 parts of Floscopa scandens. The traditional Chinese medicine has remarkable anti-tuberculin activity. (7)
• Traditional Chinese Medicine for Treatment of Pulmonary Edema / Invention: Invention discloses a traditional Chinese medicine for the treatment of pulmonary edema comprised of parts of cordate houttuynia, dandelion, Caulis lonicerae, semen lepidii, red fleshy cayratia stems and leaves, with 20-40 parts of Floscopa scandens. The traditional Chinese medicine claims to have significant curative effect on pulmonary edema from early to middle stage. (8)
• Antioxidant / Anti-Inflammatory / Anticancer: Study evaluated total phenolic and flavonoid content, enzymatic and non-enzymatic antioxidant properties, anti-inflammatory and anticancer activities of hexane, ethyl acetate, and methanol extracts of F. scandens. Anti-inflammatory property was proved by inhibition of protein denaturation and protease inhibitory assays. In vitro anticancer activity was assessed by cell viability assay. Non-enzymatic antioxidant activity was examined by DPPH assay, NO scavenging assay, hydroxyl radical scavenging assay, reducing power assay, H2O2 scavenging assay, superoxide scavenging assay and metal chelating assay. Enzymatic antioxidant ability was screened for the antioxidant enzymes such as ascorbate oxidase, peroxidase, catalase and polyphenol oxidase. Fresh plant showed considerable enzymatic antioxidant activity. Results suggest methanol extracts can be a source of antioxidant, anti-inflammatory and anticancer bioactive compounds. (see constituents above) (9)
Availability
- Wild-crafted.
- Seeds in the cybermarket.