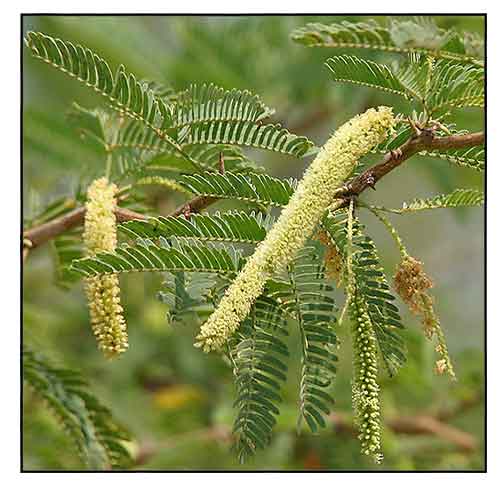 Gen info
- Prosopis juliflora belongs to the family Fabaceae (Leguminosae), subfamily Mimosoideae, containing 44 species, 40 of which are native to the Americas, three to Asia, and one to Africa.
- P. juliflora is one of the most problematic invasive trees in tropical and subtropical regions. (see study below) (10)
- The word "algarrobo" refers to several species of the genus Fabaceae, a word derived from Spanish Arabic dialect "al jarruba", which means "the tree". When Spanish people arrivd in America, the name "algarrobo" was assigned to specimens of Neltuma (ex Prosopis).
Botany
Mimosa juliflora is a large shrub or tree, c. 5 m tall, generally armed with stipular spines. Leaves alternate, bipinnate, with 1-3 pairs of pinnae, rachis 1-8 cm long, prolonged beyond the last pinnae as a soft bristle. Leaflets 10-20 pairs, 7-17 mm long, 2-3 mm broad, entire, oblong, obtuse, sometimes mucronate. Stipules spiny, generally 1.0 cm or less long, in pair. Inflorescence dense axillary pedunculate spikes 4-8.5 cm long, peduncle c. 6-12 mm long. Flowers greenish yellow, pedicel 1 mm. Calyx c. 1 mm long, cup-shaped, 5 toothed, teeth small. Petals 5, free, c. 3 mm long, tip and margin hairy. Stamens 10, free, exserted, c. 4 mm long, anthers tipped with deciduous glands. Pod pedicellate, c. 16-23 cm long, c. 10-12 mm broad, almost straight to semi-circular, light yellow, glabrous, pedicel c. 5-7 mm long. Seeds 10-18, oblong. (Flora of Pakistan)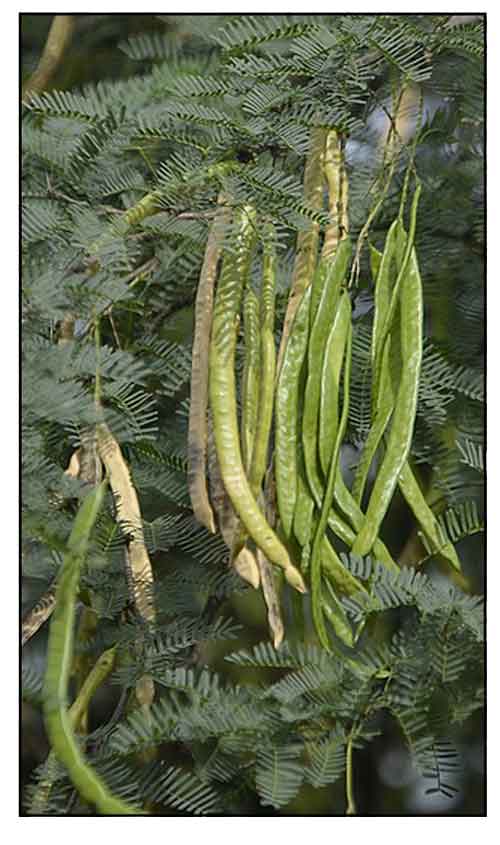 Distribution
- Introduced to the Philippines.
- Cultivated.
- Reported invasive in some places in the Philippines: as Prosopis vidaliana Naves, forming dense thickets in the Manila Bay region, immediately back of the beach. (3)
- Native range of the species is Mexico to Venezuela, Peru, Caribbean.
- Grows primarily in seasonally dry tropical biome.
Constituents
- Promising bioactive botanicals include a flavanoid from the bark, mesquitol (antioxidant), and five alkaloids from the leaves, seco-juliprosopinal (plant growth inhibitory), juliflorine (anti-Alzheimer), juliprosine (antifungal), isojuliprosine (antifungal) and juliprosinene (antibacterial). (3)
- Study of ethyl extracts of leaves yielded major constituents of hydroxymethyl-pyridine, nicotinamide, adenine, and poly-(methyl methacrylate) (PMMA).  (see study below) (7)
- Phytochemical screening of various solvent extracts of seeds revealed secondary metabolites like alkaloid, phenol, saponin, tannin, phytosterol, and flavonoids. (see study below) (20)
Properties
- Studies have suggested antibacterial, antileishmanial, insecticidal, anticancer, neurotoxic properties.

Parts used
Leaves, pods.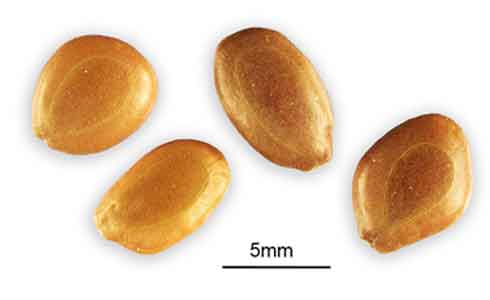 Uses
Edibility
- Grain by-product has potential for human food. (see study below) (11)
Folkloric
- No reported folkloric medicinal use in the Philippines.
- In Venezuela, used mainly for bone, eye, and male sexual function disorders. Also used for diabetes, digestive problems, parasitosis, eruptive diseases, general malaise, kidney stones and cancer.
- In South and Central America and the Caribbean, used as folk remedy for catarrh, cold, diarrhea, dysentery, excrescences, flu, hoarseness, inflammation, measles, sore throat, and wound healing.
Others
- Wood: Makes good firewood and charcoal. Used for fence posts.
- Fodder: In Brazil, pod is widely used as livestock feed. (11) The value of the use of protein and sugar-rich pods as fodder, well accepted by wildlife and livestock, is that they are available during dry periods. Although more sensitive to cold weather and frost, they can cope with hot dry situations. It is a major source of animal fodder during famine situations. (19) While low intake does not affect cattle health, excessive intake is harmful and can cause nervous breakdown, weight loss, nutrient imbalances, etc, and in severe cases, it can be fatal. (14) (see toxicity study-13)(see palatability below
- Agroforestry: Mesquite is a N-fixing legume and provides shade and shelter, and is used in windbreaks and shelterbelts. (19)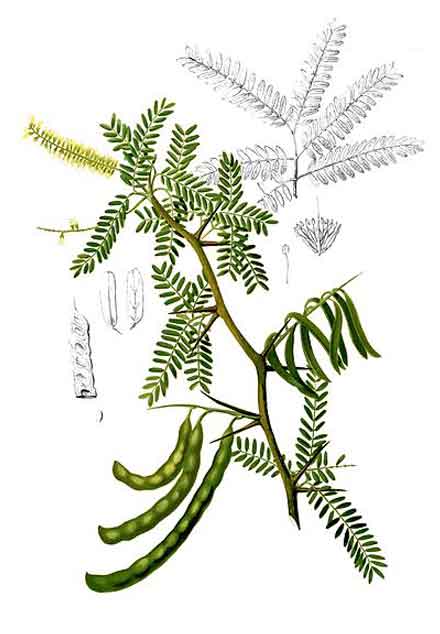 Studies
• Antimicrobial Against Food Spoiling Microorganisms: Study evaluated leaves and fruit extracts of Prosopis juliflora for antimicrobial activities against growth of selected bacteria and yeast involved in food spoilage. A water-soluble leaf ethanolic extract showed strongest antibacterial activity. Antimicrobial tests showed total inhibition of Botrytis cinerea, Alternaria alternata, Bacillus subtilis, Staphylococcus aureus and Candida albicans with MICs ranging between 0.125 and 1 mg/ml. Extract was tested for percent inhibition of mycelial growth against seven other fungal strains, with highest value against Geotrichum candidum (66.2%). Results suggest the extract has potential as a natural antifungal agent that can replace common anti-spoiling chemicals. (5)
• Anticancer Terpenoids / Pods: Pods are rich in tannins, carotenoid, and terpenoids. Study of pods detected 19 bioactive compounds, four of which exhibited anticancer activities. Results showed P. juliflora pods are a valuable source of anticancer, antitumor, and chemoprotective compounds, especially terpenoids, with potential to be developed as alternatives to current painful and expensive cancer therapies.
• Bioactive Botanicals: Promising bioactive botanicals include a flavanoid from the bark, mesquitol (antioxidant), and five alkaloids from the leaves, seco-juliprosopinal (plant growth inhibitory), juliflorine (anti-Alzheimer), juliprosine (antifungal), isojuliprosine (antifungal) and juliprosinene (antibacterial). (6)
• Cell Death of Cancer Cell Lines / Leaves: Study evaluated the anti-cancer potential of P. juliflora leaf extracts against MCF-7 (breast), HepG2 (liver), and LS-174T (colorectal) cancer cell lines. The leaf extracts showed concentration-dependent cytotoxicity against all tested cancer cell lines. The IC50s were 18.17, 33.1, and 41.9 µg/ml for MCF-7, HepG2, and LS-174T, respectively. Cytotoxic action was mainly via necrosis rather than apoptosis. DNA flow cytometry analysis showed cell-specific anti-proliferative action and cell cycle stages arrest. (see constituents above) (7)
• Enhancement of Malarial Transmission: Invasive plants that are highly attractive to Anopheles mosquitoes providing them with sugar that is critical to their survival. Study evaluated the effect of habitat manipulation by removal of flowering branches of highly attractive Prosopis juliflora on Anopheles survival. CDC-UV light traps monitored Anopheles spp. vector populations, species composition, population size, age structure, and feeding status. Villages where flowering branches of the invasive shrub P. juliflora were removed saw a three-fold drop in the older more dangerous Anopheles females. Population density dropped by 69.4%, species mix shifted from three to one, and the proportion of sugar fed females dropped from 73 to 15%, males from 77 to 10%. Study demonstrates how the invasive shrub promotes malarial parasite transmission capacity of African malaria vector mosquitoes. Study suggests proper management of invasive plants can reduce mosquito population and malaria transmission. (8)
• Visceral Leishmaniasis / Leaves: Study evaluated the leishmanicidal activity and toxicity of P. juliflora leaf extract in BALB/c mice and in invitro systems. Results showed significant inhibitory effect (p<0.05) on promastigote growth in invitro testing, with 98% of parasites killed at 100 µg/ml concentration. There was higher splenic antiamastigote effect after 21 days of administration, compared to SSG (sodium stibogluconate). Methanol leaf extract induced higher total IgG level compared to reference drug. (9)
• Global Invasion Risk / Does Soil Matter?: P. juliflora is one of the most problematic invasive trees in tropical and subtropical regions. Study evaluated the role of climate, soil, and human impact in controlling the invasion range of P. juliflora. Study revealed potential invasion risk increases with increases in mean temperature of the driest quarter (Bio9), soil alkalinity, and clay fractions. Arid and semi-arid lands are at highest risk of invasion than other moist biomes. (10)
• Potential for Grain Flour: Study evaluated the potential for obtaining flour from mesquite grains under different drying conditions (50, 60, and 70°C) and their physico-chemical, microstructural, technological, antioxidant, bioactive, and pasting properties. Mesquite grain and grain flour showed high amounts of protein and low-fat content. Starch was present. Flour dried at 60°C showed best results for capacity of water and oil absorption, antioxidant activities, and total phenolic compounds. Chromatography detected 17 compounds, with kaempferol, catechin, and quinine as most abundant. Results suggest potential for mesquite flour as a relevant source of proteins and phenolic compounds for food products. (11)
• Acaricidal / Anti-Tick Effect / Cholinesterase Inhibition / Alkaloids: Study evaluated the invitro acaricide activity of ME and alkaloid-rich fraction (AF) of P. juliflora on Rhipicephalus microplus and correlated its effect with acetylcholinesterase (AChE) inhibition. LC-MS/MS analysis of AF identified three alkaloids: prosopin, juliprosinine, and juliprosopine. Molecular docking studies revealed the three alkaloids had interactions at the active site of R. microplus AChE1 (RmAChE1). Results suggest the alkaloids showed acaricide activity on R. microplus via an anticholinesterase mechanism. (12)
• Neurotoxicity / Cytotoxicity Effect of Alkaloidal Extract from Pods on Glial Cells: Neurological signs have been reported in cattle due to intoxication from plant consumption. Study evaluated the effect of alkaloidal fraction (AF) from P. juliflora pods on astrocyte primary cultures. Astrocytes display physiological functions essential to development, homeostasis, and detoxification in the central nervous system. The AF induced an increase in mitochondrial activity, indicating cell reactivity. Immunocytochemistry assay revealed alterations on cell morphology after treatment. Results suggest alkaloids induce astrocyte reactivity and might be involved in the neurotoxic effects induced by P. juliflora consumption. (13)
• Antibacterial / Leaves: Study evaluated the invitro antibacterial activity of fractions of crude extracts of Prosopis juliflora leaves against ten bacterial type cultures (B. subtilis, E. faecalis, E. coli, K. pneumonia, P. aeruginosa, S. typhi, S. typhimurium, S. aureus, S. epidermis, S. pyogenes) by agar well diffusion assay. Solvent fractionation resulted in six organic and two aqueous fractions. All fractions showed varying degrees of growth inhibition against tested microorganisms. Highest antibacterial activity was observed in aqueous fractions as compared to solvent fractions. (17)
• Insecticidal / Leaves: Study evaluated the insecticidal activity of powdered grounded dried leaves extracted using methanol:dichloromethane (1:1) and methanol sequentially for 24 hours in each case. Column chromatography yielded trans-ferrulate (compound 1), a cinamic acid derivative having both methoxy and hydroxy substituents on the phenyl ring. F1, F10, and F11 exhibited significant insecticidal activity against adult aphids, with mortalities of 90, 95, and 95% respectively. The insecticidal activity could be attributed to conjugation the benzene rings as well as activation cause by ring activators in the benzene ring. Results suggest potential for use of the leaves as natural ecofriendly pesticides. (18)
• Palatability: Foliage is generally unpalatable, which limits its used as fodder. However, animals will browse it during dry seasons or droughts when no other forage is available. Palatability in decreasing order is goats (more palatable) > sheep > camels > horses (unpalatable). The unpalatability is caused by the presence of condensed tannins, which increased with leaf age, and low-tannin leaf buds and young leaves are more palatable. Dry and fallen leaves appear to regain palatability. Leaves are mixed with other feeds as cheap supplement to decrease feed costs while maintaining intake and live weight gains. An invitro DM digestibility study (Pasiecznik et al., 2001) reported digestibility in the 56-59% range. Feeds with Prosopis pods have been recommended for lactatin animals and has been reported to increase milk production. No effects on milk flavor were noted at less than 50% pods in the rations. (see Others: Fodder above) (19)
• Anticancer / Anti-Urolithiatic / Seeds: Study evaluated the antidiabetic, anticancer, anti-urolithiatic activities of various solvent extracts of P. juliflora seeds. Invitro anti-urolithiatic testing showed maximum activity by titrimetric method, compared with standard drug cystone. In MTT assay, aqueous extracts of seeds showed inhibition effects on MCF7 cancer cell lines, with with not effect on growth of normal cells. (20)

Availability
Wild-crafted.