Gen info
- Taxon conflict: The taxonomic status of the species is controversial and unsettled. Species within the genus are highly variable, and interspecific hybrids have been common. Some authors believe C. spinosa is composed of multiple distinct species or that it is a single species with multiple varieties or subspecies or that the taxon is a hybrid between C. orientalis and C. sicula. (4)
- C. spinosa is one of the most important species in the Capparidaceae family of about 40-50 genera and 700-800 species.
- The unopened flowers buds of the plant are what are commercially known as capers.
- The earliest evidence of caper consumption was found in the Mesolithic soil layer on an excavation site in Syria, dating back to 9000 BCE. Dried seeds dated as early as 6000 BCE have been found in the Nahal Hemar cave in Israel. In China, fresh clumps of capers and plant parts were preserved in entombed containers that are almost 3000 years old. Evidence of Egyptian consumption of capers may date back from 275 BCE to 600 CE.
Botany
Alcaparras is a dicotyledonous perennial shrub growing to a height of 1-2 meters, with an extensive root system. Plant is shrubby and many-branched. Leaves are alternate, thick and shiny, round to ovate. Flowers are solitary, sweetly fragrant and showy, with four sepals and four while to pinkish-white petals, and many long violet-colored stamens, and a single stigma rising well above the stamens. Fruit is a berry with a thin, leathery to corky pericarp, ellipsoidal, 2.5 to 5 centimeters by 1.3 to 1.5 centimeters, olive green with distinct ribs. Seeds are numerous, subglobose, 4 millimeters in diameter, embedded in a yellow pulp.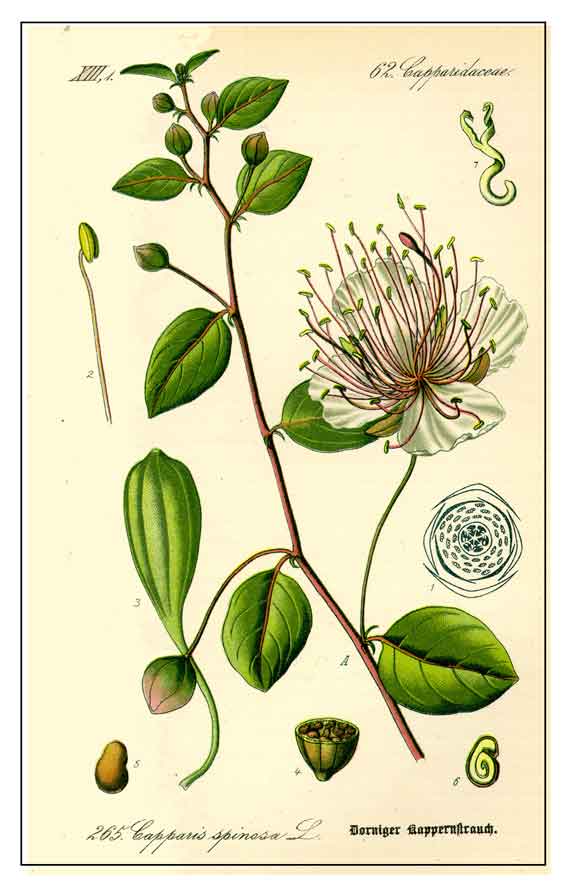 Distribution
- Introduced from the Marianas.
- Listed as native by Plants of the World Online. (36)
- Scattered all over the Pacific.
- Cultivated in some localities in Luzon.
- Occasionally cultivated in Manila.
- In Bohol, spontaneous along the seashore.

Constituents
- Numerous bioactive phytochemical constituents have been isolated from aerial parts, roots, and seeds of C. spinosa.
- Nutrient analysis of canner capers (per 100g) yield: (Proximates) water 83.85g. energy 23 kcal or 96 kJ, protein 2.36g, total lipid (fat) 0.86g, carbohydrate (by difference) 4.89g, total dietary fiber 3.2g, sugars 0.41g; (Minerals) calcium 40 mg, iron 1.67mg, magnesium 33mg, phosphorus 10mg, potassium 40mg, sodium 2348mg, zinc 0.32mg, copper 0.374mg, manganese 0.078mg, selenium 1.2µg; (Vitamins) Vitamin C 4.3mg, thiamin 0.018mg, riboflavin 0.139mg, niacin 0.652mg, pantothenic acid 0.027mg, vitamin B6 0.023mg, total folate 23µg, folic acid 0, total choline 6.5mg, vitamin B12 0, vitamin A RAE 7µg, beta carotene 83µg, vitamin A 138 IU, vitamin E (alpha tocopherol) 0.88mg, vitamin K (phylloquinone) 24.6µg; (Lipids) total saturated fatty acids 0.233g, total monosaturated FA 0.063g, total polyunsaturated FA 0.304g, cholesterol 0, phytosterols 48mg; (Flavonols) kaempferol 131.3mg, quercetin 172.6mg. (5)
- Roots yielded three new spermidine alkaloids: capparispine (1), capparispine 26-O-ß-d-glucoside (2) and cadabicine 26-O-ß-d-glucoside hydrochloride. (8)
- Fatty acid (%) composition of C. spinosa seeds yielded palmitic 10.23, stearic 2.61,, oleic 38.45, linoleic 23.75 and linolenic 1.17. (Other studies show variation in fatty acid composition, which was attributed to environmental conditions and analytical methods used.) (9)
- Identified bioactive phytochemicals in the plant include terpenoids, alkaloids, glucosinates, tocopherols, polyprenols, isothiacyanates, carotenoids and phenolics. (10)
- Preliminary screening of alcoholic extract of aerial parts yielded alkaloids, glycosides, carbohydrates, tannins, phenolics, flavonoids, and triterpenoids while an aqueous extract yielded steroids, glycosides, carbohydrates, flavonoids, and saponins. (see study below) (21)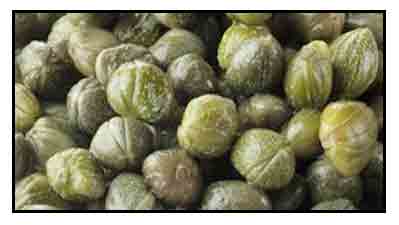 - GC-MS analysis of essential oil of aerial parts yielded yielded methyl isothiocyanate (24.66%) as the major constituent. Forty-two compounds were identified including quercetin, kaempferol, and isorhamnetin derivatives, along with myricetin, eriodictyol, cirsimaritin, and gallocatechin derivatives. Phenolic acids, such as quinic acid, p-coumaroyl quinic acid and chlorogenic acid were also identified. (see study below) (26)
- Study for chemical constituents of stems and leaves isolated 12 compounds viz., psoralen (1), isopsoralen (2), ethyl hydroxybenzoate (3), methylparaben (4), transcinnamic acid (5), benzoic acid (6), p-hydroxybenzoic acid (7), protocatechuic acid (8),nkaempfer-ol-3-O-rutinoside (9), rutin (10), β-sitosterol (11), and β-daucosterol (12). Compound 5 was isolated for the first time. (35)
Properties
- Sharp taste similar to mustard or horseradish. In capers, the flavor is due to capric acid. (7)
- Studies have suggested antitumor, antiproliferative, antioxidant, antidiabetic, antibacterial, wound healing, anthelmintic, anti-inflammatory, hepatoprotective, antiatherogenic properties

Parts used
Fruits, roots, bark, flowers.

Uses
Edibility
- Salted and pickled caper bud used as seasoning or garnish. Common ingredient in Mediterranean cuisine. Mature fruit marketed as caper berries.(4)
Folkloric
- Various plant parts including fruits and roots have been used as traditional herbal medicine since ancient times. (6)
- In China, used in Uighur medicine for treatment of rheumatoid arthritis. In Pakistan, root barks used for splenomegaly, mental disorders, and tubercular glands. In Iran, used for treatment of gout and hemorrhoids. (6)
- Infusions and decoctions of root bark used for dropsy, anemia, general atony, and arthritis. In India, root bark used as purgative, tonic, diuretic, anthelmintic, emmenagogue, and analgesic. (7)
- Flowers used as stimulant in erectile dysfunction. Plant used for cough and asthma. In Iranian traditional medicine, roots, fruit, and bark have been used as diuretic, tonic, and antimalarial. Also used for diarrhea and hemorrhoids. (12)
- Whole plant and roots used for paralysis, rheumatism, toothache, worms, and cough. In Pakistan, leaves used as analgesic, aperient, and depurative. In Iran fruits and root barks are used as diuretics and tonics against malaria and hemorrhoids. In China, decoction of shoots used for rheumatism, stomachache, anemia, and dropsy. In Morocco, bud or leaves used as tea to alleviate eye infections, gastrointestinal infections, diabetes, and kidney stones. (39)
- In ancient medicine, leaves mixed with vinegar applied externally to drive out urine, menstruation, and cure hemorrhoids; crushed caper leaves with vinegar applied to white spots, freckles, malignant ulcers and wounds. In folk medicine, unripe fruits of capers, mixed with peanuts and henna, are used externally to treat rheumatism. Alcohol tincture of capers used externally as anesthetic for neuralgia and radiculitis. (43)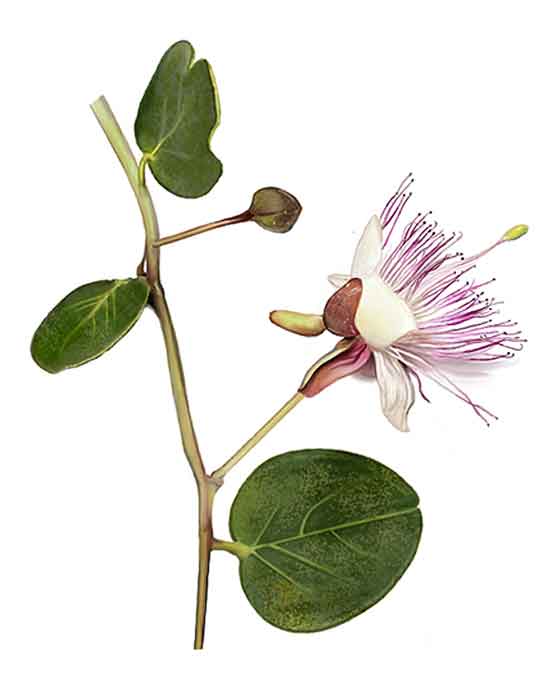 Studies
• Lectin / Antiproliferative Hepatoma HepG2 and Breast Cancer MCF-7 Cells / Antiviral / Seeds: Study of seeds of Capparis spinosa purified a dimeric 62-kDa lectin. The Lectin potentially inhibited HIV-reverse transcriptase with IC50 of 0.28 µM and proliferation of both hepatoma HepG2 and breast cancer MCF-7 cells with IC50 of approx. 2µM. The lectin induced apoptosis in both cell lines and manifested a weaker mitogenic activity on mouse splenocytes. (11)
• Antioxidant / Flower Tops: Study evaluated the antioxidant activity of aqueous infusion of flower tops before and after in vitro digestion, measured by DPPH, ß-carotene bleaching and copper-induced oxidation of human LDL. Results showed strong and dose dependent activity. Activity was attributed to bioactive constituents rutin, kaempferol, 3-O-rutinoside, isorhamnetin 3-O-rutinoside and cinnamoylquinic acid derivatives. However, in vitro digestion caused significant degradation of the phenolic compounds, thus decreasing the antioxidant activity. (Siracusa et al., 2011) (12)
• Anticarcinogenic / Leaves and Floral Buds Essential Oil: Study evaluated essential oil hydrodistilled from leaves and floral buds of C. spinosa and their water infusions for anticarcinogenic potential on HT-29 human colorectal adenocarcinoma cells. The EO was dominated by methyl isothiocyanate. Both the EO and aqueous infusion exhibited a time- and dose-response reduction of proliferation of HT-29 cells. Both induced a G2/M arrest in a dose-dependent manner. (Kulisic-Bilusic et al., 2012) (12)
• Inhibition of Pancreatic a-Amylase / Antidiabetic / Roots and Leaves: Study investigated the ethanolic extract of roots and leaves of C. spinosa on pancreatic a-amylase activities and its potential for controlling blood sugar. Both roots and leaves showed inhibition of a-amylase (97.31% and 98.92%, respectively) with IC50 of 5.93 mg/mL and 3.89 mg/mL, respectively, when compared to acarbose (IC50 0.038 mg/mL). (13)
• Nephrotoxicity and Hepatotoxicity: Study evaluated the acute and sub-chronic toxicity of a hydroalcoholic extract of C. spinosa on liver, kidney, and serum enzymes, administered by oral gavage for 28 days in mice. Results showed dose-dependent nephrotoxicity and hepatotoxicity as evidenced by changes in ALT, AST, BUN, and creatinine especially at higher test dose of 800 mg/kg. Results suggest caution in use of the C. spinosa extracts especially in renal and liver pathologic conditions. (14)
• Antimicrobial / Antioxidant / Fruits and Roots: Study evaluated various extracts of C. spinosa fruits and roots for antioxidant and antimicrobial activity. A root ethyl acetate extract showed higher TPC (37.2 mg GAC/g). Fruit and roots EA extract showed highest flavonoid content (95.5 and 18.1 mg QE/g). A root aqueous extract showed higher antimicrobial activity than fruit aqueous extract, and the root ethanolic extract showed higher antifungal activity than fruit ethanolic extract. Antimicrobial activity was attributed to flavonoids. (15)
• Effect on Various Tissues in Healthy and Diabetic Rats / Fruits: Study evaluated the beneficial effects of CS fruit extract on various tissues in healthy and type 1 diabetic rats. The liver, kidney, and pancreas of diabetic rats exhibited considerable changes, like cellular necrosis. Results suggest the fruit extract could help prevent damage to tissues due to decreased levels of harmful oxidants in the diabetic rats, as evidenced by decreased levels of creatinine, liver enzymes, among other parameters. (16)
• Antioxidant / Buds: Study evaluated various extracts of C. spinosa buds for antioxidant activity. The methanolic extract showed strong activity in all three in vitro tests. Findings suggested the following: (1) The antioxidant effect of the ME was attributed to the phenolic content; and (2) antioxidant activity was maintained after removal of glycosinolates, suggesting the compounds do not interfere with antioxidant properties. Results affirm the nutritional value of flowering buds. (17)
• Antibacterial / Flowers: Study evaluated the antibacterial effects of different concentrations of hexane and methanol extracts of C. spinosa flowers against Klebsiella sp., P. aeruginosa, E. coli, Proteus sp., Enterococcus sp., Lactobacillus sp., S. aureus and Streptococcus sp. The methanol extract showed higher activity than the hexane extract. The antibacterial activity of C. spinosa flowers have been attributed to flavanoids, phenolic acids, and glycosides. (18)
• Effect on Insulin Resistance / Antidiabetic: Study evaluated the effect of an aqueous extract of C. spinosa on insulin resistance in multi-low dose STZ (MLDS)-induced diabetic mice. Results showed potent hypoglycemic activity. Using euglycemic hyperinsulinemic sensitivity in peripheral tissues, results suggest the hypoglycemic effect is due, in part, to inhibition of basal endogenous glucose production and improvement of peripheral insulin resistance in the MLDS diabetic mice. (19)
• Wound Healing / Cutaneous Wounds / E. coli: Study evaluated the healing activity of C. spinosa against surgical wounds infected by E. coli in rats. Results suggest accelerated wound healing with significantly higher hydroxyproline content in the treatment group. Histopath studies showed moderate to intense granulation tissue formation in the treated group. (20)
• Anthelmintic / Aerial Parts: Study evaluated the anthelmintic effect of aqueous and alcoholic extracts of aerial parts of C. spinosa on adult earthworm Lumbricus terrestris, as a model for future application in treatment of human helminthes. Both extracts showed significant dose-dependent anthelmintic activity. The activity may be related to the presence of tannin. (see constituents above) (21)
• Anti-Inflammatory / Inhibition of Cell Infiltration and Cytokine Gene Expression: Study evaluated the ability of C. spinosa to orientate in vivo the immune response mediated by CD4+T cells towards an anti-inflammatory response in a Swiss mice model. Results showed significant dose dependent reduction of edema in mice treated with CS preparation similar to that observed with indomethacin. Histological study showed significant decrease in immune cell infiltration, vasodilatation and dermis thickness in the inflammatory site. (22)
• Anti-Arthritic / Roots: Study evaluated the pain relieving effect of a decoction dried powder roots of Syrian cultivar of C. spinosa in rat models of osteoarthritis and rheumatoid arthritis induced by monosodium iodoacetate (MIA) and Complete Freund's Adjuvant (CFA), respectively. Results showed pain relief in both models after a single administration. A synergistic effect due to a specific "phytochemical mixture" is suggested. (23)
• Effect on Metabolic Parameters of T2 Diabetic Patients / Clinical Trial: A randomized triple-blind placebo-controlled clinical trial investigated the safety and efficacy of C. spinosa oxymel on blood glucose, lipid profile, and other index measures of metabolic syndrome in patients with poorly controlled T2 diabetes. Results suggest that while CS oxymel did not enhance the effects of hypoglycemic and hypolipidemic drugs, it can prevent further increase of blood glucose and triglycerides in patients with poorly controlled T2D. (24)
• Anti-Cancer Effects: Study investigated the anti-cancer effect of C. spinosa extract on HeLa, MCF7, Saos and Fibroblast cancer cell lines. HPLC data showed quercetn as the major component of the CS extract. Results suggest the CS extract had high antioxidant activity and MTT assay indicated the extract effectively decreased the cancer cell lines. (25)
• Anticancer / Bioactive Compounds / Aerial Parts: Study evaluated the polyphenolic and sulphur contents of aerial parts of C. spinosa var. aegyptica, wildly growing in Egypt. GC-MS analysis of distilled essential oil yielded methyl isothiocyanate (24.66%) as the major constituent. Evaluation of cytotoxic activity of the hydroalcoholic extract against three human cancer cell lines (MCF7, breast adenocarcinoma cells; Hep-G2, hepatocellular carcinoma cells, and HCT-116, colon carcinoma) showed significant effect with IC50s of 24.5, 24.4 and 11 µg/ml, respectively, compared to Doxorubicin as standard cytotoxic drug. (see constituents above) (26)
• Antithrombotic Effect: Study evaluated the possible anti-thrombotic and anti-coagulative effects of hydro-alcoholic caper extracts. Results showed significant decrease in the percentage of clot lysis (about 18.5%). Study suggests a potential source of natural antithrombotic agents, with possible medical applications. (27)
• Antioxidant / Xanthine Oxidase Inhibition / Roots and Aerial Parts: Study of extracts of aerial parts and roots showed an EAE of aerial parts to yield the highest concentration of phenolic compounds and flavonoids. All the plant extracts were effective either in inhibiting the activity of xanthine oxidase (XO) or cytochrome C with IC50s ranging from 0.0226 to 4.32 g/l. In DPPH assay, the radical scavenging activity of roots and aerial parts decreased in order of CHE > EAC > CE and EAC > CW > CHE, respectively. Results suggest CS has potential for use to treat conditions where inhibition of XOR and free radical scavenging action are warranted. (28)
• Anthelmintic / Fresh Leaves and Flower Buds: Study evaluated aqueous extracts from fresh leaves and flower buds for antioxidant potential and in vitro anthelmintc efficacy against eggs and adult worms of Haemonchus contortus from sheep. Both aqueous extracts showed dose dependent free radical scavenging by DPPH and ABTS assays. Both extracts showed ovicidal activity at all tested concentrations. The in vitro anthelmintic properties may be related to its high content of phenolic compounds such as flavonoids and tannins. (29)
• Antitumor / Antioxidant / Alleviation of Doxorubicin (DOX) Cardiotoxicity: Study investigated the effect of C. spinosa extracts on doxorubicin-induced cardiac toxicity by measures of blood chemistry, injury, energy metabolism, oxidative damage and mitochondrial membrane potential level of cardiac cells. Study demonstrated the antioxidant and antitumor activities of CSE which may suppress tumor growth and alleviate the side effects of DOX, thereby facilitating tumor treatment in a dual manner. (30)
• Effect on Blood Sugar and Lipid Profile / Fruits: Study evaluated the effect of caper fruit extract on blood sugar, glycated hemoglobin, and lipid profile in normal and diabetic male rats. Results suggest potential beneficial effects as evidenced by a significant decrease in blood sugar and considerable decrease in blood triglycerides in diabetic rats. (31)
• Hepatoprotective / CCl4-Induced Hepatotoxicity / Bark: Study evaluated the hepatoprotective action of C. spinosa ethanolic root bark extract in male mice. Results significant dose-dependent hepatoprotective activity against carbon tetrachloride induced hepatocellular injury. (32)
• Topical Effect on Burn Wound Healing / Leaves: Study evaluated the effects of C. spinosa leaves extract cream compared with silver sulfadiazine (SSD) cream to burn wound healing in rats. Results showed 5 and 10% CSLE cream was more effective in decreasing burn wound area compared to other groups. There was no difference between the 5 and 10% cream regarding wound size reduction (p<0.05). (33)
• Reduction in Atherogenic Indices in Non-Alcoholic Fatty Liver Disease / Clinical Trial: A 12-week randomized, controlled, double-blind trial on 44 patients with NAFLD showed daily consumption of caper fruit pickle may potentially prevent cardiovascular complications in patients with NAFLD. Similar trials with larger samples over longer periods of time were suggested. (34)
• Hepatoprotective / Antioxidant / Quercetin / t-BHP Induced Liver Damage: Study evaluated the antioxidant and hepatoprotective effects of C. spinosa and quercetin in tert-butyl hydroperoxide (t-BHP) induced acute liver damage. A hydroalcoholic fraction showed significantly higher total phenolic and quercetin contents than other fractions. Pretreatment with 400 mg/kg of fraction and quercetin 20 mg/kg showed liver protection against t-BHP induced liver injury evidenced by decrease in serum enzyme markers, sleeping time and MDA and increase in GSH, SOD, and CAT activities. Results showed dose-dependent hepatoprotective effects, which may be associated with free radical scavenging activity and presence of phenolic compounds. (37)
• Tablet Formulation: Study evaluated a table formulation of caper fruits. Fruit extraction was done using 80% ethanol and maceration technique. Spray dried extract showed stability in 30°C, acceptable in measures of weight, hardness, disintegration time, rutin assay, and dissolution time. Results suggest potential for industrial scale production after in vivo and clinical studies, and stability study in suitable packaging. (40)
• Anti-Inflammatory / Fruits: Study evaluated the anti-inflammatory activity of C. spinosa fruit aqueous extract and fractions. Fractions CSF2 and CSF3 effectively inhibited carrageenan-induced paw edema in mice. Major compounds in CSF2+3 are flavonoids, indoles and phenolic acids. (41)
• Alternative Drug for Male Vitality / Fruits and Leaves: In Iraq, fruit of Capparis is used as aphrodisiac. Study evaluated methanol extract and fraction from dried leaves and fruits of C. spinosa.80% alcohol extract of dried and milled fruits and leaves of Capparis spinosa from which quercitrin and quercitrin were extracted. Results showed activation of vitality and erectile function in old males attributed to increase amount of cGMP. The effect was suggested as twice that of sildenafil and tadalafil. (42)
• No Gastric-Ulcerogenecity Effect / Analgesic: C. spinosa is used as an analgesic in the treatment of gout and rheumatic arthritis. Studies have reported antinociceptive effects. Study evaluated S. spinosa's gastric-ulcerogenecity effect in comparison to indomethacin. Results showed C. spinosa administered in antinociceptive dosage and even 2, 4, and 8 folds did not cause gastric ulcer (j-score=0) compared to indomethacin (j=score=46 to 253) (p<0.05). Favorable analgesic effect and lack of gastric ulcerogenic effect make it a suitable choice for further pharmacological and toxicological studies for use as analgesic. (44)
• Anti-Giardia Activity / Leaves and Fruits:The antiparasitic activity of hydroalcoholic extracts of Capparis spinosa leaves and fruits was evaluated against human isolates of Giardia lamblia cysts. Lethal effect of both C. spinosa extracts and metronidazole increased significantly in a concentration- and time-dependent response (p<0.0001). Highest lethal percentage of cysts was seed at concentration of 4 mg/ml fruit (100%) and leaf (44%) of C. spinosa after 48 hours, respectively. LC50s were 0.38 mg/ml for fruit, 2.32 mg/ml for leaf, and 0.53 µg/ml for metronidazle after 48 hours. Results suggest C. spinosa can be effective in eliminating Giardia cyst from contaminated environments and water. (45)
• Anti-Giardia Activity / Leaves and Fruits:The antiparasitic

Availability
- Wild-crafted.
- Cultivated.
- Caper seeds in the cybermarket.