Botany
Alambrillo is a slow-growing evergreen fern with a short, ascending, and scaly rhizome with spirally arranged, stipitate and compound leaves. Stipes are suberect and rather slender, 10 to 20 centimeters long, polished and dark green. Fronds are bipinnate, with a short terminal pinna and numerous erect lateral ones on each side; the segments (pinnae) are 1 to 2.5 centimeters broad, the base being cuneate and the outer edge rounded. Sori are roundish, situated in the roundish sinuses of the crenations.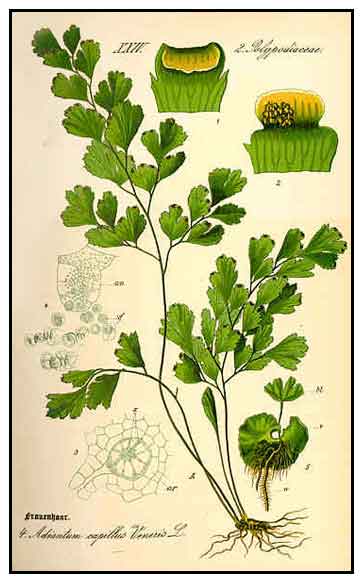 Distribution
- In the Philippines, found in Batan Island and Nueva Viscaya, Bontoc, Benguet, and Laguna Provinces in Luzon.
- in shady, moist places.
- Usually, flower-pot cultivation for ornamental purposes.
Constituents
- Phytochemical studies have shown triterpenes, flavonoids, phenylpropanoids and carotenoids.
- Study isolated two new migrated hopane triterpenoids, the first example of oleanane compounds from Adiatrum ferns.
- Study yielded two triterpenic compounds, Davallene 1 and Adipedatol 2, from the roots of Mexican Adiantum capillus-veneris,
- Alcoholic extract fractions of dried fronds yielded seven compounds: four triterpenoidal compounds identified as isoadiantone (1); isoadiantol-B (2); 3-methoxy4-hydroxyfilicane (3) and 3,4-dihydroxyfilicane (4) and three flavonoids identified as quercetin (5), quercetin-3-O-glucoside (6) and quercetin-3-O-rutinoside (rutin) (7).

Properties
- Emmenagogue, expectorant, aperitive, diuretic, astringent, febrifuge, emollient.
- Antidandruff, antitussive, demulcent, depurative, emetic, galactagogue, laxative, stimulant and tonic.

Parts used
Leaves, rhizomes.
Uses
Culinary / Edibility
- Leaves used for tea. Dried frons used for making tea.
- Syrup made from plant makes a cooling summer drink.
- Fronds used as garnish for sweet dishes.
Folkloric
- In the Philippines fronds are used in the treatment of chest diseases.
- Decoction of leaves (fronds) as tea for chest afflictions, colds, coughs, snoring.
- Promotes appetite and digestive aid. Also, gently laxative.
- Fronds used for cough and cold, also chewed for treatment of mouth blister.
- Frond extract mixed with honey used as an eye ointment.
- Decoction of rhizomes as tea for cough, respiratory problems, fevers, and abdominal colic.
- Externally, for a variety of skin diseases and inflammatory conditions.
- It is used as a postpartum tonic, in doses of two tablespoons every two hours.
- Plant decoction used to regulate menstrual cycle disturbances.
- In Iraq and Iran rhizomes are used as expectorant, and used for difficulty in breathing and to relieve spasms in whooping cough.
- Used for kidney stones and bladder gravel.
- In Mexico, used as aperitive, diuretic, and emmenagogue.
- Used as a lotion for falling hair and baldness.
- In Peruvian Amazon, fronds as infusion or syrup used as diuretic, expectorant and emmenagogue.
- In the Peruvian Andes, shamans and healers use a decoction of rhizome for alopecia, gallstones, and jaundice.
- In the Brazilian Amazon, used as expectorant for bronchitis and coughs. In present day Brazilian herbal medicine, frond and leaf are used for hair loss, coughs, laryngitis, sore throat; to improve appetite and digestion, stimulate renal function, regulate menstruation, and facilitate childbirth.
- In Pakistan, the plant is used for diabetes.
- In India, fresh or dried leafy fronds are used as antidandruff, antitussive, demulcent, depurative, emetic, emmenagogue, expectorant, febrifuge, galactagogue, laxative, stimulant and tonic. Tea or syrup used for cough, throat affliction, and bronchitis. Also, as detoxicant in alcoholism and to expel worms. Externally, used as poultice for snake bites and bee stings.
- In Ayurveda, Adiantum spp. used for colds, tumors of the liver and spleen skin diseases, bronchitis and inflammatory diseases.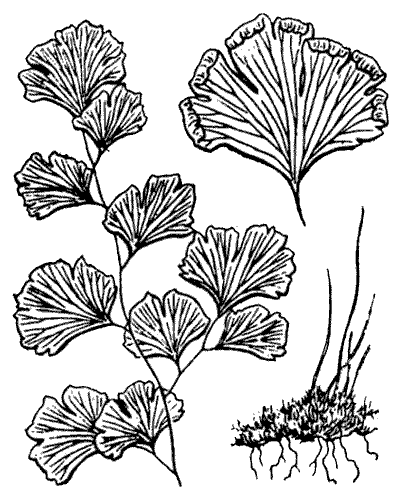 Studies
• Antimicrobial: Study on the aerial part of Salsala rasmarinus and Adiantum capillus reported the presence of antimicrobial flavonoids. (1) In a study of Adiantum species, A capillus-veneris was next to
A venustum in degree of activity as antimicrobial agent. ACV had very low MIV value against E coli.
• Antibacterial Activity of Essential Oils : A lemon yellow colored essential oil was extracted from the leaves of AC which exhibited maximum inhibitory activity against S typhi; mild antibacterial activity against Pseudomonas species, Klebsiella pneumoniae and Streptococcus pyogenes. (2)
• Antidiabetic / Metal Content: Study focused on the hypoglycemic effects and metal contents of plants. Iron and chromium were found in all anti-diabetic herbs, including A capillus. Water soluble lead was high in A. capillus. The water extracts of plants were found to be better hypoglycemics than the acid digested part with its higher metal content. Study concluded that the metal content did not have any particular relation to the antidiabetic effect of the herbs.
(3)
• Antimicrobial / Phenolic Content: Study of methanolic extracts of Adiantum spp. showed Adiantum capillus-veneris activity against E. coli, activity probably due to its high phenolic content. (6)
• Anti-Fungal: The water extracts and extracted phenols from gametophytes and sporophytes of two ferns – A capillus-veneris and Adiantum lunulatum were tested for antifungal activities against Aspergillus niger and Rhizopus stolonifer. Activity was found higher in the gametophytes and ACV was found a better antifungal than AL. (7)
• Anti-Inflammatory / Antinociceptive: Study investigated the anti-inflammatory and anti-nociceptive activities of a crude ethanolic extract and various fractions of Adiantum capillus-veneris in a carrageenan-induced hind paw edema model. Results showed significant analgesic activity comparable to ibuprofen. An anti-inflammatory effect appeared to be due to inhibition of NO release and decrease of TNF-a level. (11)
• Antimicrobial / Functional Compounds: An EtOAc fraction exhibited broad spectrum antimicrobial activities against all tested microorganisms, especially Candida albicans. Phytochemical study showed the fraction to yield the highest total flavones, total phenolic contents, and characterized various compounds. Observed bioactivities were attributed partly to phenolic acids and flavonoids, especially 3-p-coumaroylquinic acid and kaempferol 3-O-glucoside.
• Antioxidant / Phytochemicals: Study yielded phenolics and terpenoids (2.73%). fats and waxes (0.20%), alkaloids (0.53%). quaternary and N-oxides (26.33%). and fiber (67.23%). Of ten elements, Ca and K were found at major levels. Results showed the leaves to possess free radical scavenging molecules, with potential use as source of natural antioxidants and nutrients. (14)
• Antioxidant / Phytochemicals: Study showed crude flavonoids to possess potent antioxidant properties, and presents as a potential source of antioxidants for the medical and food fields. (15)
• Phytochemicals / Anti-Inflammatory / Dried Fronds: Study of alcoholic extract and fractions of dried fronds yielded four triterpenoidal compounds and three flavonoids. Biologic studies of the extract and fractions showed anti-inflammatory activity. A total alcoholic extract showed significant hypoglycemic activity. (see constituents above) (19)
• Activity Against Testosterone Induced Alopecia: Androgenetic alopecia is the most common form of hair loss in men. Study evaluated the hair growth promoting activity of a preparation of ACV on albino mice using a testosterone-induced alopecia model. Results showed hair growth potential for A. capillus-veneris formulation for androgenic alopecia and other androgen related disorders. (20)
• Anti-Urolithiasic Effect: Study investigated the anti-urolithiasic effect of a hydroalcoholic extract on calcium oxalate urolithiasis in male Sprague Dawley rats. Results showed significant reduction in number of crystals, with decrease in serum levels of calcium, phosphorus and BUN. (21)

Availability
Wild-crafted.
Cultivated