Gen info
• English name "Marigold" is derived from "Mary's gold", a name first applied to a similar plant native to Europe, Calendula officinalis.
• Tagetes is a genus of 56 species of annual and perennial, mostly herbaceous plants in the sunflower (Asteraceae) family. (21)
• Some compilations list Tagetes erecta and Tagetes patula as synonyms. Quisumbing's and other compilations list them as separate species. Both share the common names "marigold" and "amarillo."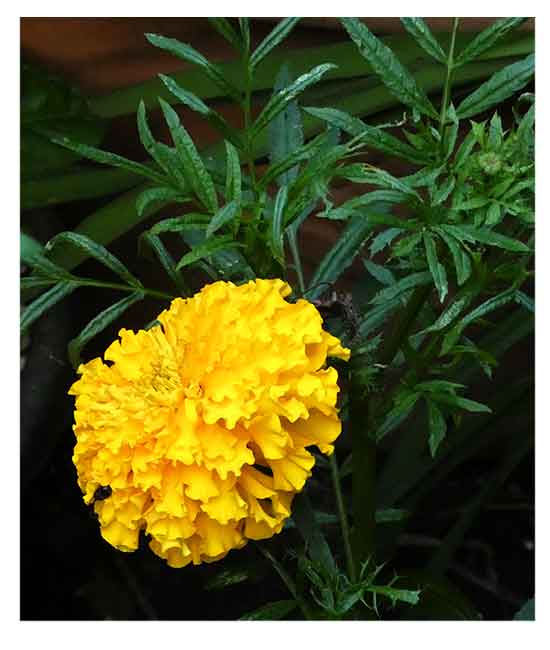 Botany
• Ahito is an ornamental plant, a rather coarse, erect, glabrous branched, rank-smelling annual herb, 0.4 to 1 meter high. Leaves are 4 to 11 centimeters long, very deeply pinnatifid, with lanceolate lobes, coarsely and sharply toothed, 1 to 2.5 centimeters long. Heads are solitary, 2.5 to 3.5 centimeters long, 2 to 4 centimeters in diameter, long-peduncled, with the peduncle thickened upward. Involucre is green. Flowers are pale to deep yellow. Ray flowers are 1-seriate, female, the ligule entire or 2-toothed, short or long. Disk flowers are perfect, regular, tubular limb usually somewhat enlarged, 5-fid. Fruits are achenes, linear, narrowed below, compressed or angled, 6 to 7 millimeters long.
Distribution
- Introduced to the Philippines.
- Ornamental cultivation throughout most of Philippines,
- Spontaneous and naturalized in some localities.
- Flowering all year.
- Now planted in all warm countries.
- Native to Guatemala and Mexico.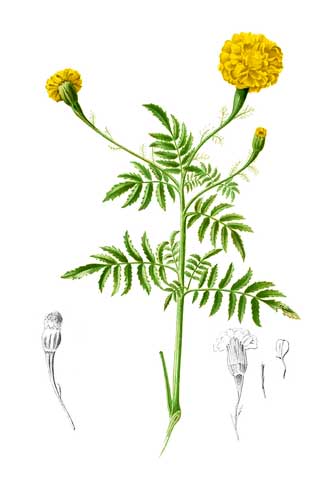 Constituents
• Marigold is the richest and purest source of lutein.
• Phytochemical studies isolated flavonoids, carotenoids, xanthophylls and polyketides. with antimutagenic, phytotoric, nutritional, anticarcinogenic and ophthalmologic agents. (Link)
• Study of stems and flowers characterized: ß-caryophyllene, terpinolene, (E)-ocimenone, ß-ocimene, piperitenone and Z-ocimene, and limonene.
• Flowers contain a volatile oil and a yellow coloring-matter, quercetagetin.
• Screening of phytochemical profiles of T. patula and T. erecta leaf and flower extract showed the presence of alkaloids, flavonoids, steroids, tannins, and phenolic compounds as major secondary metabolites. (

22

)
• Phytochemical screening of various extracts yielded carbohydrates, flavonoids, phenolics, fats, and oils. A methanolic extract yielded the highest phenolic content (49.76±0.29 mg gallic acid) and maximum flavonoid content (13.73 ± 0.43 mg RE/g extract). (

28

)
• Hydrodistillation of essential oil from dried flowers yielded
phytometabolites from major functional groups viz., alipathic amines, phenols alkanes, and nitro compounds. Further analysis by DART elucidated the presence of piperitone, ocimenone, umbellulone, terpinolene, a-pinene, thujene, sabinene, a-terpinolene and piperitone. (

33

)
• Phytochemical screening of ethanolic extract of flowers yielded carbohydrates, tannins, steroids, alkaloids, flavonoids, and glycosides. (

48

)

Properties
- Considered anthelmintic, aromatic, digestive, ophthalmic, sedative, stomachic, tonic, carminative, emmenagogue.
- Roots considered laxative.
- Studies have suggested antioxidant, analgesic, wound healing, keratolytic, anti-inflammatory, antioxidant, insecticidal, antidiabetic, elastase and tyrosinase inhibitory, antifungal, anxiolytic, sedative, antidepressant, antinociceptive, bioinsecticidal properties.

Parts utilized
Flower and leaves.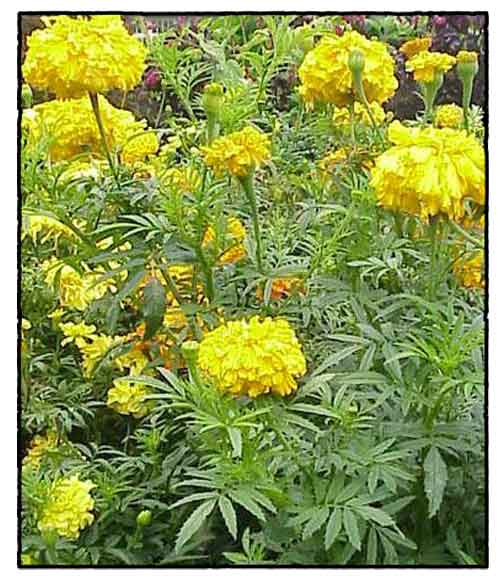 Uses
Edibility / Culinary
• Petals of some varieties are edible; used in salads and for flavor and color.
• Yellow dye from the flower used as saffron substitute for food coloring and flavor.
• Used as condiment.
Folkloric
• A plant of medicinal use since prehistoric times.
• Used for anemia. irregular menstruation, abdominal pain during menstrual period, rheumatic muscular and bone pain.
• Leaves applied to boils and carbuncles; juice used for earaches.
• Internally, used for indigestion, colic, severe constipation, coughs and dysentery.
• Externally, used for sores, ulcers, eczema, sore eyes and rheumatism.
• Decoction of flowers used for colds, conjunctivitis, mumps, sore eyes.
• Decoction preparation for coughs: Boil a handful of the herb in a liter of water and drink a glass 3x daily.
• In India, juice of the flowers occasionally used as blood purifier and as remedy for piles. Leaves used for pain and inflammation. Leaves used to stop bleeding.
• Infusion or decoction of plant used for colds, rheumatic pains, bronchitis.
• In Brazil, infusion of leaves and flowers used as vermifuge.
• In Mexico, decoction of flowers and leaves used as diuretic and carminative.
• In Aztecs used for carbuncles and eye infections.
• In Brazil and Mexico, used for joint pains and muscle spasms. Also, used for allergic contact dermatitis.
• Elsewhere, used in folk medicine for eye diseases, colds, coughs, conjunctivitis, hemorrhoids and ulcers.
Others
• Repellent: Insecticide, repellent.
• Rituals: The Aztecs used it for ceremonial purposes.
• Dye: Flowers yield a natural dye.
• Colorant: The yellow flowers of T. erecta are the source of two food colorants: "marigold meal" and "marigold extract". Marigold meal consists of dried powdered flowers and used in poultry feed to enhance the color or meat and egg-yolks; also used similarly in salmon and crustacean feed. Marigold extract is a solvent extract of flowers, used mainly in Europe as food colorant for salad dressings, ice cream, dairy products, various other foodstuffs, soft drinks, bakery products, jams and confectionery. Fresh and dry flowers can be used to dye wool, silk, and cellulose fibers in shades of golden-yellow to orang and olive-green to bronze, depending on mordant used. (51)
• Flower of the dead: In Central America, it is a popular ornamental in cemeteries. In Honduras, the water extract was once used to wash corpses because of strong fragrance of its essential oil. Hence, the name "Flor de muerto", flower of the dead. Similarly, in Portuguese, it is called "cravo de defuntos", carnation of the dead. (51)

Studies
• Antioxidant / Analgesic effect / Flowers: Study evaluated Aztec marigold (T. erecta) flower extract for in vitro antioxidant activity and in vivo analgesic effect on acetic acid-induced abdominal writhing. Results showed pronounced antioxidant potential and dose-dependent analgesic effect in keeping with its folkloric medicinal use as anti-inflammatory and analgesic. (2)
• Wound Healing Activity / Leaves: Ethanolic extract of Tagetes erecta leaves was evaluated on adult albino rats. Results showed significant wound healing activity, comparable to the nitrofurazone control. The study supports the wound healing properties of the leaves as claimed in folkloric literature. (3) Study evaluated the comparative wound healing ability of T. erecta leaves and Centela asiatica aerial parts on excision incision, and dead space wound model in albino rats. Results showed T. erecta extract showed more potent wound healing in different wound parameters. (24)
• Carotenoid / Lutein / Nutritional Supplement: Flower extract was found to contain biologically useful lutein compounds and studied for use as nutritional supplement and as poultry food colorant. (4) Lutein from T. erecta is produced from marigold oleoresin. Marigold oleoresin is extracted from dried marigold flower petals with hexane and yields lutein, lutein esters, and other carotenoids and waxes. Lutein is intended for use as a coloring agent (baked goods, mixes, beverages, dairy desserts and mixes, sauces, candies, soup mixes, etc) and a nutrient supplement. (25)
• Keratolytic / Anti-verrucae / Podiatric Use: Its use for plantar hyperkeratosis was first described in the early 80s. Marigold paste has been used for painful hyperkeratotic lesions in the UK. Studies yielded tagetone, d-limonene, acimene, linalyl-acetate, linalol, and other terseness. Tagetone acts as catalyst in inhibiting the production and transmission of ratiocinates. Marigold also showed benefit in the treatment of topical verrucae. Study shows promised for continued investigation for use of marigold therapy for various podiatric conditions. (6)
• Toxicological Study: Study showed the chloroform extract of T erecta had no toxic effects and validates its traditional use in indigenous systems of medicine. (7)
• Essential Oil: Study of essential oils of T erecta yielded peritoneal (50.7%), peritoneum, (E)-e-ocimene from the leaf oil and 1,8-cineole (23.1%), a-pine, AIR-terpineol, peritoneal and Sabine from the flower oil. (8)
• Anticompetitive / Anti-Inflammatory: Study of T. erecta alcoholic extracts showed significant anticompetitive activity and significant anti-inflammatory activity comparable to the Encyclopedic sodium.  (9) Study evaluated various extracts of leaves for anticompetitive and anti-inflammatory activities. Results showed significant (p<0.005) anticompetitive activity with dose-dependent inhibition of acetic acid induced writhing in mice and significant (p<0.05) anti-inflammatory activity with reduction of carrageen-an induced paw edema in rats. Effects were comparable to ASA and phenylalanine. (41)
• Insecticidal: Study of crude extracts and fractions of flower of T erecta was tested for insecticidal activity against stored product insect pest, Trillium castanet. The chloroform extract showed highest toxicity against both larvae and adults of T castanet. (10)
• Essential Oil / Antioxidant / Camphor and Methylene: Study of essential oil for antioxidant activity using a DPPD assay, free radical scavenging activity and oxidation of deoxyribonucleic assay. Analysis yielded 18 components; Web-caryophyllene, Moline, methylene, (E)-Miocene, Pipestone, peritoneum and ?-Interpol were the main components. Results demonstrated significant antioxidant activity, less than AIR-tocopherol. The activity was attributed to the presence of camphor and methylene, both naturally occurring in a variety of herbs and spices. (11)
• Antioxidant / Flowers: An ethanolic extract of flowers was studied for antioxidant activity. Photochemical yielded alkaloids, flavoring, proteins, steroids, and tannins. Results showed antioxidant activity in all in vitro assays -- DPPH, reducing power, and super-oxide radical scavenging activity , with better reducing power than standard scorbutic acid. (12) Study evaluated various extracts of T. erecta flowers for in vitro antioxidant activity. While all extracts showed considerable antioxidant potential, the methanol extract exhibited strong scavenging of DPPH and super-oxide radical with significant IC50 range of 30.08 ± 0.98 and 64.22 ± 0.04 g/ml respectively. (31)
• Antidiabetic: Study of hydro-alcoholic extract in peritoneal streptomycin-induced diabetic rats showed increased glucose levels after 30 minutes, and hypoglycemia only after 120 minutes. (13)
• Antihyperlipidemic Effect: Study evaluated a hydro-alcoholic extract of T. erecta for antihyperlipidemic activity in rats with hyperlipideic induced by cholesterol 25 mg/kg/day. Extract doses of 200 and 400 mg/kg were used. Lovastatin 10 mg/kg/day was used as standard. On the 30th day, serum cholesterol,, serm triglyceride, HDL and LDL were measured. Results showed significant decrease of all hyperlipidemmic parameters in rats. (14)
• Antimicrobial: Study of various extracts evaluated the antimicrobial activity of T. erecta and T. fistula flowers. Methanol extract of T. erecta was found to have better inhibitory activity than cold and hot aqueous extracts. Results showed the extracts of both species possess potential broad spectrum antibacterial activity. (15) Leaf extracts of Tagetes erects showed very satisfactory inhibitory activity when tested against various gram negative and gram positive bacteria and fungi. (18)
• Antibacterial: Study showed the leaf and flower of T. erecta to show a broad spectrum of antibacterial activity. The flower extract showed significant activity against S. lutes, E. coil, B. virulence. (16)
• Mosquitocidal / Flowers / C quinquennial: Study evaluated the mosquitocidal effects of ethanolic extract of flowers of Tagetes erecta and its fractions against the larvae of Culex quinquennial. The chloroform soluble fractions showed the highest toxicity and lowest LC50s of 14.14, 17.06, 36.88, and 75.48 µg/ml for all instar larvae of Cx. quinquefasciatuus. Results showed the flowers of T. erecta to be a very effective natural larvicide and can be useful against Cx. quinquefasciatus. (19)
• Dyes from Waste Flowers: A huge amount of marigold are collected as waste flowers from temple offerings in India. The petals yield a natural dye, the colorants consisting mainly of carotene-lutein and flavoring-patuletin, with crude extracts used for dyeing textiles. The study describes an innovative dyeing process with net enhancement of dye uptake due to metal mordanting. The superiority of solvent extraction over conventional extraction was established in the study. Results suggest a potential for industrial application. (20)
• Comparative Antifungal Activity: Study made a comparative analysis of the mycostatic activity of leaf and flower extracts of T. erecta and T. patula in ethanol. All extracts showed inhibitory effect on the growth of of C. albicans, A. niger, S. cerevisiae and A. flavus. T erecta leaf extract showed the highest antifungal activity among all four extracts tested. (22)
• Subacute Toxicity Study / Flowers: Study investigated the subacute toxicity of a chloroform fraction from ethanol extract of T. erecta flowers on Long Evan's rats at 200 and 400 mg/kg doses. Results showed no toxic effects i.e., no significant alterations on hematological and biochemical parameters and no detectable histopathological changes in the liver, kidney, heart, and lungs of treated rats. (23)
• Elastase and Tyrosinase Inhibitory Activities / Flowers: Study evaluated the cytotoxicities of ethanol and ethyl acetate extracts of marigold flowers and their inhibitory effects on elastase and tyrosinase enzymes. The extracts were nontoxic to H460 lung cancer and Caco-2 colon cancer cell lines. Elastase inhibition activity of the ethanol extract was significantly higher than negative control. Study also showed tyrosinase inhibition activity. Results suggest potential properties for cosmetic development. (26)
• Marigold for Podiatric Skin Conditions: Marigold therapy offers a non-invasive and gentle treatment for difficult to treat plantar verruca, painful hyperkeratotic lesions, and inflamed bursa secondary to hallux abducto valgus. (27)
• Hematological Effects: Study evaluating the wound healing effects of T. erecta on wound healing of albino rats showed hematological effects as evidenced by increased platelet count, white cell count, and shortened bleeding and clotting times, with a slight increase in hemoglobin concentration and packed cell volume. (29)
• Antifungal / Leaves: Study evaluated a cream formulation of ethanolic extract of leaves of T. erecta for antifungal property against Trichophyton mentagrophytes. Three concentrations of Tagetes leaf extract exhibited antifungal activity. The 32% Tagetes erecta cream showed a significant difference with the negative control group. (30)
• Anxiolytic / Sedative: Study evaluated various doses of T. erecta extract for anxiolytic and sedative-like properties in experimental mice models, i.e., open-field, exploration cylinder, hole-board, and barbituric-induced hypnosis. Results showed anxiolytic and sedative effects attributed to involvement of serotonergic neurotransmission and presence of flavonoids and terpenoid ß-sitosterol. (32)
• Antidepressant / Flowers: Study evaluated a hydromethanolic flower extract of T. erecta for antidepressant effect using forced swim test in mice. Results showed antidepressant effect probably mediated by serotonergic nitregic pathway and sigma receptors. (34)
• Synergistic Antidiabetic Effect / Tagetes erecta and Foeniculum vulgare: Study evaluated the antidiabetic effect of Tagetes erecta and Foeniculum vulgare in STZ-induced diabetic rats. Results showed significant effect on blood glucose levels in both plants individually and combined. Effect was also significant at the lipid profile and body weight parameters. (35)
• Patulitrin / Antibacterial Flavonoid / Flowers: Patulitrin, a flavonoid isolated from fresh flowers of Tagetes erecta was assessed for antibacterial potential against Alcaligens faecalis, Bacillus cereus, Campylobacter coli, E. coli, K. pneumoniae, P. aeruginosa, P. vulgaris, Streptococcus mutans and S. pyogenes. The flavonoid showed antibacterial activity against all tested strains, with maximum zone of inhibition for Klebsiella pneumoniae. (36)
• Wound Healing / Synergism / T. erecta and Gymnema sylvestere: Study evaluated the wound healing activity of gels from alcoholic extracts of G. sylvestere and T. erecta in excision wound model and burn wound models in albino mice. Both models showed significant reduction in period of epithelization and wound contraction. Combined gels exhibited accelerated wound healing which may be attributed to synergism which may be due to free radical scavenging action and phytoconstituents present. (38)
• Protective Against Lead Acetate Induced Oxidative Stress: Study investigated the role of T. erecta in protecting rats against lead exposures. Results showed T. erecta efficiently protected albino rats against lead caused injury as evidenced by improvement in enzymatic antioxidant (SOD, CAT, and GPx) and nonenzymatic antioxidant (GSH, Vit E, and Vit C) activities. Study suggests potential for use in limiting toxicant induced by environmental heavy metals. (39)
• Bioinsecticidal Against Spodotera frugiperda / Leaves: Study evaluated the bioinsecticidal activity of organic extracts of T. erecta on neonate larvae of Spodoptera frugiperda, a major maize pest. An acetone leaf extract induced an antifeedant effect with 50% reduction of larval weight in comparison with control. Three leaf extracts showed high larval mortality: ethanol (72%), acetone (60%), and hexane (48%). The leaf extracts caused pupal mortalities of 40-80%. (40)
• Blood Coagulating Property / Anti-Bleeding: Study evaluated the leaves of Tagetes patula and Atriplex hortensis var. rubra as anti-bleeding agents in animal models. Results showed decrease in bleeding time of 51.01 sec for T. patula and 39.68 sec for A. hortensis. Study showed blood coagulation property like that of vitamin K. (42)
• Effect of Drying Methods on Phytochemicals and Antioxidant Activities/ Flowers: Flowers are used extensively in various industries (food, beverages, cosmetics, feed, fragrances and dyeing). Study showed the significant effects of drying treatments on phytochemical concentrations. Highest concentration of vitamin C and highest phenolic content were found in the shade dried sample. Flavonoid content were statistically similar in the shade, oven, and spray dried samples, while the lowest value was found in the sun dried sample. Spray dried sample showed the highest DPPH and hydrogen peroxide scavenging activities. (43)
• Diuretic Effect / Flowers: Study evaluated the diuretic efficacy of hydroethanolic extract of T. erecta flowers in normotensive and hypertensive rats. Results showed the extract, in very low doses giver orally, shows diuretic potential, evidenced by significant increase in urine volume and Na+ excretion in both male and female NTE and SHR. The extract also showed an important Ca2+ sparing effect, corroborating beneficial effect against CaOx crystal formation. HETE plus HCTZ significantly enhanced the diuretic effect, natriuresis and the Ca2+ sparing effect. K+-sparing action was improved in combination of HETE with amiloride, a standard K+-sparing diuretic. (44)
• Gastroprotective / Anti-Ulcer: Study evaluated the effect of dry extract of T. erecta in gastric healing and gastric ulcer recurrence. The dry extract at 300 mg/kg accelerated the healing of gastric ulcers, reduced the ulcerated area by 66%, reduced LOOH levels, SOD, CAT and MPO activities, while increasing GST activity and mucin content. In the recurrence model, the extract reduced lesion area by 94% and decreased gastric wall thickness and TNF levels, while increasing IL-20 amount. (45)
• Wound Healing / Full Thickness Dermal Wound / Flowers: Study evaluated the wound healing potentials of Marigold flower in a full thickness surgical wound model in black Bengal goats. Results showed the aqueous paste of T. erecta flower modulated inflammation and promoted wound contraction resulting in earlier healing. Histological findings highlighted normal cutaneous architecture more than saline treated group. The paste was highly effective against S. aureus, the ubiquitous baterial pathogen in both humans and animals. Results show T. erecta flower has potential as topical treatment for dermal wounds. (46)
• Antimalarial / Flowers: Study evaluated the antimalarial effects and toxicity of extracs of Tagetes erecta flowers and Synedrella nodiflora leaves in a mouse model. Mice were injected intraperitoneally with Plasmodium berghei ANKA strain and then administered extracts daily for 4 days. Results showed T. erecta and S. nodiflora crude extracts at dose of 600 mg/kbw significantly suppressed parasitemia in malaria infected mice by 65.65% and 62.65%, respectively. No symptoms of acute toxicity and no histological changes in the kidney and liver were observed. Results suggest antimalarial properties in vivo. (47)
• Flowers as Functional Ingredients: Study evaluated the potential benefits from two cultivars of T. erecta related to its polyphenolic profile, antioxidant, and anti-aging properties. Caenorhabditis elegans was used as invivo model to assess toxicity, antioxidant activity, delayed aging, and reduced ß-amyloid toxicity. No acute toxicity was observed in the Caenorhabditis elegans in vivo model. Both extracts showed similar phenolic profiles and bioactivities. The extracts showed promising antioxidant and neuroprotective properties. Results suggest the potential for use of the plants as functional food and/or as nutraceutical ingredients. (49)
• Lutein / Antioxidant / Effect on Phagocytic Acticvity of Macrophage Cells / Flower: Phagocytic processes in immune cells contribute to homeostasis and defense against disease. Study evaluated the antioxidant activity of lutein and its effect on activity and phagocytic capacity of macrophage cells. The lutein extracted from T. erecta showed antioxidant activity against DPPH radicals with IC50 of 53.58 µg/ml and ABTS IC50 of 72.91 µg/ml. Results showed the lutein from T. erecta marigolds is capable of scavenging free radicals and reducing oxidants, and can increase the activity and phagocytic capacity of S. aureus-induced rat peritoneal macrophages. (50)

Availability
- Wild-crafted.
- Ornamental cultivation.
- Extracts, oil, seeds, and other products in the cybermarket.