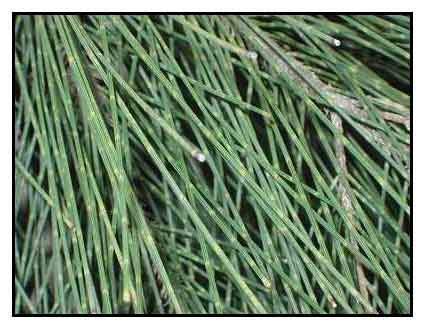 Botany
Agoho is a large, evergreen tree, tall and straight, up to 20 meters high. Crown is narrowly pyramidal, resembling some of the conifers in appearance. Bark is brown and rough. Branchlets are very slender, about 20 centimeters long, mostly deciduous, composed of many joints. Internodes are about 1 centimeter long, somewhat 6- or 8-angled. Flowers are unisexual. Staminate spikes are slender, 1 to 3 centimeters long. Cones are usually ellipsoid, 1 to 2 centimeters long, composed of about 12 rows of achenes enclosed in the hardened bracts.
Distribution
- Throughout the Philippines along sandy seashores, extending inland in open sandy valleys along streams.
- Sometimes growing at altitudes as high as 800 meters.
- Cultivated in Manila and large towns as an ornamental foliage tree or hedge plant.
- Also planted to check erosion.
- Also occurs in Tropics of the Old World from Africa to Polynesia, near the sea.
- Now pantropic in cultivation.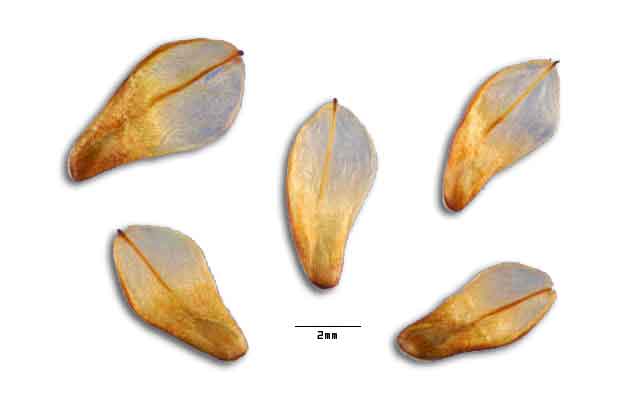 Constituents
- Plant yielded kaempferol, quercetin, alicylic acids, amino acids, taraxarol, lupenone, lupeol, gallic acid, ß-sitosterol, catechin, and gallo-catechin.
- Phytochemical screening yielded alkaloids, flavonoids, triterpenoids, carbohydrates, tannins, phenols, gums, and mucilage.
- Bark yields 18% tannin.
- Tannins from the bark were catechin, ellagic acid, and gallic acid. Flavonoid (quercetin) and lupeol were isolated from the leaf and fruit, respectively. (5)
- Coloring matter is casuarin.
- Phytochemical screening yielded eight phenolic compounds as major active constituents, viz. gallic (19.18 µg/g), protocatioic (6.84), salicylic 11.57), chlorogenic, syringic, p-hydroxybenzoic, p-coumaric, and vanillic acid. (see studies below) (14)
Properties
- Resembles a pine tree in appearance.
- Considered antidiarrheal, anticancer, antibacterial, antifungal.
- Bark considered astringent, emmenagogue, ecbolic and tonic.
- Phytosterols from leaves considered antibacterial, hypoglycemic, antifungal, molluscicidal, cytotoxic.
- Seeds considered anthelmintic, antispasmodic and antidiabetic.
- Studies have suggested antibacterial, antifungal, antioxidant, antidiabetic, hypolipidemic, antiasthmatic, anticariogenic, nephroprotective properties.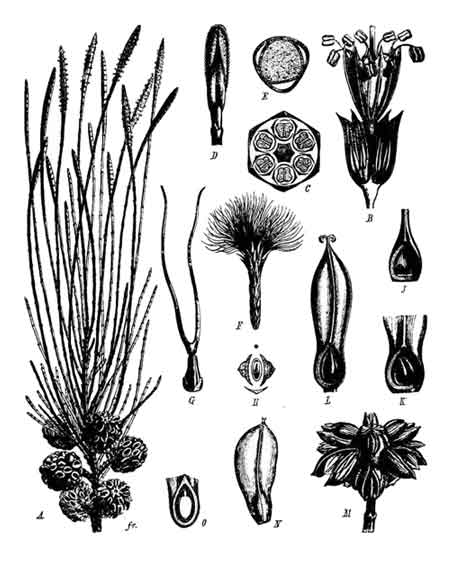 Parts used
Bark, leaves.

Uses
Folkloric
- Infusion of branches used as diuretic.
- Leaves used for colic.
- Bark used as astringent.
- Bark decoction used as emmenagogue; in large doses, an ecbolic.
- Used for stomach aches, diarrhea, dysentery and nervous disorders.
- Decoction of bark used for hemoptysis.
- Used for cough, asthma, and diabetes.
- In India and Malaya, bark used for diarrhea and dysentery; also used for beriberi.
- In Malaya and Sarawak, decoction of twigs used in making a lotion for swellings.
- In Malaya, powdered bark used for pimples.
- In Macassar, decoction of bark used for colic.
- In Samoa, bark infusion used for coughs, asthma, and diabetes.
- Infusion of bark used as tonic; decoction used for chronic diarrhea and dysentery.
- In Tonga, bark infusion taken as potion; squeezed into the mouth of infants with mouth infections. Also used for stomachache. (10)
- In Fiji, bark extract taken for rheumatism or as emetic. In Yap (Ulithi), inner bark used to treat diarrhea and other digestive tract ailments. (10)
Others
- Fuel: Tree makes good fuel-wood.
- Construction: Hard wood favored for making house timber, poles and rafters, tool handles, spears.
- Dye: Tannin from the bark used for tanning and dyeing.

Studies
• Antibacterial: In a study evaluated methanol extracts of seven medicinal plants for antibacterial and toxic activities. All the plants showed moderate activity against the tested organisms. C. equisetifolia exhibited strong activity against S aureus, B subtilis and S sonnei. (1)
• Antibacterial: Casuarina equisetifolia was one of 12 medicinal plants studied for antibacterial activity against B subtilis, S epidermis, Pseudomonas pseudoalcaligenes, P vulgaris and S typhimurium.
• Hepatoprotective: C. equisetifolia was one for four medicinal plants that showed dose-dependent protection against carbon tetrachloride induced hepatocellular injury in rats.(2)
• Antidiabetic / Hypolipidemic: Study of ethanolic extract showed reduced blood sugar in STZ-induced diabetic rats. There was also a significant reduction in total cholesterol, LDL, VLDL, with an improvement in HDL cholesterol.(6)
• Antioxidant / Antimicrobial / Anti-Aggregating Properties: Study showed the condensed tannins extracted from C. equisetifolia exhibited considerable DPPH radical scavenging activity and ferric reducing antioxidant power. Extracts also showed moderate hemolytic action and potent antimicrobial effect on Bacillus proteus, B. subtilis, K. pneumonia, and Aspergillus fumigatus.(7)
• Antiasthmatic / Bark: Study of ethanol extract of bark showed significant dose-dependent antiasthmatic activity in various in vitro and in vivo animal models. (9)
• Nephroprotective / Leaves: Study evaluated the nephroprotective activity of methanolic extract of C. equisetifolia leaves in gentamicin-induced nephrotoxicity in Wistar rats. Plant extract at a dose of 300 mg once daily for 4 weeks restored normal renal functions and attenuated oxidative stress. C. equisetifolia leaves extract ameliorates gentamicin-induced nephrotoxicity and oxidative damage by scavenging oxygen free radicals, decreasing lipid peroxidation and improving intracellular antioxidant defense. (12)
• Anticariogenic: Study evaluated the activity of various extract solvents of C. equisetifolia against susceptible pathogenic oral bacteria. Results showed a wide range of phytochemicals with anticariogenic activity. (13)
• Antimicrobial: Study evaluated the antimicrobial activity of various extract of leaves against seven medically important bacterial strains (B. subtilis, MRSA, Micrococcus, E. coli, P. aeruginosa and K. pneumonia) and four fungi. A methanol extract showed the most pronounced effect and the most susceptible was S. aureus. The most susceptible fungi were Aspergillus flavus. (see constituents above) (14)
• Anti-Acne / Bark: Study evaluated clinical efficacy of C. equisetifolia bark extract (5% cream) in comparison to benzoyl peroxide as standard for acne vulgaris. Results showed no significant difference in both test and standard control groups. Furthermore, remarkable improvement was found in acne grading in the test group. (15)
• Bio-Fiber / Bark: Study evaluated C. equisetifolia leaf as bio-based fiber and unsaturated polyester composite as matrix due to its natural surface roughness without chemical treatment. Results showed the tensile strength at 30% up to 50% weight loading of CE has the potential to be used in non-structural applications. (16)
• Adsorbent for Removal of Methyl Violet from Wastewater: Study evaluated the CEN has the potential to be used as low cost adsorbent for the removal of methyl violet from wastewater. Thermodynamic study showed the sorption process was endothermic, spontaneous and physical in nature. (17)
• Anti-Diarrheal: Study evaluated the anti-diarrheal effect of a 90% ethanolic extract of C. equisetifolia against castor oil-induced diarrhea in a rat model. Results showed significant (p<0.001) reduction of castor oil-induced frequency and consistency of diarrhea and enteropooling, together with reduction in weight and volume of intestingal contents and modest reduction in intestinal transit. (18)

Availability
Wild-crafted.