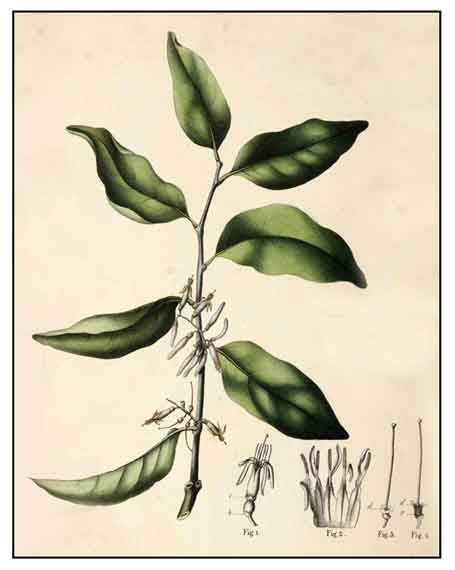 Botany
Agoago is a strong and gray parasitic plant with terete branches. Leaves are rarely opposite, petioled, elliptic-oblong or lanceolate, rarely obovate, 5 to 20 centimeters long, 2.5 to 12 centimeters wide, with a pointed or nearly obtuse apex. Flowers are densely crowded, scurfy, axillary with very short racemes, about 1.5 centimeters long. Bracts are capsular. Calyx tube is cylindrical to urceolate, 1.5 to 2 millimeters long, with a 5-toothed calyx-limb. Corolla is straight, with the tube dilated below and equally 5-cleft at the middle, with linear and pointed lobes. Fruit is oblong-ovoid, 10 millimeters long, 6 millimeters wide.
Distribution
- Found on trees at low and medium altitudes in Zambales Province, Luzon; and in Palawan.
- Also occurs from India, Thailand, Vietnam, to southern China and southward to Sumatra, Java and Borneo.

Constituents
• Stem contains a glucoside, quercitrine.
• Wax, on saponification, yields mellissyl alcohol.
• Leaf extracts yield large amount of quercitrin, besides hydrocarbons and fats.

Properties
• Considered antioxidant, antidiabetic, antihypertensive.
• Studies have suggested antihypertensive, spasmolytic, anitoixidant, antidiabetic properties.
Parts utilized
Bark, leaves.

Uses
Folkloric
• Poultice of pounded leaves used for small sores and ulcers.
• In Perak decoction of leaves used after childbirth as protective medicine.
• In Thailand, leaves or infusion of dried whole plant used for hypertension.
• In Indonesia, used for hypertension, cough, ulcers, skin infections, post-partum treatments, cancer, ulcers and small pox.
Studies
• Antihypertensive: Study of an aqueous extract of Loranthus pentandrus in 15 Sprague-Dawley rats with induced-hypertension showed an antihypertensive effect. One possible mechanism of its effect was
a negative cardiac chronotropic effect. (1)
• Ileum Contracting / Spasmolytic / Smooth Muscle Contracting Effect: Leaf Methanol extract fraction showed ileum contracting activity. An ether soluble fraction showed papaverine-like spasmolytic effect. Subfractionation showed smooth muscle contracting ability.
• Antioxidant / Antidiabetic / a-glucosidase Inhibition / Toxicity Study: Study using DPPH free radical scavenging assay showed the methanol extract with significant activity. Both methanol and water extracts of D. pentandra leaves showed significant a-glucosidase inhibition activity. All the mistletoe extracts tested showed no toxicity and showed significant antidiabetes activity. Results suggest D. pentandra is a potential source of antidiabetes and antioxidant compounds. (3)
• Antioxidant: Study of leaf extract of mistletoe (Dendrophthoe pentandra) grown on star fruit (Averrhoa carambola) isolated a flavonol glycoside, quercitrin (quercetrin-3-O-rhamnoside, an active antioxidant with an IC50 value of 5.19 ug mL. (4)
• Chemical and Pharmacologic Study / Leaves: Study of methanol and water extracts and fractions of leaves yielded hydrocarbons, fats, and a large amount of quercitrin. Some fractions showed hypotensive effects, ileum contracting activity, and papaverine-like spasmolytic effect. (7)
• Mosquito Repellent / Ae, aegypti and Cx. quinquefasciatus / Leaves: Study of Loranthus pentandrus methanol leaf extract showed strong repellent action against Aedes aegypti mosquito with 100% protection at 240 min at 4 and 5 mg/cm2. (8) (9)

Availability
Wild-crafted.