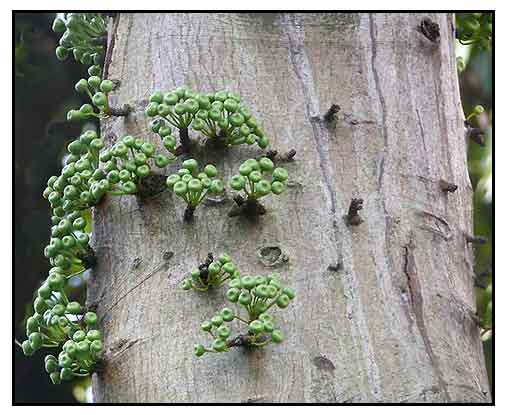 Gen info
- Ficus is a genus of about 850 species of woody trees, vines, epiphytes, and hemiepiphytes in the family Moraceae.
- As of January 2023, Plants of the World Online lists more than 880 accepted Ficus species.
- Molecular data estimates Ficus is a relatively ancient genus of at least 60 million years old, possibly 80. (6)
- With more than 800 species, Ficus is the largest genus in the family Moraceae, and one of the largest genera of flowering plants currently described. (6)
- Ficus variegata was described by Carl Ludwig Blume in 1825.
Botany
Tangisang-bayauak is a tall, spreading tree, with pale bark. Leaves are broadly or elliptic-ovate, 10 to 17 centimeters long, the base rounded, notched or heart-shaped and the tip tapering to a point, with the margins entire, subexpanded or toothed. Receptacles are about 1 centimeter in diameter, red when ripe, and clustered on long branches.
Distribution
- Native to the Philippines.
- Common in primary forests at low and medium altitudes from Cagayan to Sorsogon in Luzon, in Palawan and Mindanao.
- Also native to Andaman Is., Assam, Bangladesh, Bismark Archipelago, Borneo, Cambodia, China, Hainan, India, Jawa, Laos, Lesser Sunda Is., Malaya, Myanmar, Nansei-shoto, New Guinea, Nicobar Is., Queensland, Solomon Is., Sulawesi, Sumatera, Taiwan, Thailand, Vietnam.
Constituents
- Various dried bark extracts yielded sugar, protein, alkaloids, flavonoids, sterols, and glycosides.

P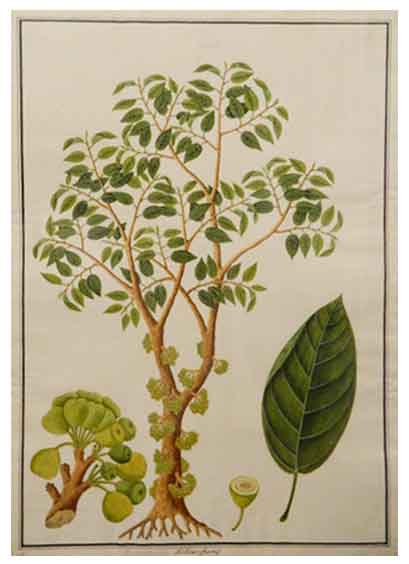 arts used
Leaves, bark, latex.

Uses
Culinary
- In Java the young shoot-tips and young fruits are eaten raw or cooked.
- Fruit used as food by the Ayta people of Pampanga.
- Latex used as food additive in palm starch. (4)
Folkloric
- In the Philippines fresh leaves are applied as topical in boils.
- In Malaya, the bark, reportedly sweet, is chewed or used in decoction for dysentery.
- Latex of the bark used as a coat over wounds.
- In Pakistan, paste prepared from fresh milky juice of the plant mixed with milk is applied to boils and affected skin three times daily. (1)
Others
- Wax: Source of wax used in Batik work. (4)
- Wood: Low quality; used for temporary construction, mouldings, claddings, drawers, crates, floats, and knife sheaths. (4)

Studies
• Antioxidant / Antiacetylcholine Esterase Potential / Aerial Parts: Study evaluated the antioxidant and enzyme inhibition potential of various extracts and fractions of aerial parts of three selected plants viz. C. erectus, Ficus variegata, and F. maclellandii. All the extracts and fractions contained reasonable amounts of phenolic compounds. The chloroform leaf extract of F. variegata was the most active in total antioxidant capacity (TAC). All the extracts showed significant enzyme inhibition activity. (5)
• Antioxidant / Stem Bark: In a study of plants for antioxidant activity by DPPH assay, Ficus variegata stem bark exhibited 91% inhibition. (3)
• Antibacterial / Fruit / Bark: Subfraction of methanol and n-hexane fruit extract from F. variegata showed antibacterial activity against S. aureus (Ningsih et al, 2020). Methanol and n-butanol extract of bark showed antibacterial activity against E. coli and S. aureus by disc diffusion method (Saleh et al. 2016). (7)

Availability
Wild-crafted.