Gen info
- Taxonomic snippet: The former Agapanthacea, now Agapanthoidea subfamily, is an entirely South African family with Agapanthus as the sole genus. Molecular evidence indicated a closer relationship with Amaryllidaceae, and in 2003 the Angiospermy Phylogeny Group (AGP II report) suggested lumping the family "back" to the Alliaceae family. In the most current APGIII and APGIV systems, the Amaryllidaceae includes Alliacea and Agapanthaceae as subfamilies. (13)
- Etymology: The genus name Agapanthus (flower of love) derives from the Greek words 'agape' meaning love, and 'anthos'; meaning love flower or lovely flower. Africanus derives from Latin referring to its African origin. (•) Another etymological interpretation suggests the root word as 'agapeo' meaning 'to be contented with' to refer to a flower with which one is well pleased. (•) It is also considered a symbol of purity, beauty, and fertility.
- Contrary to the connotation of common names -- African lily and Lily of the Nile -- Agapanthus flowers are not lilies. A member of the Amaryllidaceae (Amaryllis) family, Agapanthus is actually related to garlic, Galanthus and Narcissus. (18)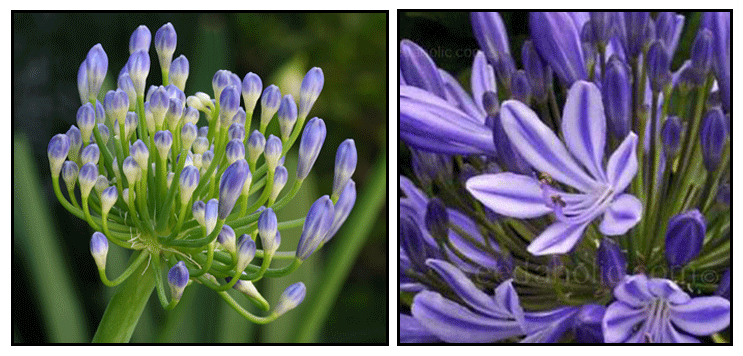 Botany
Agapanthus africanus is an evergreen shrub with thick rhizomes. Stems are stout, bearing a tuft of long, narrow leaves. Leaves are basal, 2-ranked, linear-lanceolate, up to 50 centimeters long and 2-4 centimeters wide. Flower stalks are stout, erect, up 30 to 50 centimeters high. Flowers are in umbels, 12- to 30-flowered, usually bright blue-violet, crowded at the end of along stalk,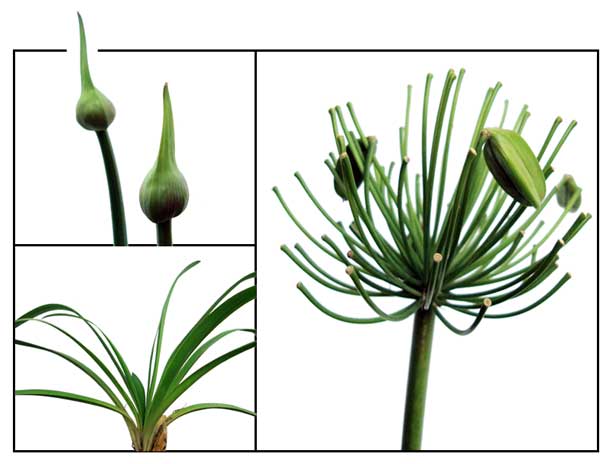 Distribution
- Ornamental pot cultivation in the Philippines.
- Native to Southern Africa but naturalized in scattered places in the world.

Constituents
- Saponins and sapogenins of the furostane and spirostane type, including agapanthegenin and steroid spirostan sapogenins.
- Anthyocyanin gives the colors to the flowers.
- Study has yielded a chalcone compound, Isoliquiritigenin. (8)
- Spectral and chemical analysis of rhizomes yielded two novel steroidal saponins, (25R)-5α-spirost-7-ene-2-α,3β,5α-triol 3-O-[-α-L-rhamnopyranosyl-(1 → 2)]-β-d-glucopyranoside 1 and (25R)-5α-spirost-7-ene-2α,3β,5α, 9a-tetrol-3-O-β-D-glucopyranoside (2). (12)
Properties
- Considered cardiac, stomachic, uterotonic. oxytoxic, pectoral, expectorant, aperient, purgative, nephritic.
- Studies have suggested oxytoxic, pesticidal, antifungal, anticancer, phytoremediative properties.
Toxicity
- Leaf may cause mouth pain and ulcerations. May be irritating to the eyes and skin. Suspected but unproven hemolytic effects.
- Ingestion of the clear, sticky sap may cause nausea, vomiting, abdominal pain, diarrhea, and severe mouth ulcerations. Contact with the skin can cause burning, irritation, and rashes. (17)
Parts utilized
Rhizomes, leaves and roots.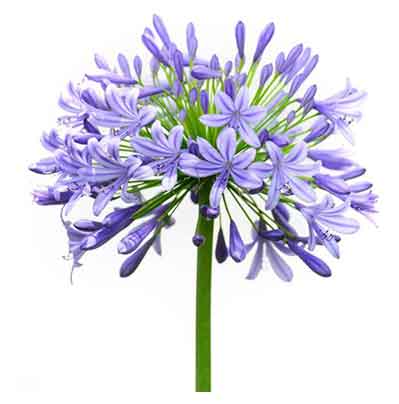 Uses
Folkloric
• No reported folkloric medicinal use in the Philippines.
• A plant of fertility and pregnancy – used by South African traditional healers as phytomedicine to treat ailments related to pregnancy and to facilitate labor. Orally or rectally, as a decoction, to ensure an easy delivery and a healthy child. It may facilitate expulsion of the placenta and augment uterine contractions. Roots worn as necklace for easy childbirth and fertility. Decoction used in washing newborn babies; also, an infant tonic.
• Used for treatment of chest pains, cough, heart disease. Infusion of or macerated leaves and roots used for treatment of hypertension. (16)
• In South African traditional medicine, the plant is among the five most often used by traditional healers in Kwazulu Natal to treat prolonged labor.
• Considered an aphrodisiac, used for impotency and barrenness.
• Leaves used around wrists to bring down fever.
• In South Africa, used for treatment of cancer: Powdered sun-dried roots are infused in water and taken orally until the patient is cured. (15)
• The Zulu nation use A. africanus to treat flu, paralysis, heart conditions, cough, chest problems, colds, and tired feet. (17)

Studies
• Oxytocic / Leaves: Studies have shown that the aqueous extract of Agapanthus africanus leaves causes smooth muscle contractions in the uterine and ileal preparations. This study evaluated the effect of an aqueous extract of leaves on receptor systems involved in contraction of uterine smooth muscle to study the mechanism of its effect in augmenting labor. On isolated rat uterus, the leaf extract exhibited agonist effects on the uterine muscarinic receptors and promoted synthesis of prostaglandins in the estrogenized rat uterus. The study provided a pharmacologic explanation for the ethnic use of A. africanus as herbal oxytocic in prolonged labor. (1)
• Antifungal / Rhizomes: Ethanolic extract of A. Africanus rhizomes showed significant antifungal activity against human pathogens–Trychophyton mentagrophytes and Sporothrix schenekii. (3) Crude extracts of aerial parts of A. africanus were screened against eight economically important plant pathogenic fungi. Results showed sufficient in vivo antifungal activity to warrant further investigation. (7)
• Pesticide Alternative: Invention reported on extracts and isolated substances that showed antimicrobial, especially antifungal, and bio-stimulatory efficacy and the suitability of these products as potential alternative for chemical pesticides. Extracts from aerial parts show higher efficacy compared to the soil parts of the plant. (6)
• Isoliquiritigenin / Anticancer: Plant yields a chalcone, isoliquiritigenin, which has been used in the treatment of cancer. (8)
• Phytoremediation: Study suggests phytoremediation potential for petroleum. ( Analysis of Phytoscapes Species for BP Retail Sites. Kim Tsao. David Tsao, Ph.D. BP Group Environmental Management Company. 28 March 2003) (9)
• Saponin / Fungicidal / Induction of Apoplastic Activity in Wheat: Study of aerial parts isolated a spirostane saponin, trisaccharide, (25R)-5α-spirostane-2α,3β,5α-triol 3-O-(O-α-l-rhamnopyranosyl-(1 → 2)-O-(β-d-galactopyranosyl-(1 → 3))-β-d-glucopyranoside). Study showed significantly increase (60%) in wheat seedlings. The purified saponin inhibited the in vitro mycelial growth of F. oxysporum completely (100%) at concentration of 125 mg/ml. Results suggest a potential role as elicitor to activate defense reaction in wheat. (11) 
• Anticancer: Study of underground parts of Agapanthus africanus isolated 16 undescribed steroidal glycosides (1-16). MTT assay evaluated the cytotoxic activities of the isolated compounds against SBC-3 human small-cell lung cancer, A549 human adenocarcinoma cells, and HL-60 human promyelocytic leukemia cells. Compound 1, a bidesmosidic furostanol glycoside, and 10, a bisdesmosidic spirostanol glycoside, showed cytotoxicity to all three cell lines with IC50s ranging from 1.2 to 13 µM. Compound 1 exhibited most potent cytotoxicity against SBC-3 cells, and arrested SBC-3 cells at the G2/M phase of the cell cycle and induced apoptosis via an intrinsic pathway accompanied by dissipation of membrane potential and morphological changes in mitochondria. (15) 

Availability
- Ornamental cultivation.