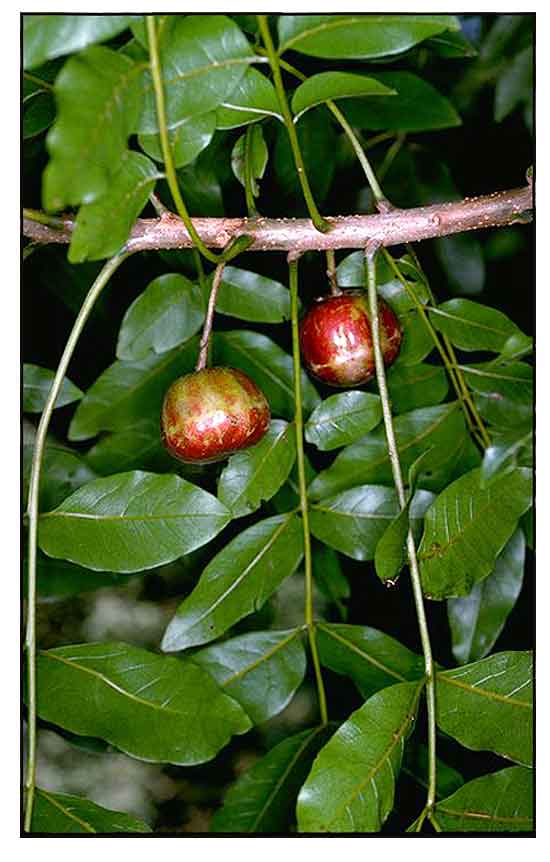 Gen info
- The basionym of the species is Icica timoriensis, originally described in 1825 by Augustin Pyramus de Candolle in Prodromus Systematicus Naturalis Regni Vegetabilis. It was renamed Pleiogynium timoriense in 1952 by Pieter Willem Leenhouts in the journal Blumea. (2)
- Etymology: The genus name Pleiogynium derives from the Greek words pleion meaning 'more' and gune meaning 'female', referring to the numerous carpels (female reproductive organ of a flower, consisting of an ovary, stigma, and style) in the flowers. The species epithet timoriense refers to Timor, where the specimen was first collected. (2)
Botany
Pleiogynium timoriense is a semi-deciduous rainforest tree growing up to 20 m (66 ft) high in rainforests or around 12 m (39 ft) in cultivation, and may develop buttress roots on older individuals. It has a dense canopy with glossy dark green leaves up to 10 cm (3.9 in) long by 6 cm (2.4 in) wide, and the trunk has a rough bark. Leaves are imparipinnate with 5 to 11 leaflets which are arranged opposite and are elliptic to ovate in shape. The stalk of the terminal leaflet is significantly longer than those of the lateral leaflets. There are prominent domatia on the underside of leaflets. Tree is dioecious (separate male and female plants) and has yellowish-green flowers which appear between January and March. Flower calyx lobes are about 0.6–1 mm long, with ovate petals about 1.7-3.8 mm long. Filaments are about 1.3-2.3 mm long. Fruit is a depressed-obovoid drupe, about 20-25 x 20–38 mm. Fruit's flesh is generally plum-coloured (dark purple), however, white varieties have been reported, and edible when ripe. (2)
Distribution
- Native to the Philippines.
- Also native to Borneo, Cook Is., Fiji, Lesser Sunda Is., Maluku, New Caledonia, New Guinea, Solomon Is., Sulawesi, Tonga, Vanuatu, Vietnam. (1)
- Grows primarily the the wet tropical biome. (1)
- In rainforest and monsoon forest at sea level to 1,000 m altitude; often along water courses. (2)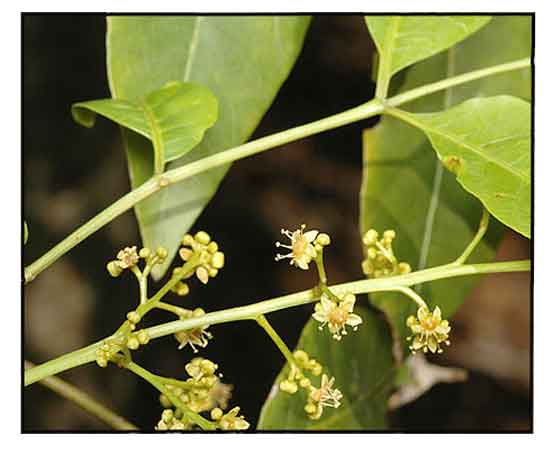 Constituents
- Bioassay fractionation of DCM extract of bark of P. timoriense yielded three new bioactive trihydroxyalkylcyclohexenones (1-3). (see study below) (4)
- Study of methanolic extract of bark isolated seven phenolic compounds: pyrogallol, catechin, gallic acid, kaempferol, quercetin, rutin, and quercetrin. (see study below) (5)
- Study of ethyl acetate extract of leaves yielded eleven polypolyphenolic compounds representing 80.8 % of the total area. mMajor compounds were chlorogenic acid (40.8 %), gallic acid (11.1%), catechin (8.2%) and taxifolin (7.6 %). Gallic acid, kaempeferol and catechin were also identified. The extract was plant extract also found to be rich in natural pigments (total carotenoids = 864.64 µg/100g). (see study below) (6)
- Hydrodistillation and GC-MS study of fresh fruits for volatile constituents identified 27 compounds representing 98.6% of total oils. Major oil constituent was D-limonene (64.51%); others were γ-terpinene (5.60%), α-copaene (4.74%) and trans-caryophyllene (4.74%). (see study below) (7)
- Ethyl acetate extract of seeds yielded flavonoids, tannins, triterpenes and sterols, with absence of coumarins, alkaloids, saponins, carbohydrate, and glycosides. (see study below) (8)
- GC-MS analysis of unsaponifiable matter from petroleum ether extract of seeds identified 70.04% of unoxygenated compounds and 23.34% oxygenated compounds. Hydroxylated compounds, ketones, and steroidal compounds were present 23.24, 0.20, and 3.19%, respectively. 1-Heptene (66.47% was the major USM compound, followed by butylated hydroxy toluene (21.07%). GC-MS analysis of fatty acid esters yielded nine fatty acid methyl ester derivatives representing 95.84% of total. Major FA was linoleic acid (33.8%). Column chromatography isolated two compounds, α-amyrin and 5,24(28)-cholestadien-24-methylen-3β-ol. (9)
- Study of methanol extract of seeds isolated four phenolic compounds, namely: catechin, gallic acid, paramethoxybenzaldehyde and pyrogallol. (see study below) (10)
Properties
- Studies have suggest cytotoxic, anticancer, antimicrobial, antihyperglycemic, hepatorenal protective, antioxidant properties.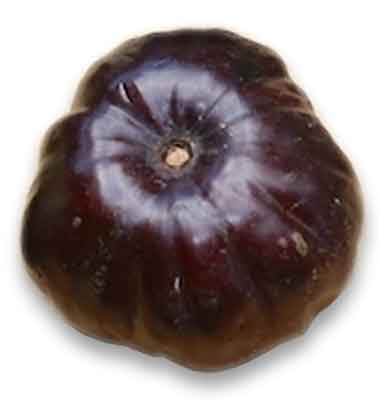 Parts used
Leaves, fruit, bark.

Uses
Edibility
- Fruit is edible; the pale greenish variety more palatable; eaten raw or used in jellies, jams, and preserves. (2)
- Indigenous Australians are said to bury the fruit underground to ripen. (2)
Folkloric
- No reported folkloric medicinal use in the Philippines.
Others
- Wood: Good quality wood used for turnery and cabinet joinery, inlay work. Used for making walking sticks and umbrella handles.

Studies
• Antioxidant / Fruit: Study evaluated the phytochemical composition of plum flesh and seeds. The flesh showed high antioxidant activity (12,571 mg Trolox equivalents/100g as Ferric Reducing Antioxidant Potential), total phenolic content (10,928 mg GAE/100 g), and anthocyanin content (161 mg cyanidin-3 glucoside equivalents/100g). LC-MS study identified 17 phenolic compounds in the flesh, 14 in the seeds. The most abundant were cyanidin-3-glucoside and catechin in flesh and seeds, respectively. The main phenolic compounds contributing to the exceptionally high antioxidant activity of the flesh, were cyanidin-3 glucoside and ellagic acid. (3)
• Antiproliferative / Trihydroxyalkylcyclohexenones / Bark: Bioassay fractionation of DCM extract of bark of P. timoriense yielded three new bioactive trihydroxyalkylcyclohexenones (1-3). Compounds 1-3 exhibited submicromolar antiproliferative activity against A2780 human ovarian cancer cell line, with IC50s of 0.8, 0.7, and 0.8 µM, respectively. (4)
• Cytotoxic Effect Against HepG2 Cell line / Antioxidant / Hepatorenal Protective / Antihyperglycemic / Bark: Study of methanolic extract of bark isolated seven phenolic compounds: pyrogallol, catechin, gallic acid, kaempferol, quercetin, rutin, and quercetrin. The ME showed promising cytotoxic effect against HepG2 cell line, while catechin and gallic acid showed moderate effects. The ME also showed potent antioxidant, hepatorenal protective and antihyperglycemic effects. (5)
• Anticancer / Antimicrobial / Leaves: Study evaluated the anticancer and antimicrobial potentials of of Pleiogynium timorense leaves. The EA extract of leaves showed potent cytotoxic activity against ovarian cancer cell line (SKOV-3) with IC50 of 7.13 µg/mL; moderate activity against liver cancer cell line (HEP-2) with IC50 of 20.42 µg/mL; and weak activity against prostate cancer cell line (PC-3) with IC50>100 µg/mL. The EA showed reasonable antibacterial activity against S. aureus, B. cereus, and E. coli with MICs of 200, 500, and 500 mg/ml, respectively. (see constituents above) (6)
• Anticancer / Volatile Constituents / Fruits: GC-MS study of fresh fruits for volatile constituents identified 27 compounds representing 98.6% of total oils, with D-limonene as major constituent (64.51%). The volatile constituents showed cytotoxic effect against breast adenocarcinoma MCF-7 and laryngeal carcinoma HEp2 human tumor cell lines and moderate cytotoxic effect against human hepatoma HepG2 cells. (see constituents above) (7)
• Cytotoxicity Against Cancer Cell Lines / Antioxidant / Seeds: Ethyl acetate extract of seeds showed very potent effect against HepG-2 cancer cell line with IC50 1.62 µg/mL and SKOV-3 cancer cell line with IC50 6.37 µg/mL, and moderate effect against PC-3 cancer cell line with IC50 46 µg/mL, compared to Doxorubicin. IC50s of Trolox and seed extract were 24.42 and 90.4 µg/mL, respectively. (see constituents above) (8)
• Antihyperglycemic / Antihyperlipidemic / Seeds: Study evaluated the antihyperglycemic and antihyperlipidemic activities of methanol extract of P. timorense seeds. The ME significantly reduced levels of blood glucose, total cholesterol, triglycerides, and LDL-c with no significant effect on HDL-C. (see constituents above) (10)
Availability
- Wild-crafted.
- Seeds in the cybermarket.