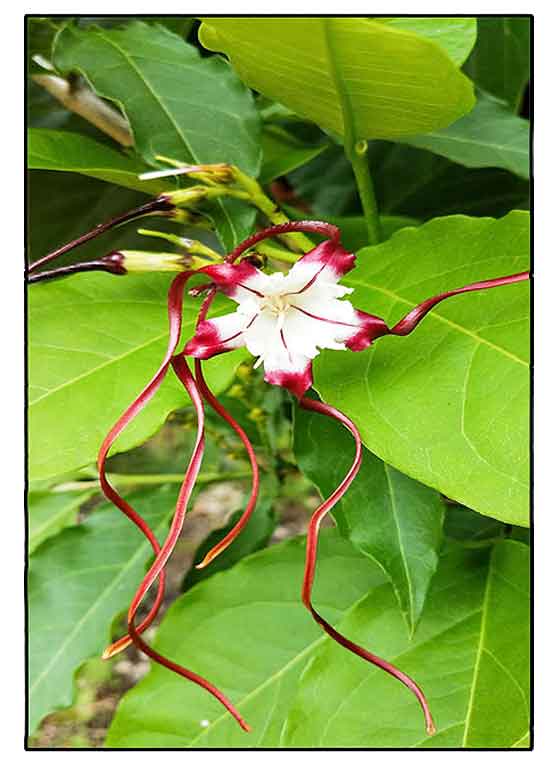 Gen info
• Strophantus is a genus of 35-40 species of flowering plants in the Apocynaceae family.
• Etymology: The genus Strophanthus derives from Greek Strophos anthos, meaning "twisted cord flower", referring to the long twisted threadlike segments of the corolla. The species epithet is Latin, caudatus meaning "tailed". (2)

Botany
Abuhab-baging is a stout, smooth, woody vine which , when young, may be erect and shrub-like. Leaves are elliptic-ovate, 8 to 15 centimeters long, and slightly pointed at the base, with a short point at the tip. Inflorescences are terminal, smooth, and few-flowered. Calyx lobes are slender and 7 to 9 millimeters long. Corolla is very characteristic; the tube is white, about 2 centimeters long with lobes which are about 8 millimeters wide at the base and continuing into long, slender and drooping tips. Lobes are about 1 centimeters long. Fruit is a double follicle. Follicle is woody, oblong-ovoid, about 16 centimeters long and 7 centimeters in diameter, containing numerous, elongated seeds, each of which terminates in very long projections with numerous long hairs.
Strophanthus caudatus is a trailing shrub to a woody climber that can grow up to 12 m long. Leaves are opposite, shortly stalked, wit thickly papery to leathery leaf blades that are elliptic-oblong or drop-shaped and measures 4.2 - 17.5 cm long, 1.5–7.5 cm across, with 6-12 pairs of veins. Leaf blade has acuminate to rounded leaf tip, and cuneate base. Stems are about 2 cm in diameter. Bark is dark and dotted with many lenticels. Flowers grow in axillary, stalked, few-flowered clusters. Calyx lobes are egg-shaped, and 0.6 cm wide, with long narrow tails. Its corolla-tube is white and 1.3 cm long with purplish-red lobes with white and yellow in the center. Fruits are large and woody, green, oblong-shaped, and about 10-30 cm long, 1.9-4.8 cm in diameter, wit small grain-like seeds.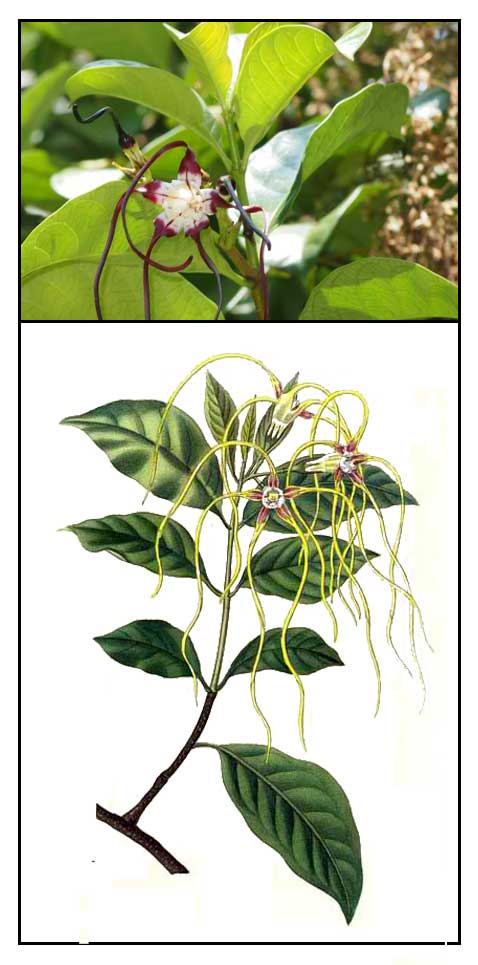 Distribution
- Native to the Philippines.
- Found in thickets and forests at low and medium altitudes in Cagayan, Abra, Ilocos Norte, La Union, Batangas, Rizal, Cavite, Bataan, Laguna, and Sorsogon Provinces in Luzon; and in Palawan, Leyte, Negros and Mindanao.
- From sea level to 1,000 m altitude.
- Also native to Andaman Is., Borneo, Cambodia, China, India, Jawa, Laos, Lesser Sunda Is., Malaya, Maluku, Myanmar, New Guinea, Nicobar Is., Sulawesi, Sumatera, Thailand, Vietnam.
- In the Malaysian Red Plant List classified as Near Threatened (NT).
Constituents
- Seeds, like that of other species of the genus Strophanthus, yield the glucoside, strophanthin.
- Strophanthin is a digitalis glucoside used as a heart stimulant.
- Bark, as with other Strophanthus species, probably yields strophanthin.
- Study of 80% ethanol extract of folium yielded terpenoid, glycoside, saponin, anthraquinone; cortex yielded alkaloid, terpenoid, tannin, glycoside, saponin.
Properties
- Studies have shown suggested chronotropic cardiac effects, α-glucosidase inhibitory property. 

Parts used
Leaves, bark, seeds.

Uses
Folkloric
- The Ayta in Dinalupihan, Bataan, apply stem sap on bleeding wounds. (8)
- In Vietnam, the Dao use decoction whole plant for treatment of hypertension. (7) 
- Seeds used as heart stimulant.
- Used as diuretic.
Others
- Poison: In the Philippines, bark is employed as an effective arrow-poison. In Vietnam, also used as fish poison.
Studies
• Glycosides: The glycosides of Strophanthus cumingii A. DC. were compared with cardiogenic glycosides (digitoxin, ouabain, and strophanthin) by paper chromatography. (1)
• Chronotropic Cardioactivity / Bark: Study evaluated the cardioactivity of bark extract of S. cumingii and its sub-fractions on isolated frog hearts. The hexane fraction was the most cardioactive with maximum 30.58% increase in force of contraction and 38.24% increase in frequency of contraction. The non-polar fraction of the crude extract from bark elicited a positive inotropic and negative chronotropic effect. (4)
• α-Glucosidase Inhibitory Activity: In a study screening 45 samples for in-vitro α-glucosidase activity, 37 samples, including Strophanthus caudatus (Blume.f.) Kurz cortex (IC50 13.93 µg/ml), showed IC50 values between 2.33 µg/ml and 112.02 µg/ml, which were lower than acarbose at 117.20 µg/mL. (9)
Availability
- Wild-crafted.
- Ornamental cultivation.