Botany
A creeping, succulent mat-forming perennial herb, with rounded stems rooting at the nodes. Leaves are opposite, ovate, dentate, shallowly 3-cleft, glossy and green. Flowers are 2 cm across and golden yellow.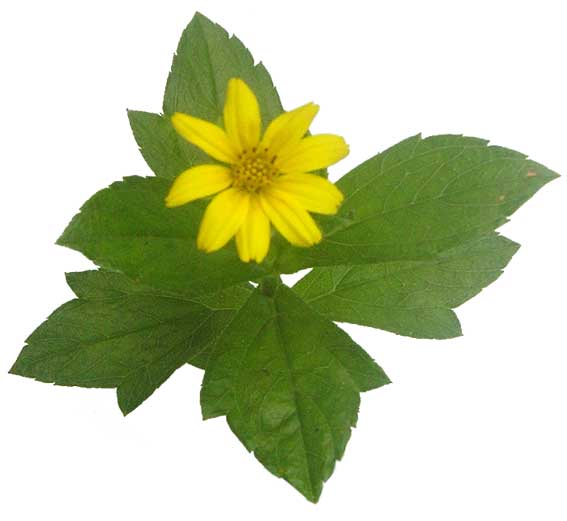 Distribution
Rare cultivation.
Makes an excellent and decorative ground cover.
Parts utilized
Leaves, flowers.
Constituents
• Study isolated main bioactive sesquiterpene lactones, trilobolid-6-O-isobutyrates A and B.
• From the flower, the structure of trilobolide-6-O-isobytyrate shows a eudesmanolide sesquiterpene skeleton.
• Contains the diterpene (kaurenoic acid), eudesmanolide lactones and luteolin (in leaves and stems.
Properties
• Study isolated
Uses
Folkloric
• No reported folkloric medicinal use in the Philippines.
• In Trinidad and Tobago, used for reproductive problems, amenorrhea, dysmenorrhea.
• In South America, used to treat symptoms of colds and flu; for fevers and inflammations.
Studies
• Antiinflammatory: An investigation of four herbal drugs, including Sphagneticola trilobata, on the anti-inflammatory activity of Central American plants used in traditional medicine, showed all the extracts reduced croton oil-induced ear dermatitis. Results suggest the lipophilic extracts to be potential sources of antiinflammatory activity.
• Antimicrobial: A study of the n-hexane extract of Wedelia trilobata showed antibacterial activity against Bacilus subtilis, Mycobacterium smegmatis, Pseudomonas aeruginosa, Salmonella group C, S paratyphi and Shigella sonnei.
• Analgesic: Study in mice on the analgesic activity of the ethanol extracts of W trilobata, W bilofra and E alba showed dose-dependent blocking of writhing response.
Availability
Wild-crafted.