Botany
Ulasiman-kalat is a slender, spreading or ascending, smooth, more or less branched, annual herb, reaching a length or 50 centimeters or less. Leaves are linear and 1 to 3 centimeters long. Flowers are white, 3 millimeters long and occurring singly in the axils of the leaves. Pedicels are about as long as the calyx. Corolla lobes are entire. Ovary is 2-celled. Fruits are capsules, loculicidal, ovoid, about 4 millimeters long and do not protrude beyond the calyx segments.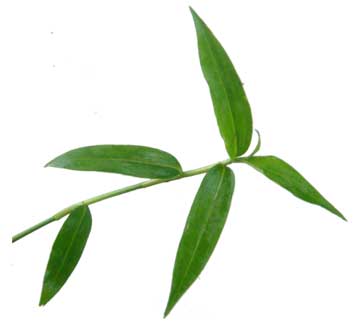 Distribution
- A common weed in and about towns and in waste places, gardens and open lands throughout the Philippines.
- Also occurs in India to Japan and Malaya.
Parts utilized
· Entire plant.
· Harvest the entire plant from April to September.
· Wash and sun-dry.
Constituents
- Yield flavones, anthraquinones, polysaccharides.
- Study yielded a four anthraquinones, triterpenoids (ursolic acid and oleanolic acid).
- Study of chemical constituents yielded anthraquinones, terpenoids, flavonoids, steroid alchols, alkanes, organic acids, polysaccharides, coumarin and alkaloids.
- Study of nine compounds: 2, 6-dihydroxy-1-methoxy-3-methylanthraquinone, 2-hydroxy-1-methoxy-3-methylanthraquinone, 2-hydroxy-3-methylanthraquinone, quercetin-3-O-[2-O-(6-O-E-sinapoyl)-beta-D-glucopyranosyl]-beta-glucopyranoside, quercetin-3-O-[2-O-(6-O-E-feruloyl)-beta-D-glucopyranosyl]-beta-glucopyranoside, kaempferol-3-O-[2-O-(6-O-E-feruloyl)-beta-D-glucopyranosyl]-beta-galactopyranoside, quercetin-3-O-(2-O-beta-D-glucop-yranosyl)-beta-D-glucopyranoside, rutin, and quercertin.
- Studies have yielded 171 compounds including iridoids, flavonoids anthraquinones, phenolic acids and their derivatives, sterolds, triterpenes, polysaccharides, cyclotides, coumarins, alkaloids, and volatile oils. (see study below) (27)

Properties
- Sweet tasting, cooling in effect.
- Considered alterative, antibacterial, antidote, analgesic, antiinflammatory, antitumor, diuretic, febrifuge and sedative.
- Studies have shown anticancer, immunomodulatory, neuroprotective, radical scavenging, hepatoprotective, anti-inflammatory activities.

Uses
Folkloric
· For any kind of inflammation, e.g., tonsillitis, laryngitis, and appendicitis: use dried preparation 30 to 60 gms (or fresh material 120 to 240 gms) boil to decoction and drink.
· Used for jaundice and hepatitis, malignant tumors.
· Poultice of plant material used for external bruises or blood congestions, boils, and abscesses.
· Plant decoction used for biliousness, fever and gonorrhea.
· Used for fevers, cough, asthma.
· In Chinese folk medicine, used in hepatitis and malignant tumors of the liver, lung and stomach. Also used for carbuncles, skin sores and ulcerations, tonsillitis, painful swollen throats, appendicitis, urethral affections, gynecologic infections, and snake bites.
· In traditional Chinese medicine, used in the treatment of breast cancer. (25)
· In Taiwan popularly used as anticancer medicine. (27)

Studies
• Neuroprotective: Study yielded five flavonol glycosides and four O-acylated iridoid glycosides. All nine compounds exhibited neuroprotective activity in cultures of damaged rat cortical cells.
• Antitumor: Although used in folk medicine for malignant tumors of the liver, lung and stomach, study showed no antiproliferative or antiangiogenic effects to support its folkloric antitumor use.
• Immunocompetent Activity: Study showed H diffusa improved the leukopenia and splenic cellular decrease caused by irradiation and increased the immunocompetence of splenic cells after mitogenic stimulation. Study suggests H diffusa may be effective in preventing hematopoietic damage in combination use with radiotherapy. (3)
• Antioxidant / Radical Scavenging: In a study of H diffusa, H corymbosa and M pentaphylla, all three showed varying levels of antioxidant and radical scavenging activities. (•) Study evaluated the radical scavenging activity of a dried sampled of H. diffusa extracted by 85% ethanol using Nitric Oxide assay. The plant showed maximal activity of 72.28% at 1000 µg/ml concentration with IC50 value of quercetin and herb at 10.24 µg/ml and 104.18 µg/ml respectively. (34)
• Phytochemicals: Study isolated five flavonoids from H diffusa: kaempferol, kaempferl 3-O-beta-D-glucopyranoside, kaempferol 3-O-(6"-O--L-rhamnosyl)-beta-D glucopyranoside, quercetin 3-O-(2"-O-beta-D-glucopyranosyl)-beta-D-glygopyranoside.
• Anticancer: Study of OD extract against eight cancer cell lines showed strong antiproliferative activity against all cancer cell lines and induced significant increase of apoptosis. Also, there was significant inhibition of lung metastases in the animal model without noticeable side effects. Results suggest a potential for an anticancer agent.
• Methylanthraquinone / Anticancer: Study yielded methylanthraquinone from Hedyotis diffusa which exhibited potent anticancer activity. In a study in human breast cancer cells, results suggested that methylantrhaquinone induced MCF-7 cells apoptosis via Ca2+/calpain/caspase-4-pathway. (7 )
• Antitumor / Phytotoxic: Study of leaf methanol extract of Oldenlandia diffusa showed tumor inhibition on potato disc and significant phytotoxicity. Results suggest Oldenlandia diffusa might be a potential source of antitumor agent for use in the treatment of tumors in human. (8)
• Oleanolic Acid / Fibroblast Inhibition / Chemopreventive / Chemotherapeutic: Study showed oleanolic acid inhibited the growth of ras oncogene-transformed R6 cells at doses not toxic to normal fibroblasts. Results demonstrate oleanolic acid possess both cancer therapeutic and chemopreventive activities and presenting a great potential as a novel anti-cancer drug. (9)
• Cytotoxicity: Study sought to identify the most cytotoxic constituents of a water extract. Results suggest certain constituents, possibly including ursolic/oleanolic acid, may be bioavailable and at sufficient concentration induces apoptosis in cancer cells through mechanisms including the cleavage of PARP. (12)
• Corymbosa Vs Diffusa: A systematic survey showed O. corymbosa to be used indiscriminately as O. diffusa. Study showed the oleanolic acid and ursolic acid contents in O. diffusa were lower than O. corymbosa. (13)
• Evidence- Based Perspective For Cancer: About 15% of anticancer herbal concoctions used in China contain H. diffusa. Preclinical and clinical studies have established safety and efficacy for certain cancers. It can inhibit growth of some cancer cells, induce apoptosis in vitro and in vivo, exhibit selective cytotoxicity. It has immune modulation functions against cancer, and enhances natural killer cells and macrophage activities. (14)
• Apoptosis / Burst-Mediated Caspase Activation: Study of ethanol extract showed dose-dependent inhibition of cancer cell growth in MTT assay. The cancer cell apoptosis was probably through burst-mediated caspase activation. (15)
• Ulcerative Colitis: Study investigated the protective effect of Oldenlandia diffusa in dextran sulfate sodium (DSS)-induced colitis. OD attenuated clinical signs and suppressed levels of interleukin IL-6, IL-1ß and expression of COX-2 in DSS-treated colon tissues. Results suggest a potential experimental medicine for patients with ulcerative colitis. (16)
• Antiproliferative / Apoptotic / Breast Cancer: Study showed OD and its bioactive compounds exert antiproliferative and apoptotic effects selectively in ERa-positive breast cancer cells, suggesting a potential for preventive or therapeutic use. (17)
• Tumor Inhibition: Study evaluated the key components exhibiting anti-tumor activities in the two herbs, Hedyotis corymbosa and H. diffusa using plant components ursolic acid, oleanolic acid, and geniposidic acid. Results showed ursolic acid and oleanolic acid to inhibit the growth of cultured hep-2B cells and enlargement of subcutaneous tumor. (18)
• Anti-Inflammatory / Hepatoprotective / Peh-Hue-Juwa-Chi-Cao: Study in rats evaluated Peh-Hue-Juwa-Chi-Cao, containing extracts of Hedyotis diffusa, H. corymbosa or Mollugo pentaphylla. Results showed all three possess anti-inflammatory activity and hepatoprotective properties, reducing acute elevation of SGOT and SGPT after intraperitoneal administration of hepatotoxins. (19)
• Hepatoprotective / LPS-Induced Liver Damage: Study evaluated the hepatoprotective effects of HD against lipopolysaccharide-induced liver damage in Sprague-Dawley rats. Results showed hepatoprotective activity attributed, in part, to its antioxidant activity. (20)
• Tumor Angiogenesis: Study evaluated the angiogenic effects of an ethanolic extract of H. diffusa. Results showed in vivo inhibition of angiogenesis in chick embryo chorioallantoic membrane and dose-time-dependent inhibition of proliferation of human umbilical vein endothelial cells by blocking of cell cycle progression. EEHDW also down regulated the mRNA and protein esxpression levels of VEGF-A in HT029 human colon carcinoma and HUVECs.Results suggest inhibition of tumor angiogenesis is one of the mechanisms by which H. diffusa is involved in cancer therapy. (21)
• Immunomodulating: In vitro study evaluated the effect of eight chinese medicinal herbs on lymphocytes using murine spleen cells. Oldenlandia diffusa and Astralagus membranaceus markedly stimulated murne spleen cells to proliferate. Study suggested the active component of O. diffusa was glycoprotein in nature. Results suggest immunomodulating activity that can be clinically sed for the modulation of immune responses. (23)
• Inhibition of Colorectal Cancer Growth in Vivo Via Inhibition of Signaling Pathway: Signal Transducer and Activator of Transcriptionn 3 (STAT3) is a common oncogenic mediator in many types of human cancers. Hedyotis diffusa is a common anticancer component in many Chinese medicine formulas. This study evaluated the effect of an ethanol extract on tumor growth in vivo in mice. Results showed reduced tumor volume and tumor weight without apparent adverse effect. Treatment also altered te expression pattern of several target genes of STAT3 signaling pathoway. Results suggest the STAT3 suppression may be one the mechanisms of its effect in colorectal treatment. (24)
• Effect on Apoptosis and Proliferation of Cervical Tumor: Study evaluated the inhibitory effect of Hedyotis diffusa on cervical cancer in human cervical carcinoma nude mice xenograft. Results showed an inhibitory effect on cervical cancer cells and induced apoptosis of HeLa cells, with significantly decreased expression of K1-67 protein. (26)
• Phytochemistry Review: Phytochemical studies have reported one hundred and seventy-one compounds including iridoids, flavonoids anthraquinones, phenolic acids and their derivatives, sterolds, triterpenes, polysaccharides, cyclotides, coumarins, alkaloids, and volatile oils. Of these, iridoids, flavonoids, and anthraquinones are three main ingredients which may play a roles in its activities. (27)
• Inhibitory Effects on Colorectal Cancer Stem Cells: Cancer stem cells (CSCs) have been proposed to have close correlation with the development and progression of tumors, as well as chemo- and radioresistance. Study isolated stem-like side population (SP) from colorectal cancer HT-29 cells. An ethanol extract of Hedyotis diffusa exerted inhibitory effects on cancer stem cells (CSCs). (30)
• Inhibition of HT-29 Human Colorectacl Cancer Cell Proliferation Via Cell Cycle Arrest: Study evaluated the mechanism of H. diffusa ethanol extract on proliferation of HT-29 human colon carcinoma cells. Results showed a reduction in HT-29 cell viability and survival in a dose- and tim-dependent manner. Treatment also blocked cell cycle, preventing progression of B1 to S, reduced mRNA expression of pro-proliferative PCNA, Cycin D1 and CDK4, while increasing anti-proliferative p21. Results suggest potential treatment for colorectal cancer via suppression of cancer cell apoptosis. (31)
• Oleanolic Acid Content / Anti-HepG-2 Cell Activity: HPLC method established the determination of oleanolic acid content of H. diffusa, which showed good linearity within the experimental concentration range, good stability, and reliability. Results showed H. diffusa can effectively inhibit the proliferation of human hepatoma HepG2-cells. (32)
• Anticancer Activity of Oldenlandia diffusa & Viola philippica: Study evaluated the in vitro cytotoxic activities of ethanol extract of two herbs viz., O. diffusa and V. philippica on four cancer cell lines and two non-cancer cell lines using MTT cytotoxicity assay. Both ethanol extracts effectively inhibitied the growth of all the cancer cell lines, particularly MiaPacA-2 cancer cells. (33)
• Potential in Drug Resistant Colorectal Carcinoma: Study evaluated the efficacy and potency of ethanol extracts of H. diffusa on a multidrug resistant CRC HCT-8/5-FU cell line. Results showed significant reduction in cell viability of HCT-8/5-FU cells in a dose- and time-dependent manner. Treatment with HD also inhibited ABCG2-mediated drug resisstance by downregulating the expression of ABCG2 and P-gp. Results suggest a potential application as alternative approach in the treatment of drug-resistant CRC. (35)

Availability
- Wild-crafted.
- Extracts in the cybermarket.