Pulang Lupa is the peak of 50 hectares of hilly agricultural land called Sitio Santol, or "Proses" (four roses) to the old-timers, or the "Farm" to family, less than 2 kilometers from the town center of Tiaong, province of Quezon in the Philippines.
Locals and old-timers refer to the place as Pulang Lupa because of the color of volcanic soil found in abundance at the peak. Historically, it has been called "Pinagbanderahan" (Flag Site), where the Japanese held a strategic station during its provincial occupation in World War II. The folklore is replete of buried treasures the Japanese left behind, still undiscovered in tunnels and caves in the bowels of Sitio Santol. . . (See: Pulang Lupa)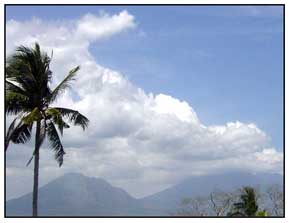 . . . . Atop, the peak provides a panorama of a vista found nowhere else in Tiaong, perhaps, even in the province of Quezon. For the weary traveler in search of respite, it is a place for solitude. To contemplate, to while away . . . . To be engulfed by sounds of birds. To indulge on a vista of an unending circumference of mountains and the verdant rural countrysides. . . the morning sunrises wrapped by wisps of awakenng low lying clouds. . . . the capricious colors of the sunsets. To be swept by the fierce and moaning amihan winds of the early months. And at night, there is a dome ablaze with . . . and the layers of sounds that hide in the dark. . . . .
Activities
Hiking, and horseback riding.
Bird watching,
Search and study of wild-crafted medicinal plants.
Games: Billiards, darts, mah-jongg, and a variety of table games (chess, scrabble).
Stargazing with seasonal availability of astronomical telescope.
Meditation and contemplation.
Isolation and solitude.
Availability
It is not a resort. But Pulang Lupa is available for celebratory activities, weddings, mini-weekend conferences and workshops, exhibits, and musical presentations.
And. . . it will accommodate the occasional traveler in search of a place of quiet and solitude, to unwind and ponder, to rest his peripatetic ways, to while away.