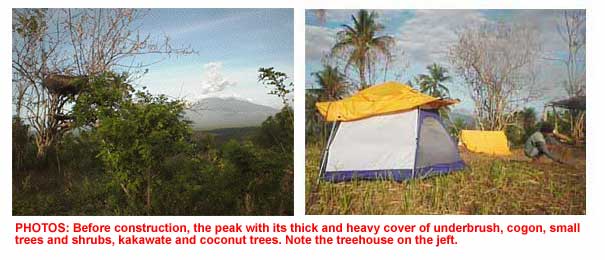 The peak - the high point in the town of Tiaong, Quezon - offers an unimpeded circumferential view: North, the town of San Pablo; northeast, the mountains of Banahaw, Cristobal and Masalukot; east, the China sea, in the distant horizon that lights up with its string of boats at night; west, the mountain range of Ayusan, and in-between, patches of the verdant country side of rice fields and blankets of coconut trees.
Traditionally, it has been called "Pulang lupa," for the color of the its volcanic-type soil; historically, "Pinagbanderahan" or "flag site," where the Japanese held a strategic station during its wartime occupation of the town. To some, it was known as "Proces," a local tagalog abbreviative for "Four Roses," referring to a rose each to an uncle's four endearing loves of his life. To the family, it was the "Peak" with its traditional Holy Week hike for the young ones; a place with the view, shared with friends and visitors.
I went to camp for a few days, to survey the 'peak,' to ponder what I wanted to do. We were met by overgrowth of thickets–of cogon, bushes and a chaotic wild growth of kakawati trees–obscuring the view beyond. Cleared, an incredible view of the surrounding country side and mountain ranges was bared. The evening added to the spectacle, with a cloudless and moonless celestial dome ablaze with stars, the deepening darkness bringing its many layers of sounds.