Botany
Suganda is an erect, spreading, branched, rather coarse, strongly aromatic, green herb, with fleshy stems. Leaves are fleshy, broadly ovate, 4 to 9 centimeters long, often heart-shaped, and somewhat hairy, with rounded toothed margins, with the tip and base decurrent. Flowers are small, and occur in distant whorls. Calyx is bell-shaped; the throat is smooth inside, with two lips, the upper lip being ovate and thin, the lower lip having four narrow teeth. Corolla is pale purplish and 5 times longer than the calyx, with a short tube, inflated throat, and short lips.
Distribution
- Cultivated for its aromatic leaves.
- Certainly introduced.
- Also occurring in India to Malaya.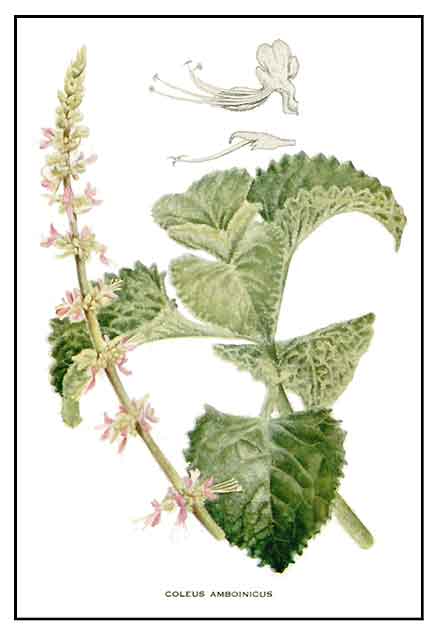 Constituents
- Fresh leaves yield 0.055 volatile oil, largely carvacrol.
- Phytochemical screening yielded carbohydrates, proteins, phenols, tannins, flavanoids, saponins, glycosides.
- Aerial parts yielded essential oil with 28 constituents, 16 of which were identified. Thymol (83.39%) was the major compound, while 1-octen-3-ol, terpine-4-ol, eugenol, trans-caryophyllene, caryophyllene oxide and α-cadinol were present as minor constituents. (16)
- Study of flowers and aerial parts for essential oils yielded four compounds from flowers oil and twelve from the aerial parts. The major constituent was carvacrol in flowers and aerial parts, 50.98% and 77.16% respectively. Other constituents were p-cymene, ß-caryophyllene, and trans-a-bergamotene. (17)
- Aqueous leaf extracts yielded tannins, saponins, flavonoids, steroid glycosides, and polyuronides. GCMS yielded 11 chemical compounds (97.6%), the principal constituents of which include linalool (50.3%), nerol acetate (11.6%), Germany acetate (11.7%) and carvacrol (14.3%).(34)
- Essential oil yielded 26 compounds. Major compounds were carvacrol (28.65%), thymol (21.66%), α-humulene (9.67%), undecanal (8.29%), γ-terpinene (7.76%), ρ-cymene (6.46%), caryophyllene oxide (5.85%), α-terpineol (3.28%) and β-selinene (2.01%). (see study below) (39)
- Study survey shows the occurrence of 76 volatiles and 30 non-volatile compounds belonging to different classes of phytochemicals such as monoterpenoids, diterpenoids, triterpenoids, sesquiterpenoids, phenolics, flavonoids, esters, alcohols, and aldehydes. (42)
- GC-MS study of leaf for volatile constituents yielded linalool (50.3%) as major component, carvacrol (10.3%), geranyl acetate (11.75%), nerol acetate (11.6%), y-terpinene (3.2%), p-cymene (2.9%), nerol (2.3%), a-4-carene (1.3%), caryophyllene (1.2%), and ß-myrcene (0.8%). (42)
- Crude ethanolic extract of leaves yielded alkaloids, flavanoids, terpenoids, phenols,, saponins, carbohydrates, and protein. (see study below) (46)
- Preliminary phytochemical analysis and thin layer chromatography study of leaves yielded the presence of alkaloids, carbohydrates, glycosides, proteins, amino acids, flavonoids, quinone, tannins, phenolic compounds, and terpenoids. (58)
Properties
- Aromatic, carminative, emmenagogue, diaphoretic, tonic, stimulant.
- In India, considered antilithiatic, chemopreventive, antiepileptic, antioxidant.
- Studies have suggested antioxidant, anticlastogenic, radioprotective, antimicrobial, mast cell stabilizing, antiasthma, pulmoprotective, anti-inflammatory, insecticidal, anti-termite, anthelmintic, galactaogue, antineoplastic, diuretic, wound healing, analgesic, neuroprotective, diuretic, mosquito larvicidal, antimalarial, antiurolithiatic, hepatoprotective, neuroprotective properties.
Parts utilized
Leaves
Uses
Edibility / Culinary
· As condiment, provides fragrance to salads and strong-smelling meat dishes.
· Sometimes, used as flavoring for drinks.
· In India, leaves of the green type often eaten raw with bread and butter. Chopped leaves used as a substitute for sage. (21)
Folkloric
· In the Philippines, macerated fresh leaves applied externally to burns.
· Leaves are bruised and applied to centipede and scorpion bites. Also, applied to temples and forehead for headache, help in place by a bandage.
· Leaves in infusion or as syrup used as aromatic and carminative; used for dyspepsia and also as a cure for asthma.
· The Malays used the plant juice or decoction for pains around the areas of the heart or abdomen.
· Decoction of leaves given after childbirth.
· In Indo-China, given for asthma and bronchitis.
· The juice of the leaves for dyspepsia, asthma, chronic coughs, bronchitis, colic, flatulence, rheumatism. The dose is one tablespoonful of the fresh juice every hour for adults and one teaspoonful every two hours, four times daily, for children. As an infusion, 50 to 60 grams to a pint of boiling water, and drink the tea, 4 to 5 glasses a day. For children, 1/2 cup 4 times daily.
· For otalgia (ear aches), pour the fresh, pure juice into the ear for 10 minutes.
· For carbuncles, boils, sprains, felons, painful swellings: Apply the poultice of leaves to the affected area, four times daily.
· For sore throats, a decoction of two tablespoonfuls of dried leaves to a pint of boiling water, taken one hour before or after meals.
· In India, leaves are used traditionally for bronchitis, asthma, diarrhea, epilepsy, nephro-cystolithiasis, fever, indigestion and cough. Also used for malarial fever, hepatopathy, renal and vesicle calculi, hiccup, helminthiasis, colic, and convulsions.
· The Chinese used the juice of leaves with sugar, for cough in children, asthma and bronchitis, epilepsy and convulsive disorders.
· Leaves are applied to cracks at the corners of the mouth, for thrush, headaches; against fever as a massage or as a wash.
· Used for bladder and urinary afflictions, and vaginal discharges.
· Used as carminative, given to children for colic.
· In Bengal, used for coli and dyspepsia.
· Expressed juice applied around the orbit to relieve conjunctival pain.
Others
· Fresh leaves rubbed on clothing or hair at the time of bathing for its scent.
Recent uses and preparations
Respiratory ailments like cough, asthma and bronchitis: Squeeze juice of the leaves. Take one teaspoon every hour for adults. For children above 2 years old, 3 to 4 teaspoons a day.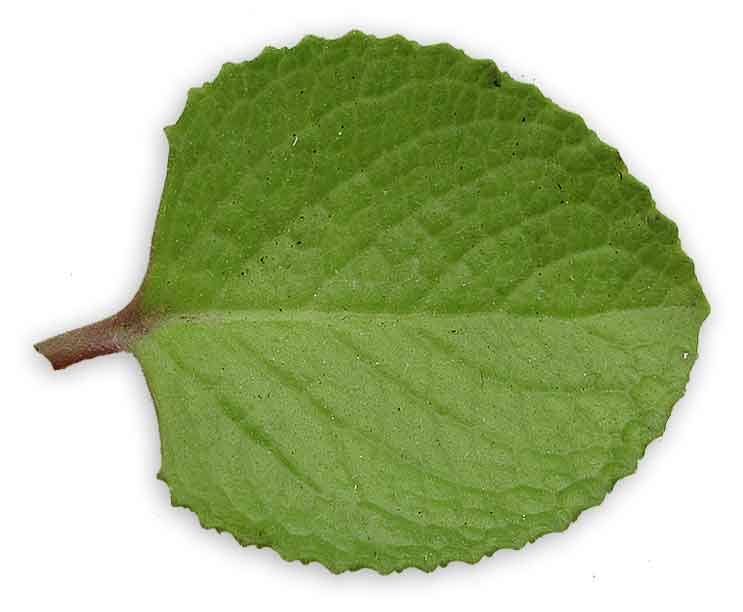 Studies
• Antioxidant / Anticlastogenic / Radioprotective: Antioxidant, anticlastogenic and radioprotective effect of Coleus aromaticus on Chinese hamster fibroblast cells (V79) exposed to gamma radiation: The hydroalcoholic extract of CA showed dose-dependent radical scavenging against free radicals, rendered radioprotection against radiation induced DNA damage. Study results established antioxidant, anticlastogenic and radioprotective activities and suggests a potential for chemoprevention. (2)
• Antioxidant: Study of freeze-dried aqueous extract of Ca clearly established the antioxidant potency of freeze-dried extract of C aromaticus.
• Mast cell stabilization property: Study showed stabilization of mast cells in rat mesenteric tissue and suggests further studies into mast cells with its role in Type 1 hypersensitivity-mediated diseases like asthma and rhinitis. (3)
• Antimicrobial: Results showed the antimicrobial activity and suggests the herb could be an ideal choice for treating reproductive tract infections. (3)
• Antimicrobial: Study showed the antimicrobial effect of Coleus amboinicus, Lour folium infusum toward C albicans and Strep mutans. (7)
• Anticlastogenicity: Study of ethanolic extract of C aromaticus showed a protective effect against cyclophophamide and mitomycin-C induced cytogenetic damage. (6)
• Anti-Inflammatory: In a carrageenan-induced rat paw edema model, the aqueous extract of Coleus aromaticus exhibited potent anti-inflammatory activity, attributed to the inhibition of mediators released from the 2nd phase of inflammation. (8)
• Antibacterial / Leaves: Study showed both ethanol and hot water leaf extracts of Coleus aromaticus to possess potent antibacterial activity, the ethanol extract showing greater activity. Results provide scientific support for the centuries-old use of the plant as a medicinal herb. (9)
• Forskolin / Antioxidant / Anti-Asthma / Pulmo-protective: Study isolated forskolin, a diterpenoid, from a methanolic extract of C aromaticus. C aromaticus has been used to treat asthma. Forskolin has been thought to be responsible for its pharmaceutical activity through restoration of antioxidant enzyme activity with its ability to scavenge free radicals. The results validate the use of forskolin as an anti-asthmatic agent. (11)
• Insecticidal / Anti-Termite: Study investigating the leaf essential oil of C. amboinicus yielded six components. The major component was thymol (94.3%), followed by carvacrol, 1,8-cineole, p-cymene, spathuylenol, terpinen-4-ol. The oil was insecticidal to white termites (Odontotermes obesus Rhamb). It was more active than synthetic insecticides, Thiodan and Primoban-20 against termites, although it was ineffective against Tribolium castaneum, a stored product pest. (13)
• Galactagogue / Bangun-bangun Leaves: Participants in an Indonesian of study of Batakneese women were given bangun-bangun soup during their nursing period, most consuming a bowl of soup three times daily for 30-40 days. The study aimed to gather information about the women's beliefs and experiences in the use of the herb. The participants felt their breasts become full with breast milk. Most felt consuming CA leaves helped control postpartum bleeding and help "uterine cleansing." (14)
• Anthelmintic / Antimicrobial: A chloroform and methanol extract of leaf and leaf oil showed significant anthelmintic activity. The plant extracts also showed antibacterial activity against test organisms, with very poor antifungal activity. (15)
• Effects on Cell Viability / Flavonoids: A cell viability assay revealed an aqueous extra t of C. aromaticus leaves and methanolic extract of Annona squamosa leaves to show significant results. Total flavonoid contents were 2.60% and 2.4% respectively. (18)
• Wound Healing / Leaves and Roots: Study evaluated wound healing activity of aqueous extract of leaves and roots of C. aromaticus in excisional wound model in albino rats. A ten percent ointment of aqueous extract of root showed complete epithelization after 12 days, while a 5% ointment of leaf extract showed complete healing after 16 days. (19)
• Diuretic / Leaves: Study evaluated a water extract of leaves for diuretic activity in male albino rats. Results showed significant increase in urine output and electrolytes concentration. (20) Study evaluated ethanol and aqueous extracts of shade-dried powder of leaves of Plectranthus amboinicus in male albino rats. Furosemide was used as standard. Results showed significant increase in urinary volume and increase in urinary concentration of Na, K, and Cl ions. (59)
• Forskolin / Healing / Lung Protective: Study evaluated antioxidant potency of forskolin for protective action in lung damage in rats caused by ova albumin. Results showed forskolin exhibited better antioxidant activity against lipid peroxidation induced by ova albumin and aluminum hydroxide. (22)
• Hepatoprotective Study evaluated the hepatoprotective activity of ethanolic extract of P. amboinicus against paracetamol induced hepatotoxicity in rats. Results showed significant alteration of paracetamol induced changes in the serum and tissue enzymes to near normal values, together with improvement of histopathology profile. (24)
• Antibacterial Against Enteric Pathogens: Alcoholic leaf extracts exhibited antibacterial activity against enteric pathogens such as Shigella sp., Salmonella typhi, and Escherichia coli. (25)
• Antidiabetic / Antioxidant: Study evaluated the effect of Coleus aromaticus leaves on blood glucose and antioxidant enzyme levels in alloxan rendered diabetic rats. Aqueous and ethanolic extracts significantly lowered the alloxan mediated hyperglycemia. Activity of antioxidant enzymes such as DOD, CAT, and GPxase were increased in liver homogenate of diabetic animals treated with the extracts. (26)
• Antineoplastic / Ehrlich Ascites Carcinoma: Study showed the intraperitoneal use of aqueous extracts of Plectranthus amboinicus at a dose of 200 mg/k produced antineoplastic effect in ascitic form of Ehrlich ascites carcinoma. (28)
• Phenolic Content / Antioxidant / Cytotoxicity: Study for phenolic contents of crude leaf extracts yielded phenolics like caffeic acid, coumaric acid, rutin, quercetin and gallic acid. An acetone extract showed higher antibacterial activity than an EA extract, both showing highest activity against B. cereus. Both extracts showed inhibitory effect on cancer cell lines HCT-15 and MCF-7. (29)
• Anti-Inflammatory / Antitumor / Leaves: Study evaluated the anti-inflammatory and antitumor activities of the hydroalcoholic extract of leaves. Results showed significant decreases in paw edema in the carrageenan method and inhibition of growth of sarcoma-180 and Ehrlich ascites carcinoma tumors in mice. (30)
• Antifungal / Anti-Inflammatory / Leaves: Study evaluated the antifungal and anti-inflammatory properties of a methanol extract of leaf in Balb/c mice models. Results showed significant antifungal activity compared with standard antifungal drug Fluconazole. Results also showed significant reduction of inflammation when compared to standard drug Diclofenac. (31)
• Silver Nanoparticles / Antimicrobial: Study synthesized silver nanoparticles from the aqueous extract of P. amboinicus. The silver nanoparticles outperformed silver nitrate and plant extracts in antimicrobial effect on Klebsiella pneumonia, Staphylococcus aureus, Escherichia coli, Aspergillus sp. and Candida albicans. (32)
• Analgesic / Anti-Inflammatory: In-vivo and in-vitro study evaluated the analgesic and anti-inflammatory properties of aqueous extract of Plectranthus amboinicus. Results showed inhibition of pain induced by acetic acid and formalin and inflammation induced by carrageenan. The effects were mediated by inhibiting the pro-inflammatory mediators through blocking NF-xB activation. (33)
• Toxicological Evaluation: Study for acute and sub-acute toxic effects of the aqueous leaf extract in albino mice showed a high LD50 value. No mortalities were observed during acute and subacute toxicity study periods. However, the extract caused treatment-related toxicological abnormalities with increased dosage (necrosis of hepatic cells with generalized congestion in renal cortex, pneumonitis, and sloughing of intestinal villi). Results suggest the aqueous extract is safe as indicated by high LD50, but should be used with caution at high doses. (34)
• Anti-Urolithic: Study evaluated the antilithiotic activity of fresh juice of leaves of Pl amboinicus. Urine and histopathological results showed antilithiotic activity, particularly of calcium oxalate origin. (35)
• Antimalarial / Acute Toxicity Study: Study evaluated the toxicity and antiplasmodial properties of P. amboinicus. Acute oral toxicity test revealed no mortality or evidence of adverse effects in the treated mice. Different extract doses tested against Plasmodium berghei showed significant reduction of parasitemia in the in-vivo prophylactic assay. (36)
• Neuroprotective / Aluminum-Induced Neurotoxicity : Study investigated the neuroprotective effect of PA in aluminum induced neurotoxicity in rats. Treatment showed significant attenuation of lipid peroxidation and reversed the decrease in brain CAT and GSH levels. Results suggest a potential role in the management of Alzheimer's disease and oxidative stress. (37)
• Cytotoxic and DNA Protecting / Essential Oil of Leaves: Essential oil of leaves showed cytotoxicity against breast (MCF-7) and colorectal (HT-29) cancer cell lines, protected against 75% of DNA damage in 3T3-L1 fibroblast cells, and significant concentration dependent reduction in MMP-9 production. Results suggest the essential oil is a potent bioactive substance with potential for use in herbal medicinal preparations. (38)
• Mosquito Larvicidal / Antimalarial / Anopheles stephensi / Essential Oil: Study showed the essential oil of P. amboinicus is an inexpensive and ecofriendly source of a natural mosquito larvicidal agent to control/reduce the population of malarial vector mosquito Anopheles stephensi. (see constituents above) (39)
• Antidiabetic / Effect on Carbohydrate Metabolic Enzyme: Study explored the possible mechanisms of Plectranthus amboinicus leaf extract in alloxan-induced diabetic rats. Results showed an antihyperglycemic effect with dose-dependent reduction in gluconeogenic enzymes (glucose-6-phosphatase and fructose-1,6-diphosphatase). Results suggest the antidiabetic activity of PA was mediated through the regulation of carbohydrate metabolic enzyme activities. (40)
• Potential in Treatment of Rheumatoid Arthritis: Study investigated the therapeutic efficacy of P. amboinicus in treating Rheumatoid Arthritis (RA) in a rat model. P. amboinicus significantly inhibited footpad swelling and arthritic symptoms in collagen-induced arthritic rats, while serum anti-collagen IgM and CRP levels were consistently decreased, together with decreased pro-inflammatory cytokines TNF-a, IL-6, and IL-1ß. Results demonstrated the potential anti-arthritic effect of PA in treating RA. (43)
• Antibacterial / Potential for Food Preservation: Study evaluated extracts of leaves in preventing spoilage of artificially inoculated model food systems (cabbage and papaya) and natural microflora of chicken meat through its effect on nucleic acid leakage from bacterial cells and degradation of bacterial cell wall. Results showed the potential use of ethyl acetate and acetone extracts or Indian borage leaves in food preservation. (44)
• Activity Against MRSA Skin Abscesses: Study evaluated the effectiveness of P. amboinicus against MRSA clinical isolates. An ethyl acetate (EA) fraction showed synergism with vancomycin and an additive effect with ciproflloxacin. There was a significant reduction in abscess volume, bacterial cell counts in abscess slurries and inflammatory scores. Results showed effectiveness of PA fractions against MRSA using in vitro and in vivo assays. (45)
• Antioxidant / Anti-Proliferative on MCF-7 Human Breast Cancer Cell Line / Leaves: Crude ethanolic extracts of P. amboinicus showed antioxidant and antiproliferative activity against MCF-7 cells lines which may be attributed to the presence of n-Hexadecanoic acid and phytol. (46)
• Interference of Essential Oil on Anti-Candida Activity of Antifungals: Study showed that essential oil of P. amboinicus can interfere with the effectiveness of some clinically used antifungals, mainly itraconazole and ketoconazole. (47)
• Phenolic Constituents / Toxicity Profile: Study investigated the active principles in a hydroalcoholic extract and brine shrimp lethality assay for toxicity profile. HPLC screening of ethyl acetate fraction of hydroalcoholic extract yielded flavonoids such as rutin, quercetin, luteolin, and gallic acid. The fraction also showed good acute oral toxicity effect with LC50 value of 198.630 µg/ml. (48)
• Anticancer / ß-Sitosterol / Leaves: ß-Sitosterol, a steroid from P. amboinicus, showed activity in inhibition of cancer growth toward T47D, MCF-7, HeLa, and WiDr cell lines through P13K, EGFR, ER-a, ER-ß, and HER-2 pathways. Results suggest potential of ß-sitosterol as an anticancer agent. (49)
• Anti-Inflammatory / Leaves: Study evaluated the anti-inflammatory effect of hydroalcoholic extract of leaves from P. amboinicus against the denaturation of protein in vitro. Results showed significant anti-inflammatory effect which may be attributed to polyphenolic content and may be a synergistic activity rather than a single compound. (50)
• Anticancer / HeLa Cell Lines: Study evaluated the cytotoxic activity of n-hexane, ethyl acetate and ethanol extracts of P. amboinicus using MTT assay. All three extracts showed cytotoxic effect to HeLa cells with IC50 of 76.322 µg/ml, 143.291 µg/ml, and 88.997 µg/ml, respectively. n-Hexane and ethanol extracts were selective to HeLa cells. (51)
• Phytotoxicity / Leaf Essential Oil / Potential as Bioherbicides: Study evaluated the essential oil of P. amboinicus and its chemotypes, carvacrol and thymol, on germination and root and aerial growth of Lactuca sativa and Sorghum bicolor and on its action on cell cycle of meristematic root cells of L. sativa. Results showed the essential oil of P. amboinicus, carvacrol and thymol have potential for use as bioherbicides. (52)
• Silver Nanoparticles / Antimicrobial Activity on Polypropylene Non Woven Surgical Mask: Study reports on the synthesis of silver nanoparticles using silver nitrate and utilizing leaves extract of P. amboinicus. Non-woven polypropylene fabric treated with P. amboinicus herbal extracts showed good antimicrobial activity, air permeability and bacterial filtration efficiency. (53)
• Hematologic Benefits against Rhodamine-B Exposure: Study evaluated the effect of Plectranthus amboinicus ethanol extract on hematological profile of rats exposed to Rhodamine-B. Rhodamine-B is a synthetic dye used for food coloring, and included in xanthine dyes used in the textile and paper industries as dye for fabrics, cosmetics, cleaning products, and soap. It contains chlorine which can bind to proteins, lipids, and DNA and potentially cause damage to organ and blood function. Rh-B toxicity tests in mice have showed carcinogenic effects. In this study, Rhodamine-B decreased level significantly and there was no difference between prevention and curative treatment groups. Platelet were significantly decreased in the control group, but significantly increased in the curative treatment doses. (56)
• Toxicity Profile / Leaves: Study evaluated the toxicity of of methanolic leaf extract of Plectranthus amboinicus in albino mice. Acute toxicity study showed no mortality or adverse effects. The 28-day subacute toxicity study (200 and 400 mg/kg) revealed no changes in hematologic and biochemical parameters nor histopathological alterations in vital organ architecture. (57)
• Anti-Biofilm Activity against Streptococcus pyogenes / Leaves: Study evaluated the anti-biofilm efficacy of Plectranthus amboinicus against biofilm forming Streptococcus pyogenes isolated from pharyngitis patients. Results showed the methanol extract contained pharmacologically active components that can be used as anti-biofilm agent at minimal concentrations. (60)
• Photoprotective / Rosmarinic Acid: Overexposure to sunlight can cause harmful skin effects such as erythema and skin cancer. Sunscreens provide photoprotective agents. Filters based on natural products provide sunscreen properties, along with antioxidant, healing, and moisturizing activity. Study evaluated the photoprotection potential and antioxidant activity pf P. amboinicus. Analyses showed that the the extract had good photoprotection (SPF = 12.63), promising antioxidant activity (EC50 = 112.39 g/ml), total phenolic content (142.39 ± 1.12 mg GAE/g) and Rosemaria acid concentrations 22.5 G/ml). (61)
• New Penetrate Syntheses: Study reports on the isolation, heterozygous expression and functional characterization of a penetrate syntheses involved in P. amboinicus perpend biosynthesized. A putative monotone syntheses gene (PamTps1) was isolated and classified as a Molina/idolizer syntheses In vivo activity of PamTps1 in a recombinant Escherichia coil strain revealed production of linalool and nerolidol which correlated with its in vitro activity. The cloned PamTps1 provides a molecular basis for the terpenoid biosynthesis in the local herb that can be exploited for valuable production using metabolic engineering in both microbial and plant systems. (62)
• P. amboinicus and C. asiatica Topical Cream for Diabetic Foot Ulcers: A singe-center, randomized, controlled, open-label study evaluated the effects of a topical cream containing P. amboinicus and Centella asiatica and compared its effects to a hydrocolloid fiber wound dressing for diabetic foot ulcers in 24 type 1 or type 2 diabetic patients aged 20 or older with Wagner grade 3 foot ulcers post surgical debridement. Results showed that for treating diabetic foot ulcers, P. amboinicus and C. asiatica cream is a safe alternative to hydrocolloid fiber dressing without significant difference in effectiveness. (63)
• Antibacterial Mouthwash for Halitosis / Leaves: Study reports on the formulation of P. amboinicus ethanolic extract of leaves as herbal mouthwash and antibacterial activity against Staphylococcus mutans and S. aureus. Screening yielded glycoside, saponin, flavonoid, tannin and steroid/triterpenoid. The antibacterial activity of the mouthwash showed the dosage form of 2% extract successfully inhibited the growth of bacteria with 12.00 and 11.25 mm of inhibition diameter for both S. aureus and S. mutans, respectively. (64)
• Apoptosis in Breast Cancer (MCF-7n Cells) / Diterpenoids: Study sough to identify the active compounds in the chloroform fraction which have effect on the apoptosis-related genes expression of breast cancer MCF-7 cells. Expressions of p53 and p21 genes were significantly increased. Expressions of caspase 0, caspase 7, and caspase 1 were significantly increased in a concentration dependent manner. Most of the compounds in the chloroform fraction were identified as diterpenoids which may contribute to the apoptosis inducing activity of the fraction. (65)
• Antimicrobial Endophytic Fungi / Leaves: Plants have been reported to produce bioactive molecules. Study isolated an endophytic fungi from the leaves of Coleus amboinicus, identified as Athelia rolfsii. Two bioactive compounds were isolated and identified: methyl terpenoate as the major compound and methyl, 2,3 diene butanoate as the minor compound. The bioactive compound exhibited antimicrobial activities with IC50s of 0.86, 1.35, 1.33, 2.69, 1.9, and 0.24 µg/mL and MBCs of 4 µg/mL against S. aureus, E. coli, P. aeruginosa, B. subtilis, S. typhi NS 50, 40, 40, 40, 20, 20 µg/mL and MBCs of 40, 40, 40, 40, 20, 20 µg/mL against S. aureus, E. coli, P. aeruginosa, B. subtilis, S, typhi and S. mutans, respectively. (66)
• Anti-Inflammatory / Inhibitory Activity on Blocking the Activation of NLRP3 Inflammasome: Uncontrolled inflammation may produce massive inflammatory cytokines, with interleukin 1ß (IL-1ß) playing a key r9ole in tissue damage and serious disorders. The activation of NLRP3 inflammasome is one of the major mechanisms in maturation and release of IL-1ß. Extracts from P. amboinicus have been reported to have anti-inflammatory activity. PA-F4, an extract from P. amboinicus inhibited ATP-induced release of caspase-1, IL-1ß, and IL-18 from lipopolysaccharides (LPS)-primed cells. PA-F4 showed inhibitory activity on NLRP3 infllammasome activation. inhibited LPS-induced p65 NF-kB activation. Four constituents were identified in the PA-F4 viz., rosmarinic acid, cirsimaritin, salvigenin, and carvacrol, which inhibited LPS-induced IL-6 release. Study concludes the PA-F4 displayed inhibitory activity on activation of NLRP3 inflammasome. It inhibited LPS-priming step through blocking of p65 NF-kB activation, inhibited ATP-signaling pathways and the release reaction of caspase 1, IL-1ß and IL-18. (67)
• Effect on T47D Breast Cancer Cell Line: Study investigated the growth-inhibiting and apoptosis-mediating effect of P. amboinicus n-hexane extract on T47D cell lines. The extract inhibited the growth of T47D breast cancer cells in a dose and time dependent manner and could induce apoptosis. However, the combination with doxorubicin did not show synergistic effect. The results suggest the extract could be a potent agent for chemoprevention of breast cancer. (68)
• Anti-Inflammatory / Acute Toxicity Study / Leaves: Study evaluated the effect of leaves extract on induced arthritis in Wistar rats. Arthritis was induced by 2% uric acid and 1.5% oxonic acid intraperitoneally. Acute toxicity testing at doses of 1900, 3800 and 5000 mg/kbw showed no mortality, toxic symptoms or physical activity disturbance. Results showed decreased concentration of MSU (p<0.05) in treated groups. (69)
• Lead Bioaccumulation: Study evaluated the lead (Pb) accumulation capacity of two commonly used medicinal plants, Artemisia vulgaris and Plectranthus amboinicus. Bioaccumulation factor, translocation factor and metal extraction ratio of each plant were determined. Roots accumulated more Pb, followed by leaves and stems. Both plants were accumulators of Pb. P. amboinicus was most effective in removing lead from the soil even at high concentrations (600 ppm). (70)
• Nephroprotective / Antioxidant / Leaves: Study evaluated the nephroprotective and total antioxidant activities of aqueous leaf extract of P. amboinicus in Wistar rats. Antioxidant activity was determined using three standard assays. The extract showed nephroprotective activity in adriamycin induced toxicity by measures of blood and urine renal parameters and treatment related histological changes in renal tissues. (71)
• Mosquitocidal Efficacy / Aedes aegypti / Leaves: Study evaluated the mosquitocidal activity of Coleus aromaticus leaf extracts against larvae of Aedes aegypti. Results showed the diethyl ether extract has outstanding potential for controlling the dengue vector mosquito Ae. aegypti. The domino effect showed the larvicial, ovicidal, and repellent activity was dose reliant. (72)
• Anticancer / Antioxidant / Flavonoids / Leaves: Study evaluated the anticancer and antioxidant activities of flavonoids from P. amboinicus. Flavonoids from leaves are chrysoeriol, circimaritin, eriodictyol, luteolin, rutin, salvigenin, thymoquinone, quercetin, apigenin, and 5-O-methyl-luteolin. Anticancer activity testing was done by in silico against several cancer receptors while antioxidant activity was done in vitro using DPPH method. Results showed the flavonoid compounds in P. amboinicus have similar anticancer activity to the reference molecule P-glycoprotein-1, cyclin dependent kinase-2, and phosphoinositide-3 kinase receptors. as well as better anticancer activity than the reference molecule.  (73) 
Availability
Wild-crafted.
Cultivated for condiment and culinary use.