Botany
Dregea volubilis is a stout, smooth, hoary or mealy, woody vine. Leaves are ovate or somewhat rounded, 7.5 to 15 centimeters long, 5 to 10 centimeters wide, rather leathery, rounded or pointed at the base, and pointed at the tip. Cymes are axillary or interpetiolar, and umbel-like. Flowers are green, about 1 centimeters across. Follicles are usually double, broadly lanceolate, 7.5 to 10 centimeters long, turgid, longitudinally ribbed, and velvety until mature. Seeds are elliptic, concave, smooth, shining, sharp-edged, and crowned with very fine, white, silky hairs.
Distribution
- In the Babuyan Islands( Camiguin), Lubang, Luzon (Rizal, Bontoc and Batangas Provinces), and Panay, in thickets at low altitudes.
- Also occurs in India to Java.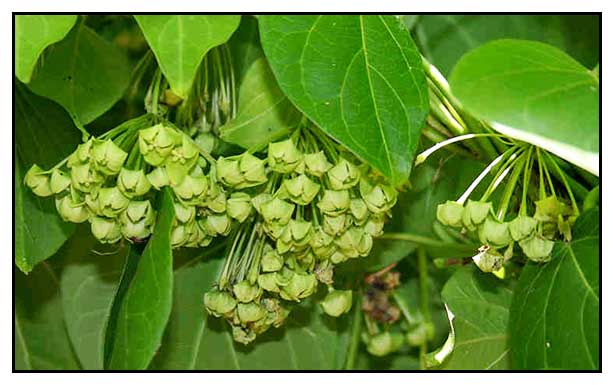 Constituents
- The fresh pericarp freed from the seeds contain an active principle, called dregein.
- Phytochemical screening yielded alkaloids, anthocyanins, anthracene glycosides, catecholic compounds, coumarins, flavonoids, iridoids, saponins and volatile oils.
- Phytochemical analysis yielded triterpenoid glycosides and aglycones, called dregeosides and drevogenins.
- Methanol extract of leaves yielded tannins, steroids, flavonoids, and triterpenoids.
- Phytochemical screening of aqueous extracts of fruit yielded alkaloids, terpenoids, steroids, coumarins, tannins, flavonoids, proteins, carbohydrates, glycosides, phytosterol, anthocyanidins, amino acids, phenolic compounds, lipids, and some unindentified compounds. (24)
- Study of stem bark extract yielded reducing sugars, phenolic compounds, flavonoids, flavonols, proanthocyanidins, and alkaloids. (see study below) (25)
- Study of hydroalcoholic extract of flowers yielded high phenolic contents (39.82 ± 1.22 mg GAE/g) and flavonoids (27.50 ± 0.87 mg QE/g). (see study below) (26)
- Study of methanol extract for secondary metabolites yielded oleanolic acid and ursolic acid, 218.30 and 509.09 ng/10 mg of extract, respectively. (34)
Properties
- Emetic, expectorant, febrifuge.
- Studies have shown hepatoprotective, anti-inflammatory, analgesic, anti-lipidperoxidative, antioxidant, antitumor, immunomodulatory, antidiabetic, anthelmintic, antibacterial, anticataractogenic, larvicidal properties.

Parts used
Leaves, roots, juice.

Uses
Culinary
- In Thailand, occasionally grown as a vegetable. Young shoot and inflorescence used in a curry with dried, smoked fish.
Folkloric
- Leaves used as application to boils and abscesses.
- Roots and tender stalks used as emetic and expectorant.
- Juice exuding from cut roots are inserted into the nose to cause sneezing.
- In South East Asia, used as antifebrile and emetic.
- Used to treat hematemesis, sore throat, carbuncles, eczema, asthma and as antidote for poison.
- In India, the Gond tribe of Sironcha Tehsil take extracts to cure piles and fissures. Fruit decoction drunk to cure anemia. (32)

Studies
• Anti-Inflammatory / Analgesic / Anti-Lipid Peroxidative: Phytochemical study yielded glucosides and alkaloids in the roots, considered to produce significant antioxidant, anti-inflammatory and analgesic effects.(1)
• Possible Hepatotoxicity: Study of mature leaves of Dregea volubilis on male Sprague-Dawley rats showed degenerative changes in hepatocytes, with elevations in key hepatic enzyme concentrations. (2)
• Polyoxypregnane glycoside / Chondroprotective: Study yielded polyoxypregnane glycoside which was shown to have a potent chondroprotective activity in the IL-1ß stimulated cartilage explant model. Results suggest a potential compound for a new pharmacologic agent for the management of degenerative joint diseases. (4)
• Fruit Toxicity Studies: Acute and sub-chronic toxicity study of Dregea volubilis fruit in mice demonstrated no noticeable toxicity. (5)
• Antitumor: Study concludes that Dregea volubilis fruit exhibited remarkable antitumor activity against Erhlich ascites carcinoma in Swiss mice.(6)
• Anti-Inflammatory / Leaves: Study showed the methanolic extract of leaves of Dregea volubilis in a carrageenan-induced model of acute inflammation exhibited significant anti-inflammatory activity. (7)
• Immunomodulatory: Study of an ethanol extract from the stem parts of Dregea volubilis exhibited potential in treating T cell-mediated diseases through facilitation of apoptosis of activated T cells. (8)
• Antioxidant / Free Radical Scavenging / Fruits: Study evaluated the antioxidant potential of various extracts of fruits of Dregea volubilis using different assays. Extracts exhibited potent total antioxidant activity increasing with concentration. (9)
• Immunomodulatory / Apoptosis of Activated T Cells / Drevogenin-D: Study evaluated the immunomodulatory activity of DV extract. DVE tended to stimulate nonactivated lymph node cells while suppressing already activated T cells by selectively facilitating apoptosis through a capsase-dependent pathway. Drevogenin-D, an aglycone isolated, prevented selenite-induced oxidative stress and calpain activation in cultured rat lens. (10)
• Blood Glucose Lowering / Lipid Effects / Leaves: Study evaluated an active fraction from Dv leaves on blood glucose and lipid profile in normal and diabetic rats. Results showed reduction in fasting blood glucose, cholesterol, and triglyceride levels with improvement in HDL levels in diabetic rats. (12)
• Antidiabetic Glucose Lowering / Lipid Effects : Study of hexane and chloroform extracts of Dv showed anti-diabetic activity in Wistar albino rats. Glibenclamide was used as reference drug. (13)
• Antioxidant / Antibacterial / Leaves: Study of an ethanolic extract showed high potent antioxidant and antibacterial activity. Results showed potent inhibitory action against Staphylococcus aureus and Pseudomonas aeruginosa. (14)
• Anthelmintic / Leaves: Study evaluated the anthelmintic activity of a methanol extract of D. volubilis leaves against live parasites (trematode Paramphistomum explanatum). Anthelmintic activity was found will all test doses through paralysis and death of organisms. Maximum anthelmintic activity was noted at dose of 100 mg/ml. (15)
• Hepatoprotective / Paracetamol Induced Toxicity / Fruit: Study of a petroleum ether extract of Dregea volubilis against paracetamol induced liver damage in Wistar rats showed remarkable hepatoprotective activity that may be due to its augmenting endogenous antioxidant mechanisms. (16)
• Antidiabetic Compound / DV-1 / Leaves: Study evaluated the effect of active compounds from Dregea volubilis and Leptadenia reticulate leaves on serum glucose in normal and STZ- and High Fat Diet-induced diabetic rats. Study isolated two compounds, DV-1 and LR-1, which were phenolic in nature and showed anti-diabetic efficacy. (17) Study of leaves of Dregea volubilis isolated a pure compound, DV-1, a phenolic compound. The reduction in fasting blood glucose suggests anti-diabetic efficacy and a potential as an antidiabetic agent. (33)
• Anticataractogenic / Antioxidant / Drevogenin D: Study evaluated drevogenin D for antioxidant and potential anti-cataractogenic activity in an in vitro model. On DPPH and superoxide radical scavenging assays, drevogenin D exhibited a 50 µ% inhibitory concentration of 43 µg/ml and 200.6 µg/ml, respectively. Treatment with drevogenin D showed potential anticataractogenic activity against selenite-induced cataractous changes. (18)
• Analgesic / Anti-Inflammatory / Pentacyclic Triterpenoid / Fruits: Study of taraxerone (D-friedoolean-14-en,3-one), a pentacyclic triterpenoid isolated from a petroleum ether fruit extract of Dregea volubilis, showed significant analgesic and anti-inflammatory properties in Swiss albino mice model. (19)
• Hemagglutinin / Seeds: Study isolated a novel hemagglutinating protein from the seeds of Dregea volubilis. The hemagglutinin was glycoprotein by nature with enzymatic and antiproliferative property towards CPA47 cells. (20)
• Larvicidal / Cx. quinquefasciatus / Leaves: Study evaluated the larvicidal activity of leaf powder and leaf extracts of Dregea volubilis and Bombax malabaricum against Culex quinquefasciatus. All the graded concentration (0.1% to 0.5%) of powdered leaves showed significant (p<0.05) larval mortality. Results suggest potential and ecofriendly use of both plant extracts against Cx. quinquefasciatus. (21)
• Fasciocidal / Leaves: Study of methanol extract of D. volubilis leaves showed fasciocidal activity against trematode Fasciola gigantica. Severe damages were observed in both suckers and tegumental surfaces of the treated liver flukes. (22)
• Radical Scavenging Activity / Stem Bark: Study evaluated various extracts of stem bark for phytochemical constituents and in vitro free radical scavenging activities using DPPH, O2-scavenging, OH- scavenging and H2O2 scavenging assays. The stem bark extract exhibited significant scavenging properties/ The methanolic extract showed significantly higher activity than the water extract. (see constituents above) (25)
• Antidiabetic / Antioxidant / Flowers: Study evaluated a hydroalcoholic flower extract of D. volubilis for antioxidant and antidiabetic activities in vitro. The extract was evaluated for antioxidant activity by DPPH, OH radical, superoxide radical, NO radical, and ferric reducing power assays. Results showed Dregea volubilis flowers as a potential source of natural antioxidants for use in food and pharmaceutical industries. It also showed possible applications for the control of postprandial hyperglycemia. (see study above) (26)
• Anti-Inflammatory / Analgesic / Acute Toxicity Study/ Leaves: Study evaluated dried leaf extract (methanol-water 1:1) for pharmacological activity in rats and mice. Acute toxicity study showed the extract was non-toxic up to 1 g/kg i.p. The extract at 50, 100, and 200 mg/kg i.p. showed anti-inflammatory, analgesic, and antipyretic activities in a dose-dependent manner. The extract significantly inhibited arachidonic acid-induced paw edema and significantly enhanced macrophage count in a dose-dependent manner. Study suggests saponins may be responsible for the activities. (27)
• Neuroprotective / Stress Induced Amnesia: Study evaluated the protective effect and nootropic potential of alcoholic extract of D. volubilis leaves against stress induced amnesia in rats. Results showed enhanced cognition in a dose-dependent manner. Study suggests a protective effect of Drega volubilis against stress induced amnesia and a potential in combating stress induced CNS disorders.   (28)
• Anti-Ulcer / Leaves: Study evaluated the anti-ulcer activity of Wattakaka volubilis and Tabebuia rosea methanolic leaf extracts. No mortality was observed with methanolic extracts up to maximum dose of 5 g/kg. Methanol extracts per oral doses significantly (p<0.001) reduced the ulcer score, ulcer number and ulcer index in aspirin induced and ethanol induced ulcer models in rats. (29)
• Toxicity Study: Study evaluated the acute and sub-acute toxicities of petroleum ether extract of Wattakaka volubilis in female Wistar rats using in vitro brine shrimp lethality bioassay. The PE extract on brine-shrimp assay showed no toxicity in both acute and sub-acute toxicity evaluations, with not abnormal histological changes in the animal groups treated, using various concentrations from 100-1000 µg/mL of a stock solution. (30)
• Antihyperglycemic / Neuroprotective in Diabetic Neuropathy / Roots: Study evaluated the effect of an alcohol extract of W. volubilis root in STZ-induced diabetes and diabetic neuropathy. Results showed a significant decrease in serum glucose (p<0.001) and overall decrease in severity of diabetic neuropathy. (31)
Availability
Wild-crafted.