Gen info
- Selenicereus undatus, the white-fleshed pitahaya, is a species of the genus Selenicereus (formerly Hylocereus) in the family Cactaceae. It is the most cultivated species in the genus. (17)
- Like all cacti, the genus originates in the Americas. The precise native origin of S. undatus is unresolved. It may be a hybrid. (17)
- Etymology: The species epithet undatus derives from Latin unda, meaning "wave", referring to the wavy edges of the branches' ribs. (17)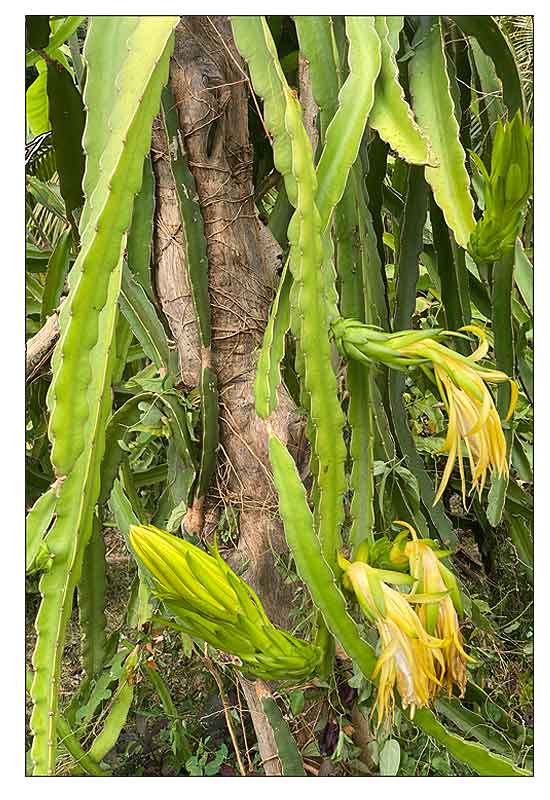 Botany
• Dragon fruit is a vining, terrestrial or epiphytic cactus with succulent three-winged, green stems, reaching up to 20 feet long. Wings are up to 50 millimeters wide with modulate margins, spine are 1 millimeter long. Plant may climb trees via aerial roots. Flowers are fragrant, white, up to 35 centimeters long, blooming at night. Fruit is round, red, pink or yellow, with prominent scales.
• Selenicereus undatus is a sprawling or vining, terrestial or epiphytic cactus. Stems are scandent (climbing habit), creeping, sprawling or clambering, and branch profusely, four to seven of them, between 5 and 10 m (16 and 33 ft) or longer, with joints from 30 to 120 cm (12 to 47 in) or longer, and 10 to 12 cm (3.9 to 4.7 in) thick; with generally three ribs; margins are corneous (horn-like) with age, and undulate. Areoles, the small area bearing spines or hairs on a cactus, are 2 mm (0.079 in) across with internodes 1 to 4 cm (0.39 to 1.57 in). Spines on the adult branches are 1 to 4 mm (0.039 to 0.157 in) long, being acicular (needle-like) to almost conical, and grayish brown to black in colour and spreading, with a deep green epidermis. The scented, nocturnal flowers are 25 to 30 cm (9.8 to 11.8 in) long, 15 to 17 cm (5.9 to 6.7 in) wide with the pericarpel 2.5 to 5 cm (0.98 to 1.97 in) long, about 2.5 cm (0.98 in) thick, bracteoles ovate, acute, to 2.5 to less than 4 cm (1.6 in) long; receptacle about 3 cm (1.2 in) thick, bracteoles are linear-lanceolate, 3 to 8 cm (1.2 to 3.1 in) long; outer tepals lanceolate-linear to linear, acuminate (tapering to a point), being 10 to 15 cm (3.9 to 5.9 in) long, 10 to 15 mm (0.39 to 0.59 in) wide and mucronate (ending in a short sharp point). Their colour is greenish-yellow or whitish, rarely rose-tinged; inner tepals are lanceolate (tapering to a point at the tip) to oblanceolate (i.e. more pointed at the base), up to 10 to 15 cm (3.9 to 5.9 in) long about 40 mm (1.6 in) wide at widest point, and mucronate, unbroken, sharp to acuminate (pointed), and white. Stamens 5 to 10 cm (2.0 to 3.9 in) long, are declinate, inserted in one continuous zone from throat to 35 mm (1.4 in) above the pericarpel and cream. The style (bearing the stigma) to 17, they are 5 to 24.5 cm (2.0 to 9.6 in) long, stout, 6 to 8 mm (0.24 to 0.31 in) thick, cream, and up to 26 stigma lobes, they can be whole or sometimes split at the top, cream, about 25 mm (0.98 in) long. Nectar chambers are 30 mm (1.2 in) long. Fruit is oblong to oval, 6 to 12 cm (2.4 to 4.7 in) long, 4 to 9 cm (1.6 to 3.5 in) thick, red with large bracteoles, with white, or more uncommonly, pink pulp and edible black seeds. (17)
Distribution
- Introduced.
- Probably from Mexico.
- Ornamental cultivation in tropical regions.
- Native to El Salvador, Guatemala, Honduras, Mexico. (9)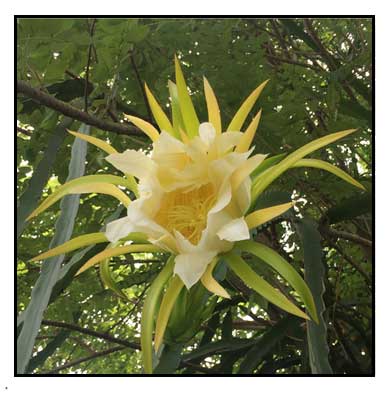 Constituents
- Flowers yielded thirteen compounds: kaempferol (1), quercetin (2), isorhamnetin (3), kaempferol 3-O-alpha-L-arabinfuranoside (4), kaempferol 3-O-beta-D glucopyranoside (5), quercetin 3-O-ß-D-glucopyranoside (6), isorhamnetin 3-O-ß-D-glucopyranoside (7), kaempferol 3-O-beta-D-galactopyranoside (8), quercetin 3-O-ß-D-galactopyranoside (9), kaempferol 3-O-ß-D-rutinoside (10), isorhamnetin 3-O-ß-D-rutinoside (11), kaempferol 3-O-alpha-L-rhamopyranosyl-(1 --> 6)-ß-D-galactopyranoside (12), and isorhamnetin 3-O-alpha-L-rhamopyranosyl-(1 --> 6)-ß-D-galactopyranoside (13). (6)
- Air-dried, powdered stems contain B-sitosterol.
- Phytochemical screening of white dragon fruit yielded triterpenoid, alkaloid, flavonoid, and saponin. (see study below) (11)
- Nutrient content per 100 g yields: Water 87 g, protein 1.1g, fat 0.4 g, carbohydrates 11.0 g, fiber 3 g, vitamin B1 (thiamine) 0.04 mg, vitamin B2 (riboflavin) 0.05 mg, vitamin B3 (niacin) 0.16 mg, vitamin C (ascorbic acid) 20.5 mg, calcium 8.5 mg, iron 1.9 mg, phosphorus 22.5 mg. (13)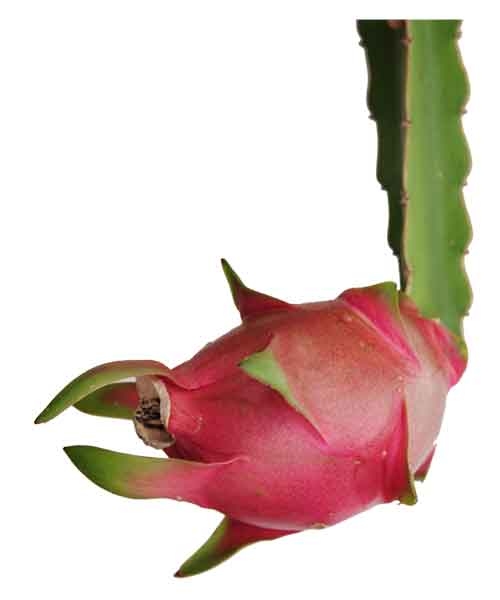 - In proximate composition, mineral content and physiochemical property analysis of dragon fruit flower showed a high potassium content. One sample showed potassium 78.02 mg/g; with small amounts of sodium, 7.26 mg/g; calcium, 19.72 mg; magnesium, 11.87 mg; mg; iron, 0.02019 mg; copper,0.0153 mg; and zinc, 0.1404 mg/g. (15)
- Methanolic extract of seeds yielded alkaloids, flavonoids, tannins and phenols, oils, coumarins, terpenoids, and carbohydrates, with absence of amino acids, steroids, anthraquinone, and saponins. Aqueous extract of seeds yielded alkaloids, flavonoids, tannins and phenols, saponins, coumarins, carbohydrates, and proteins. (26)
- GC-MS analysis of peel extracts yielded main constituents of ß-amyrin (23.39%), y-sitosterol (19.32%), octadecane (9.25%), heptacosane (5.52%), campesterol (5.27%), nonacosane (5.02%), trichloracetic acid, hexadecyl ester (5.21%). (see study below) (27)
- Ethanolic extract of fruit yielded alkaloids, tannins, phenolic compounds, flavonoids, steroids, cardiac glycosides, terpenoids, and carbohydrates. (see study below) (29)
- Proximate composition study of seeds of H. undatus (g/100g) revealed protein 23.1, oil 27.5, ash 3.1, and carbohydrate 46.3. (32)
- Ethanol and water extracts of seeds yielded total phenolic content of 38.0 and 33.0 mg GAE/100 g; flavonoid 42.2 and 30.1 mg CAE/100g; DPPH 44.5% and 27.3%, FRAP 49.0 and 34.3 mg Trolox/100 g, respectively. (32)
- Fatty acid composition of seed oil (g/100g total fatty acid) yielded linoleic acid 53.8, oleic acid 23.3, palmitic acid 13.7, stearic acid 4.7, arachidic acid 1.2, beheic acid 1.2, palmitoleic acid 0.6 and myristic acid 0.2. (32)
- Methanol and ethanol extracts of fruit yielded phenols, terpenoids, tannins, saponins, flavonoids, steroids, alkaloids, proteins and amino acids, with absence of carbohydrates. (see study below) (33)
Properties
- Rich in vitamin C, phosphorus and calcium.
- Studies have shown wound healing, antioxidant, antibacterial, antiproliferative, antidiabetic, antilipase, hepatoprotective, cytotoxic, anticancer, antiparkinson, laxative properties.

Parts used
Fruit, stems, flowers, sap.

Uses
Edibility
- Fruit is edible; refreshing, slightly sweet, with a similarity to Kiwi fruit.
- Eaten raw, as fresh fruit.
- Used in fruit salads.
- Can be processed into various products such as: juices, sherbets, jam, syrup, ice cream, yogurt, jelly, candy and pastries.
- Flower buds can be used to make soup or mixed in salads; also, eaten as vegetable.
- Tea sometimes made from the flowers.
- Fruit peel used as food coloring and as thickener. Also, fermented as wine.
Folkloric
- No known medicinal folkloric use in the Philippines.
- Elsewhere, red fruit used to prevent colon cancer, for diabetes, high cholesterol and high blood pressure.
- Sap of stems used as vermifuge, but said to be caustic and hazardous.
Others
• Coloring: Red and pink pulp can be source of food coloring agent.



Studies
• Wound Healing: In streptozotocin diabetic rats, where wound healing is delayed, topical applications of H. undatus showed wound healing effects with increases in hydroxyproline, tensile strength, total proteins, DNA collagen content and better epithelization. (1)
• Antioxidant / Decrease Aortic Stiffness / Fruit Pulp: Study evaluated the effect of an aqueous extract of the fruit pulp of H. undatus on aortic stiffness and oxidative stress in streptozotocin-induced diabetic Sprague-Dawley rats. Results showed DFE treatment it was effective in controlling oxidative damage and decreasing aortic stiffness as measured by PWV (pulse wave velocity). (3)
• Betacyanins / Food Coloring: Study indicate an immense potential for development of natural food colorants from the fruit peel of Dragon fruit, with a longer shelf life than that of beet juice. (4)
• Antioxidant / Flowers: Study evaluated the antioxidant activity and mechanisms of flower of Hylocereus undatus. The antioxidant activity seems attributable to total phenolics, mainly total flavonoids, with kaempferol as one of the main bioactive components. Antioxidant activity was effected through metal chelation and radical scavenging. (7)
• Antibacterial / Peels: Study evaluated the antibacterial activity of various extracts of Hylocereus polyrhizus (red flesh pitaya) and Hylocereus undatus (while flesh pitaya) peels against pathogens. The chloroform extracts of peels exhibited the most potent antibacterial activity with inhibition of almost all pathogens. (8)
• Antioxidant / Fruit: Study of white dragon fruit yielded triterpenoid, alkaloid, flavonoid, and saponin. The methanolic extract showed strong antioxidant activity. (11)
• Cytotoxic Activity / Cervical Cancer: Study evaluated the antiproliferative activity of H. undatus extract on cervix cancer cell line HeLa (PVH-18). Results showed the capacity of Hylocereus undatus compounds to diminish cell cell survival of cervix cancer cells in vitro and in vivo. (12)
• Fruit Yogurt: Study showed dragon fruit can be effectively used for making set fruit yogurts. High sensory properties observed were 10% dragon fruit juice, 10% sugar and 0.8% gelatin. Developed product yielded 23.58% total solids, 9.64% solid non-fat, and 3.2% fat, with a 15-day storage under refrigeration conditions. (14)
• Inhibition of Salmonella typhimurium / Fruit Extract: Study evaluated the inhibitory effect of Hylocereus undatus fruit extract against Salmonella typhimurium grown on Salmonella-Shigella agar. Findings showed inhibition of growth of Salmonella, with no inhibition of Shigella. (16)
• Attenuation of Insulin Resistance and Hepatic Steatosis / Juice: Study evaluated the influence of white pitaya juice (WPJ) on obesity-related metabolic disorders (e.g. insulin resistance and hepatic steatosis) in high-fat-diet-fed mice. Administration of WPJ improved insulin resistance, hepatic steatosis and adipose hypertrophy, with no influence on body weight gain in mice. WPJ supplementation protected from diet-induced hepatic steatosis and insulin resistance, which was associated with improved FGF21 resistance and lipid metabolism. (18)
• Mechanism of Antioxidant Activity of Flowers: The antioxidant action of the flower is due mainly to the content of total flavonoids, among which kaempferol is a principal bioactive component. It exerts its antioxidant effects through metal chelation and radical scavenging via hydrogen atom and electron donation. (19)
• Antiparkinson / Laxative / Fruit: Study evaluated the antiparkinson's and constipation activity of Hylocereus undatus fruit extract in haloperidol induced parkinson's disease and loperamide induced constipation in mice. HU extract significantly (p<0.001) decreased the duration of catalepsy bar test and significantly (p<0.001) increased fall off time in Rota rod test, Hang test, Horizontal bar test and increase the count in Actophotometer test. Laxative effect was evidenced by an increase in the number of fecal matter, fecal weight, and decrease in water content. (20)
• Antioxidant / Seeds: Study evaluated the antioxidant activities of three different extracts (ethanolic, chloroformic, and hexanic) of red flesh pitaya seed using free radical scavenging assay, linoleic acid model system, and ferric thiocyanate (FTC) method. The chloroformic extract gave highest inhibition using linoleic acid model system (98.90% at 100 µg/ml) and FTC (96.34%) method. Total phenol and ascorbic acid contents of the seed were 13.56 ± 2.04 and 0.36 ± 0,01 mg/gm, respectively, with catechin as the major flavonoid detected. (21)
• Cosmetic Application / Fruit: The invention relates to H. undatus fruit extract and its use as light activated fluorescent colorant in cosmetic compositions. When applied to the skin, the extract reduces perception of skin imperfections. The invention is based on the unexpected blue light emission of the fruit extract under sun and/or UV light, which is highly advantageous in cosmetics. (22)
• Growth Inhibition / Proapoptotic Effects / Human Breast Cancer Cell Line: Study evaluated the antioxidant potential and effect of pitaya extract (PE) on breast cancer cell lines (MCF7 and MDA-MB-435). The PE showed high antioxidant activity and high anthocyanin values. There was selective decrease of cell proliferation in MCF-7 (ER+) cell line, an increase in G0/G1 phase followed by decrease in G2/M phase. PE induced apoptosis in MCF-7 (Er+) and suppressed BRCA1, BRCA2, and Erα gene expression. Overall, results suggest pitaya may play a protective effect against breast cancer. (23)
• Facial Cream / Antioxidants / Fruit: Dragon fruit contains several types of antioxidants (betalains, hydroxycinnamates, flavonoids) which protect cells from free radicals, which are linked to chronic disease and aging. The fruit is rich in albumins and vitamin C. Study suggests regular use of prepared dragon fruit cream on the face may slow down the ageing process and may also treat acne and sunburn. (24)
• Purified Betacyanins / Amelioration of Obesity and Insulin Resistance / Peel: Study isolated betacyanins from white-fleshed pitaya peel and evaluated their ability to ameliorate obesity, insulin resistance and hepatic steatosis in high-fat-diet (HFD)-induced obese mice. The pitaya peel yielded 14 kinds of betacyanins. The betacyanins and dietary PPBNs reduced HFD-induced body weight gain and ameliorated adipose tissue hypertrophy, hypersteatosis, glucose intolerance, and insulin resistance. The protective effect of PPBNs may be associated with induced fatty acid oxidation, decrease fatty acid biosynthesis, and alleviated FGF21 resistance. (25)
• Hepatoprotective / Paracetamol Toxicity / Fruit: Study evaluated the effects of dietary supplementation with red pitaya fruit (Buah naga) in albino rats with liver damage induced by paracetamol. Consumption of Buah naga supplemented diet results in weight gain as well as changes in ALT and AST towards normalcy, along with improvement in hematological parameters and regeneration of hepatic necrotics effects. (26)
• Antioxidant / Cytotoxic / Peel: Study of Hylocerus polyrhizus and H. undatus peels showed radical scavenging activity with IC50 of 0.83 and 0.91 mg/ml, respectively. The extracts showed good cytotoxic activities against PC3, Bcap-37, and MGC-803 cells with IC50 ranging from 0.61 to 0.73 mg/mL. (see constituents above) (27)
• Reversal of Testicular Dysfunction / Fruit: Study evaluated white pitaya fruit (Hylocereus undatus) for antioxidant, anti-aging activities and as remedy for sexual function disorders and fertility in male Sprague-Dawley rats. Pitaya fruit extract effectively enhanced androgen concentration, increased spermatozoa count, sperm viability, sperm motility, and spermatid counts. Results suggest white pitaya fruit extract effectively increased the synthesis of testosterone, and can be used as an enhancer of sexual activity and fertility in male. (28)
• Antidiabetic / Fruit: Diabetic mice administered an ethanolic crude extract of fruit showed significant reduction of blood glucose levels, which was attributed to increased insulin secretion from pancreatic cell regeneration. (29)
• Hepatoprotective / CCl4-Toxicity / Fruit: Study evaluated the hepatoprotective activity of H. undatus ethanolic fruit extract in CCl4-induced toxicity in a rodent model. The extract significantly restored the pathological state of some biological markers viz., SGOT, SGPT, ALP, creatinine, total cholesterol, LDL, triglyceride levels, and restored levels of γ-GT, MDA, LDH, SOD and CAT. (30)
• Wound Healing / Antioxidant / Fruit: Study evaluated H. undatus fruit extract for antioxidant and wound healing properties in wound incision model in mice. Antibacterial activity against four pathogenic bacteria viz., E. coli, Klebsiella sp., Staphylococcus epidermis, S. aureus, and fungi C. albicans showed zones of inhibition in the range of 7-11 mm. A cream formulation showed higher wound healing activity than the extract alone. Results also showed good antioxidant activity by DPPH method. (31)
• Antidiabetic / Antilipase / Antioxidant / Fruit Juice: Study evaluated H. undatus juice extract for phytoconstituents, invitro antioxidant activity by DPPH assay, antidiabetic by α-amylase inhibition activity, and antilipase activity using Rhodamine agar plate assay. Qualitative tests revealed presence of phenols, alkaloids, terpenoids, saponin, flavonoids, steroids, tannins, carbohydrates, proteins, amino acids and carotenoids with different solvent extracts. Results showed significant dose dependent antioxidant activity, and concentration dependent antidiabetic and antilipase activities. (33)
• Effect on Glycemic Control in Prediabetes and Type 2 Diabetes / Review and Meta-Analysis: Review and metanalysis systematically evaluated the effect of dragon fruit on glycemic control in prediabetes and type 2 diabetes from 401 studies identified from literature search. In prediabetes, the fasting plasma glucose (FPG) reduction was significant with MD (mean difference) of -15.1 mg/dL (P-value=0.0006). In type 2 diabetes, meta-analysis showed no effect of dragon fruit on FPG. While the effect in T2DM was not significant, there was a trend towards greater blood glucose reduction with higher dose was observed. Larger, adequate-power, well controlled clinical trials were suggested. (34)
• Antidiabetic / Metformin / Fruit Extract: Alloxan-induced diabetic mice were treated with an ethanolic extract of S. undatus (45 and 75 mg/kbw). Results showed significant reduction of blood glucose levels. compared to control. Diabetic mice with lower levels of protein in liver and kidneys showed dramatic increase of levels close to normal when S. undatus ethanolic fruit extract was given with to standard medication metformin. (35)
Availability
- Ornamental cultivation.
- Commercial fruit crop.
- Plants, seeds, and extracts in the cybermarket.