The Tiaong Historical Notable
Claro M. Recto
• Claro M. Recto was born in Tiaong, February 8, 1890.
• Graduated from Ateneo de Manila maxima cum laude with a Bachelor of Arts degree.
• Bachelor of Laws, University of Sto Tomas, Class Valedictorian, 1913
• A politician and lawyer, jurist, poet, playwright, essayist, and one of the foremost statesmen of his generation.
• The award-winning one-act comedy, La ruta de Damasco (1913), followed by Solo entre las sombras (1917) established his reputation as a dramatist.
• Admitted to the United States Supreme Court Bar, 1924
• Founded the Partido Democrata, and in 1928, temporarily retired from politics to practice and teach law, a move he eventually found tedious and restrictive.
• Senator of the Philippines: 1931-1935, 1941-1946, 1953-1960.
• Supreme Court Associate Justice 1935-1936.
• In 1957, failed in his bid for the Philippine presidency running against then Vice President Carlos Garcia.
• Zobel Prize Winner for literature.
• A nationalist, he was one of the most vocal proponents for Philippine autonomy.
•¨The father of the Philippine Constitution and the last Filipino justice appointed by an American president.
• Known as the Great Dissenter because of his positions on foreign policies of different Philippine presidents.
• Considered the "finest mind of his generation," molding his contemporaries and succeeding generations through his speeches and writing, and in his wake, a political climate and legacy of nationalism that inspired icons of nationalism like Tañada, Diokno, Constantino, Salonga.
• Died October 2, 1960, Rome, Italy.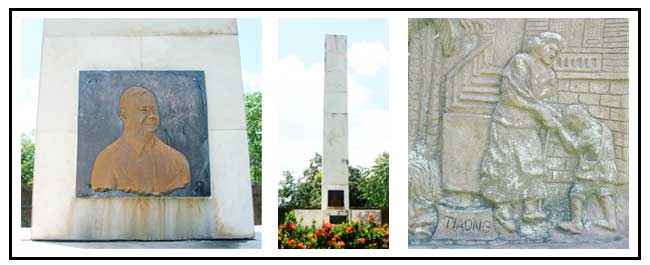 As Claro M Recto's birthplace, Tiaong, Quezon is designated a National Historical Site. But alas, even in this town, Recto is the "unknown" and "unappreciated" hero, mostly known for the park erected in his honor, graced by a monument and a mural that celebrates his life's milestones and the February "Recto Day" celebrated by the High School named after him. Sadly, Claro M Recto's legacy - his life's accomplishments, his spirit and passion, the fervent nationalism that ruled his life and inspired many in its wake - is fading and barely remembered.