In the News:
Heavy Coffee Consumption Linked With Increased Risk of All-Cause Death
Study reports drinking more than four cups of coffee per day dose more than increase jitters. Heavy coffee consumption, defined as more than 28 cups of coffee per week, is associated with an increased risk of all-cause mortality among men. (Michael O'Riordan / Aug 15, 2013)
Medscape News/Internal Medicine
In the News: FDA Investigates Monster Energy® Drink Safety
The U.S. Food and Drug Administration (FDA) is investigating claims that several deaths have been caused by Monster Energy®, an energy drink manufactured by Monster Beverage Corporation. . . Natural Standard
IIn the News: Coffee Vs The Grim Reaper: Drink Up
Study showed that adjusted for other factors (white meat intake, red meat, total calories, smoking) the more coffee you drink, the lower the risk for all cause mortality (heart disease, stroke, respiratory disease, cancer, etc.) For cancer risk, zero impact.

(Henry R. Black, MD / Medscape News / Internal Medicine)
In the News: Caffeine Intake and Decreased Risk of Basal Cell Carcinoma of the Skin
Study showed the amount of caffeine intake from all dietary sources was inversely associated with basal cell carcinoma risk. Decaffeinated coffee consumption was not associated with a similar decrease in BCC risk. Read Abstract (Cancer Res. 2012 Jul 1;72(13):3282-9.)
In the News: Can Coffee Intake Lower Mortality Risk?
For cause-specific mortality, researchers noted inverse associations for deaths resulting from heart disease, stroke, diabetes, respiratory disease, infections, injuries, and accidents. However, the same was not true of deaths from cancer. In contrast, there was no significant association between coffee consumption and deaths from cancer in women. There was a borderline positive association in men. The results provide reassurances with respect to the concern that coffee drinking might adversely affect health. N Engl J Med.2012;366:1891-1904. (From Medscape Education Clinical Briefs)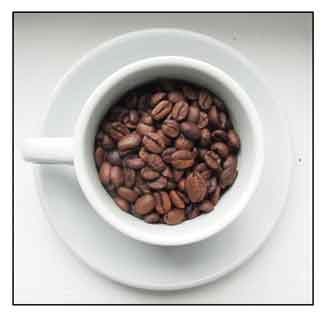 In the News: Tea and Coffee Consumption and MRSA Nasal Carriage
An estimated 2.5 million persons (1.4% of the population in the U.S.) are MRSA (methicillin-resistant Staphylococcus Aureus) nasal carriers. Consumption of hot coffee or tea was found associated with a lower likelihood of MSRA nasal carriage and potential MESA infection. The odds of MRSA nasal carriage were lower for those drinking both beverages. The mechanisms await further studies and elucidation, for coffee it is attributed the potential antibacterial properties of trigonelline, glyoxal, methylglyoxal and diacetyl; and for tea, tannic acides and catechins. Additionally, both tend to decrease iron absorption, and iron is critical to Staph aureus growth. In addition, other studies have shown benefits with the use of green tea for debridement of MSRA-infected decubitus ulcers and nebulized green tea catechin extracts in decreasing MSRA in the sputum of elderly patients with cardiovascular disease.

There was not statistical significant relationship with iced tea or soft drink consumption. The failure of iced tea to show similar benefits has been conjectured to lower levels of polyphenolic compounds compared to hot tea. Other factors considered were the volatile antimicrobial compounds in the vapors reaching the nostrils when drinking hot coffee or tea and the possible benefits of higher nostril temperature to immune response. (Tea and Coffee Consumption and MRSA Nasal Carriage
Eric M. Matheson, MD, MS; Arch G. Mainous III, PhD; Charles J. Everett, PhD; Dana E. King, MD, MS / Annals of Family Medicine. 2011;9(4):299-304. © 2011 Annals of Family Medicine, Inc. / Medscape )

In the News: Drunk and Wide Awake: Energy Drink Cocktails (Sandra Fryhofer, MD)
There is a new trend among college students and adults of mixing energy drinks with alcohol in order to drink more and drink longer. This highly caffeinated energy drinks can deliver as high as 500 mg of caffeine per serving; so-called "energy shots" as high as 100-350 mg of caffeine per oz. The consequences can be dangerous and deadly . . . The trend involves the use of high caffeine content drinks that might counteract sleepiness and drunkenness, but which does not prevent impairment, reaction time and motor skills . . . a state of "wide awake drunkenness." Medscape
In the News:
Coffee Consumption Improves Markers of Inflammation and Oxidative Stress
Another study points to the beneficial effects of coffee consumption. Researches showed drinking coffee improved markers of subclinical inflammation and oxidative stress, as well as as increase in HDL cholesterol, the "good" cholesterol in the lipid profile. Although previous studies have shown possible protective benefits against T2DM, the study found no effects on glucose metabolism. (Heartwire CME / CME Author Laurie Barclay, MD)

In the News:
High Coffee/Decaf/Tea Intake Linked to Lower Diabetes Risk
Meta-analysis results showed high intakes of coffee, decaf coffee and tea are associated with a reduced risk for type 2 diabetes. Coffee consumption was reported to be inversely related with type 2 diabetes risk – every additional cup of coffee a day was associated with a 7% decrease in excess risk for diabetes. Although the study had limitations, the implications would be significant if the benefits are observed in interventional trials. (Laurie Barclay, MD / Medscape Medical News/ Dec 14, 2009)
Coffee and Type 2 Diabetes - Drink Up?
The results? Coffee lovers, rejoice. The highest coffee consumers had the lowest diabetes risk. Those who drank three or more cups of coffee per day had a 37% lower risk for diabetes as compared to those who limited their intake to one cup per day. . . Moderate coffee consumption -- that is, up to 6 eight-ounce cups per day -- may help prevent type 2 diabetes. So drink up and enjoy. (Sandra Fryhofer / Medscape Internal Medicine. Sept 10, 2014)
In the News:
Cup of coffee a day lowers risk of high BP
A Japanese study on 4,554 men, age range of 20-70, reports that drinking a cup of coffee or two a day lowers the risk of high blood pressure. Those who drank no coffee had a higher incidence of hypertension. The benefit was attributed to chlorogenic acid, a polyphenol found in coffee, considered to have an expanding effect on blood vessels. Another Japanese study reports a cup of coffee a day halves the risk of colon cancer among women.
In the News:
No higher death risk in long-term coffee drinking
A study of long-term coffee drinking led by Esther Lopez-Garand at the Universidad Autonoma de Madrid in Spain followed 84,214 U.S. women from 1980 to 2004 and 41,736 U.S. men from 1986 to 2004. The result sent the coffee beans dancing: Regular coffee drinking – up to 6 cups daily – was no associated with increased deaths among the middle-aged participants. women drinking 2-3 cups of caffeinated coffee a day showed a 25% lower risk of death from heart disease. For men, the result was not statistically significant. There was also no association found with cancer.
Studies on coffee drinking have been for the most part favorable — great source of antioxidants, lower risk of ovarian cancer, lowering of blood pressure. However, for pregnant women, a study showed twice the miscarriage risk on two or more cups of coffee a day.
Yahoo Health
Will Dunham - Mon Jun 16, 2:13 PM PDT

In the News:
Coffee Boosts Stroke Risk, Study Finds
Another bit of news to add to the "coffee paradox." A cup of coffee can increase the risk for ischemic stroke, particularly among infrequent drinkers. A study found a 2-fold increase risk for stroke in the hour after drinking a cup of coffee. There was no increase in risk in the hour after a cup of caffeinated tea or cola. Although coffee contains other substances, "caffeine if the most likely candidate pulling the trigger." The study was published in Neurology.2010;75:1583-1588. (Medscape Internal Medicine / Nov 2010)
Decaf Coffee. . . Not!
Wonder why you're still getting that caffeine buzz even after going decaf on doctor's advice? That familiar racing of the pulse? That tremulous charge? A study of 10 decaf samples from different coffee establishments showed levels of caffeine in the range of 0-13.9 mg/16 oz serving.
Same outlet Starbucks decaf espresso and brewed coffee contained 2.0-16.8 mg/shot and 12.0-13.4 mg per 16 oz serving. respectively.
AS A POINT OF REFERENCE, AN AVERAGE CUP OF BREWED COFFEE CONTAINS 135 MG OF CAFFEINE; AN AVERAGE CUP OF TEA, 50 MGS.
Although the math might suggest it will take 10 cups or more of faux-decaf to get the equivalent caffeine in a cup of regular brew, there are patients specially sensitive to the effects of caffeine who gets buzzed and charged at much lesser caffeine concentrations.
Source: Caffeine Content of Decaffeinated Coffee: Journal of Analytical Toxicology, ISSN 0146-4760, Volume 30, Number 8, October 2006, pp.611-613
In the News


Caffeine may protect the brain against dementia


Caffeine could ward off dementia and other neurodegenerative conditions by enhancing the abilities of protective enzymes. Caffeine crosses the blood brain barrier and is a positive promoter of NMNAT2. Nicotinamide mononucleotide adenyl transferase 2 (NMNAT2 I is a key neuronal maintenance factor and provides potent neuroprotection in many preclinical models of neurological disorders. The enzyme NMNAT2 is significantly reduced in Alzheimer's, Huntington's and Parkinson's diseases. Caffeine is identified as a NMNAT2 positive-modulator. (Nutra) (

5

)`
In the News
Coffee Consumption and Health
Umbrella review of evidence across meta-analyses of observationa and interventional studies of coffee consumption and heath outcome concludes that coffee consumption is generally safe within usual levels of intake, with largest risk reduction for various health outcomes at three to four cups a day, and more likely to benefit health than harm. (

6

)