Note
The genus Pteris has about more than 650 species. A compilation lists pakong-parang with Pteris mutilata. Quisumbing's compilation lists it under Pteris ensiformis, pteris crenata. Although the botanical description shares significant similariites, the folkloric uses differ.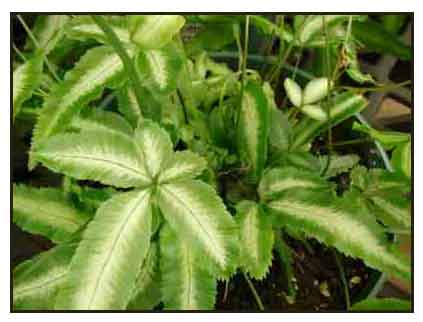 Botany
Pakong-parang has creeping rhizomes, sparingly clothed with adpressed scales. Stipe (fern "stem") of fertile fronds are 5 to 10 cm long; those of the sterile fronds longer, 10 to 30 cm long; pale, glabrous and fascicled (growing in dense tufts). Fronds are thin and glabrous, 10 to 30 cm long, with very few pinnae; sterile fronds are shortest, 5 to 15 cm broad, with the lowest or all lateral pinnae pinnate, with few sharply serrate, oblong lateral pinnules, 7 to 10 mm wide; the fertile fronds with pinnae correspondingly forked instead of pinnate, the segments longer, linear and 4 to 8 mm wide. Sori are on the lower surface of the leaflets, along the margins in a dense uninterrupted row which does not extend to the apex. Sori protected by a reflexed membranaceous projection of the margin.
Distribution
In open woods, at low and medium altitudes, throughout the Philippines.
Also reported from India to Polynesia.
Part utilized and preparation
Whole plant may be collected throughout the year.
Rinse and dry under the sun.
Properties
Sweetish-tasting.
Antipyretic, antirheumatic, antidysenteric.
Uses
Edibility
· Young fronds are eaten steamed; used as flavoring.
· In Taiwan, an ingredient in most of the traditional beverage formulas.
Folkloric
· In Pahang, juice of young fronds used as astringent for cleansing unhealthy tongues of children.
· Root juice used as application for glandular swellings of the neck.
· Decoction of fresh fronds drunk by dysenteric patients.
· Bacillary dysentery, enteritis, fever, malaria, swelling and painful throat: 30 to 60 gms dried material in decoction.
· Urinary tract infection, leucorrhea: 30 to 60 gms dried material in decoction.
· Mumps, measles, eczema: apply as poultice.
· Used to control menstruation in Bougainvelle.
· In New Guinea, fronds applied to boils, ulcers and arrow wounds; also used to control menstruation.
· A decoction of Eclipta prostrata and Pteris ensiformis used for hemorrhoidal bleeding, dysentery and enteritis.
· In Vanuatu, for dysmenorrhea, a handful of leaf fronds are rubbed over the abdominal area.

Studies
• Immunomodulatory: Study showed sword brake fern attenuates inflammatory mediator synthesis of activated macrophages partially through a NF-kB-dependent pathway.
• Phenolic Antioxidants: Study showed SBF exhibited strong antioxidant activity, attributed to the phenolic compounds, especially derivatives of caffeic acid, hispidin and kaempferol.
• Cytotoxicity / Pterosin Sesquiterpenes: (1) Study yielded 3 new compounds together with nine known compounds. Compound 1 (2R,3R-pterosin L 3-O-β-D-glucopyranoside) and pterosin B (5) showed cytotoxicity against HL 60 cells (human leukemia). (2) Study yielded a new compound, 4-caffeoyl quinic acid 5-O-methyl ether with 12 known compounds. Three compounds exhibited selective to moderate cytotoxicity.
• Anti-Atherogenesis / Antiinflammatory / Antioxidant: Study showed the hot water extract of SBF exhibited potential antiinflammatory activities in murine RAW264.7 macrophages. also, SBF and its activie component, a pterisodie, were scavengers of DPPH, hydroxyl radicals and superoxide. Results also showed LDL oxidation was suppressed by SBF and suggests further studies to define the exact role of the natural compoenents on atherogenesis.
• Antioxidant / Anti-Atherosclerosis: Study of sword brake fern aqueous extract with 2 new compounds recently isolated – 7-O-caffeoylhydroxymaltol 3-O-B-D- glucopyranoside and hispidin 4-O-B-D-glucopyronoside – showed it may prevent atherosclerosis through inhibition of both LDL oxidation and ROS production.
Availability
Wild-crafted.