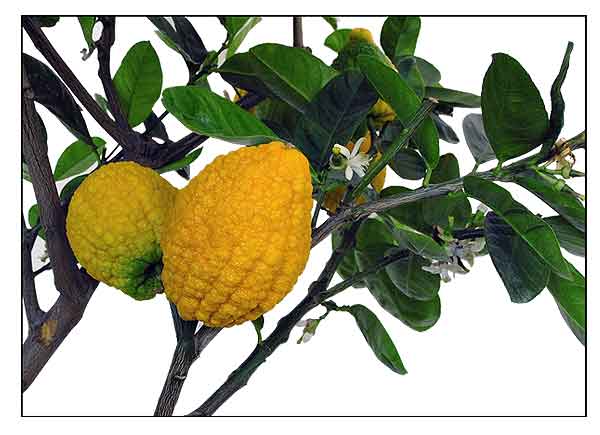 Gen info
- The citron is one of the original citrus fruits from which all other citrus types developed through natural hybrid speciation or artificial hybridization. Although cultivars take a wide variety of physical forms, they are all closely related genetically.
- Roots in antiquity: Citron has been cultivated since ancient times, predating other citrus species.
- Etymology: The fruit name Citron derives from Latin, citrus, which is the original origin of the genus name.
Botany
Citrus medica is a straggly shrub or small tree, up to 3 m tall, with light gray bark and relatively soft wood; twigs angular and purplish when young, turning terete, glabrous, with single axillary spines. Leaves elliptic-ovate to ovate-lanceolate, 5-20 cm × 3-9 cm, cuneate or rounded at base, margins serrate, apex bluntly pointed or rounded; petiole short, wingless or nearly so, not clearly articulated with the blade. Flower buds large, pinkish; flowers perfect or staminate, in axillary few-flowered racemes, 3-4 cm in diameter; petals 5, pinkish externally; stamens 30-40(-60); ovary 10-13-locular, style thick. Fruit an ovoid to oblongoid berry, 10-20 cm long, slightly to considerably rough-tuberculate; peel very thick, yellow, fragrant; segments small, filled with pale green pulp-vesicles; juice acid to mildly acid. Seeds numerous, ovoid, about 1 cm × 0.5 cm, acute, monoembryonic. (1)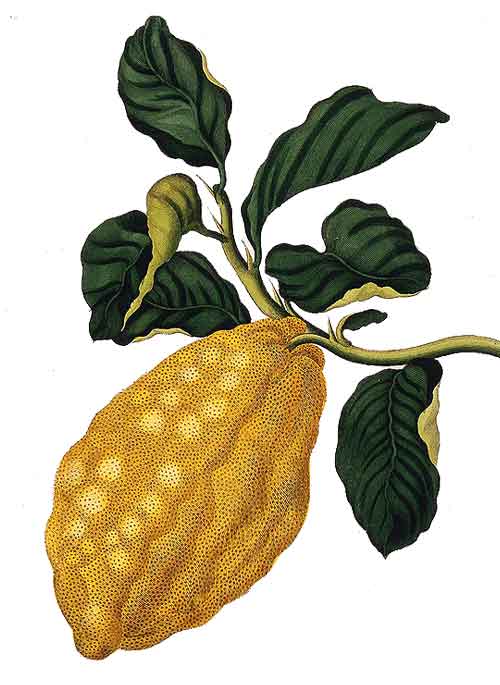 Distribution
- Introduced, cultivated.
- Native to Assam, Bangladesh, Himalaya, Myanmar, Nepal. (3)
Constituents
- Nutrient analysis of 100 g edible portion of fruits contain approximately: water 87 g, protein 0.08 g, fat 0.04 g, fiber 1.1 g, ash 0.4 g and ascorbic acid 368 mg. (2)
- Phytochemical screening of ethanol extract of fruits yielded carbohydrates, proteins, amino acids, and flavonoids. (see study below) (5)
- Major bioactive compounds present are iso-limonene, citral, limonene, phenolics, flavonones, vitamin C, pectin, linalool, decanal, and nonanal, accounting for several health benefits, with pectin and heteropolysachharides playing a major role as dietary fibers. (7)
- Study of methanolic extract of leaves yielded alkaloids, flavonoids, steroids, and glycosides. GC-MS study yielded 16 constituents: tetradecane (1), nonadecane (2), isopinocarveol (3), 1-dodecanol,3,7,11-trimethyl- (4), 2-Bromotetradecanoic acid (5), 1-Aminononadecane, N-trifluoroacetyl- (6), 1-hexadecanol, 2-methyl- (7), 2-myristynoyl pantetheine (8),ethyl iso-allocholate (9), 5β,7βH,10α-Eudesm-11-en-1α-ol (10), 9-Octadecenoic acid, (2-phenyl-1,3-dioxolan-4-yl)methyl ester, cis- (11), trans-13-Octadecenoic acid (12), Strychane, 1-acetyl-20α-hydroxy-16-methylene- (13), Propanamide, 2-(2,4-dichlorophenoxy)-N-(2,6-diethylphenyl)- (14), Dasycarpidan-1-methanol, acetate (ester) (15) and 2-Methyl-E,E-3,13-octadecadien-1-ol (16). (8)
- HPLC analysis of fruit extract yielded benzoic acid, cinnamic acid, gallic acid, quercetin, and salicylic acid. (see study below) (19)
- Phytochemical screening of ethyl acetate and 80% ethanol extract of peel and juice yielded carbohydrates, flavonoids, phenols, tannins, steroids, coumarin, amino acids (ethanol only), and cardioactive glycosides, with absence of alkaloids, saponins, terpenoids, and anthraquinones. (30)

Properties
- Studies have suggest antiulcer, analgesic, antihypertensive, COVID-19 inhibitory, antibacterial, nephroprotective, antioxidant, antiurolithiasis, anti-migraine, hemo-hepato-protective, anticholinesterase, antidiabetic, hypolipidemic, anti-implantation, estrogenic, antifertility, antimicrobial, antiproliferative, anti-osteoporosis, anticancer, anthelmintic, sedative, hypnotic properties.

Parts used
Leaves, fruits, shoots, flowers, seeds.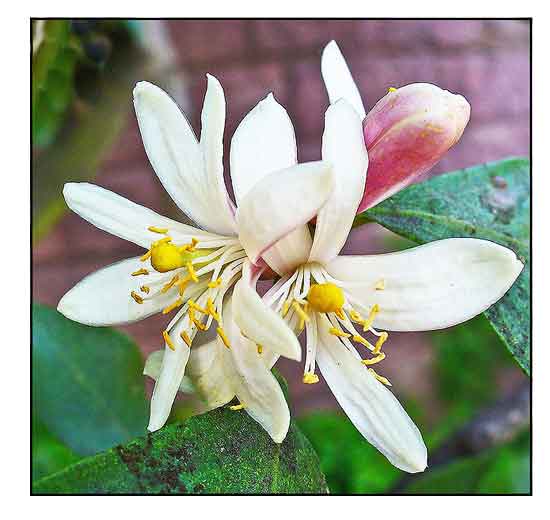 Uses
Edibility
- Most popular use of citron today is as a source of candied peel for use in confections and cakes. Used since Roman times to flavor foods. (2)
- Fruit used in making carbonated drinks, alcoholic beverages, syrup, candied peels, jams, marmalades, cordials, etc.  (7)
Folkloric
- No reported folkloric medicinal use in the Philippines.
- Fresh shoots, leaves, flowers, fruits and seed are constituents of traditional preparations for asthma, arthritis, headache, stomachaches, intestinal parasites, and psychological disturbances (insanity, possession by evil spirits). (2)
- In China, root decoction used to treat respiratory ailments and back pains. (2)
- In India, used for the treatment of urinary calculus, tumors, constipation, dental caries, and as vermifuge.
- In traditional Persian medicine, used for treatment of nausea and vomiting of pregnancy. (32)
- In southwestern Nigeria, decoction of leaves and roots used for treatment of gastric ulcer. (29)
Others
- Scent: In Roman times, fruit was used as scent and moth repellent. (2)

Studies
• Antiulcer / Fruit: Study evaluated the antiulcer activity of aqueous extract of fruits against ethanol-induced ulcer in rats. Doses of 250 and 500 mg/kg p.o. showed significant reduction in ulcer formation. Histopathological exam showed significant decrease in mucosal ulceration, inflammatory mucosal changes and submucosal edema. Antiulcer activity was attributed to flavonoids. (see constituents above) (5)
• Antihypertensive / Polyherbal Mix: Study evaluated the effects of aqueous extract from a mixture of fruits of Citrus medica, fresh leaf of Persea americana, and stems and fresh leaf of Cymbopogon citratus and honey on ethanol and sucrose induced hypertension in rats. Nifedipine was used as standard drug. Concomitant consumption of ethanol and sucrose significantly (p<0.001) increased the blood pressure and heart rate of rats, and increased TC, LDL, triglycerides, atherogenic index, glucose, proteins, hepatic enzymes and decreased HDL-C, decreased SOD, CAT, GSH, and elevated MDA levels. Administration of the aqueous extract or nifedipine prevented the hemodynamic, biochemical, oxidative, and histological impairments induced by chronic ethanol and sucrose consumption. (6)
• Analgesic / Fruit: Study evaluated the analgesic effect of fresh decoction of C. medica fruits in male albino rats using tail immersion method and hot plate test. Decoction at doses of 2 and 4 mg/kg showed significant increase in latency to flick compared to control in tail immersion method. It showed significant increase in mean basal reaction time in hot plate method. Effects were comparable to standard drug Diclofenac sodium. Activity was attributed to flavonoids and phenolic compounds in the extract. (9)
• COVID-18 Inhibition / Fruit: The nasal carriage of SARS-CoV-2 is considered a key factor transmitting COVID-19. Inteventions to reduce viral shedding from the nasopharynx can potentially mitigate the severity of illness and its contagiousness. Ayurveda has recommended a herbal formulation of Citrus medica and Zingiber officinale as a nasal rinse for the management of contagious fevers. Molecular studies evaluated if the phytocompounds of the two plants could inhibit receptor binding of SARS-CoV-2 spike protein (S protein) and ACE-2. Docking studies showed specific compounds in the plants have significant affinity in silico to spike protein of the virus and ACE-2 receptor in the host. In silico studies suggest the compounds in C. medica and Z. officinale may have good potential in reducing viral load and shedding of SARS-CoV-2 in the nasal passages. (10)
• Antibacterial / Peel and Juice: Study evaluated the antibacterial activity of ethyl acetate and ethanol 80% peel extracts and juice by agar well diffusion assay against five G(+) and two G(-) bacteria. The juice exhibited the largest inhibition zone (12mm) at 100 mg/ml, with lowest MIC and MBC (1.5625 mg/ml and 3.125 mg/ml) against Staphylococcus auricularis. Peel extract showed largest inhibition zone (10 and 22 mm) and lowest MIC (25 mg/ml and 12.5 mg/ml) and MBC against E. coli. (11)
• Antibacterial / Antioxidant: Study evaluated the in-vitro antibacterial and antioxidant activities of roots, seeds, and leaf extracts of C. medica against human pathogenic bacteria viz., G(+) S. pyogenes, B. subtilis, B. cereus, M. luteus, E. faecalis, S. aureus and G(-) E. coli, S. boydii, S. typhi, P. aeruginosa, E. aerogenes and K. pneumoniae by agar diffusion assay. Results showed antibacterial activity, with highest activity against M. luteus. Seeds and roots showed strong radical scavenging activities. Roots showed highest total phenolics (106.1 mg/GAE/g), while leaves showed highest total flavonoids (3.24 mg Q/g. (12)
• Nephroprotective / Gentamicin Toxicity / Fruits: Study evaluated the nephroprotective and antioxidant activity of ethanolic extract of C. medica against gentamicin-induced renal toxicity in Wistar albino rats. The extracts significantly protected kidney tissues against the nephrotoxic effect of gentamicin evidenced by amelioration of marker enzymes and lipid peroxidation and elevated NP-SH and TP levels, along with histopathological alterations. Nephroprotective activity was attribut3d to antioxidant and/or free radical scavenging properties of flavonoids and limonene. (13)
• Antidiabetic / Hypolipidemic / Seeds: Study evaluated the antidiabetic and hypolipidemic activity of petroleum ether extract of C. medica seeds in STZ-induced diabetic model in albino rats. Glibencladmide was used as standard drug. At doses of 200 and 400 mg/kg p.o. the PE extract of C. medica seeds induced significant reduction (p<0.05) of fasting glucose, serum cholesterol, serum triglycerides, LDL, and VLDL in a dose-dependent manner. (14)
• Antioxidant / Antidiabetic / Anticholinesterase / Peel: Study evaluated the in-vitro antioxidant, hypoglycemic, and anticholinesterase activities of citron peels. The n-hexane extract yielded monoterpenes and sesquiterpenes, the most abundant of which were two monoterpenes limonene and γ-terpinene. The extract showed significant antioxidant activity by DPPH, ß-carotene bleaching test, and bovine brain peroxidationn assay. The peel extract showed hypoglycemic activity and anticholinesterase effect relevant to treatment of diabetes and Alzheimer's disease. (15)
• Migraine Treatment / Fruit / Clinical Trial: Double-blind randomized placebo-controlled clinical trial evaluated the effect of Citron syrup(15cc), propranolol (20mg), or placebo in 90 patients with migraine headaches. Results showed citron syrup was superior to placebo in reduction of headache attacks intensity (p<0.01) and duration (p<0.0001) and as effective as propranolol in patients with migraine headaches (p>0.05). However, unlike propranolol, citron syrup did not significantly reduce the frequency of attacks. No serious side effects were observed with citron. (16)
• Antiurolithiasis / Struvite Inhibition / Fruit Juice: Struvite is one of the components of urinary stone that grows rapidly to form "staghorn-calculi". In-vitro study using single diffusion gel growth technique evaluated the effect of different concentrations of juice gently poured on set gels. From the study of growth-inhibition behavior of Struvite crystals, it was found that C. medica inhibits the growth of crystals. Results suggest potential strategy for prevention or dissolution of Struvite. (17)
• Antiurolithiasis / Ethylene-Glycol Model / Fruit Juice: Study evaluated the effect of Citrus medica in urolithiasis induced by Ethylene Glycol in male Wistar albino rats. Cystone was used as standard drug. Degree of oxidative stress decreased with cystone and treatment. The antiurolithiatic activity was attributed to diuretic and antioxidant activity and its ability to increase inhibitors and decrease promoters levels. (18)
• Hemo- and Hepatoprotective / Carbofuran Toxicity / Fruits: Study evaluated the protective role of C. medica fruit against carbofuran (CF)-toxicity in experimental rats. The CMF extract showed considerable total phenol, flavonoid, antioxidant capability, and significant free radical scavenging and reducing potential. CF toxicity significantly altered hematological and serum biochemical parameters with hepatocytes disruption and caused an upsurge in MDA levels and decline in hepatocellular antioxidant enzymes. Co-administration of the CMF extract ameliorated the anomalies and improved the histo-architectural arrangement of hepatocytes, inhibited alternations of endogenous antioxidant enzymes and MDL levels, and returned them to normal state. The protective effect was attributed to the polyphenolic contents of the extract. (See constituents above) (19)
• Estrogenic / Anti-Implantation / Antifertility Effects / Seeds: Study evaluated petroleum ether extract and chromatographic fractions of C. medica seeds for anti-implantation, pregnancy interruption and estrogenic activities in albino rats. Fraction II at doses of 50 and 100 mg/kbw significantly reduced mean number of implants and 71.65 and 80.17 % inhibition of implantation, respectively. At 100 mg/kbw there was significant increase in wet uterine weight, myometrial and endometrial thickness and epithelial cell height. There was vaginal cornification and premature opening of the vagina similar to ethinyl estradiol. Histological changes of uterus and adrenals support the anti-implantation and estrogenic study. Results suggest significant antifertility activity of C. medica seeds. (20)
• Antimicrobial / Antiproliferative / Essential Oil / Peels: Study of essential oil of C. medica peels. SPME GC/MS or GC-MS identified the main constituents as limonene (≈88 and 64%, respectively). Both EO and limonene were effective against S. aureus, S. epidermis, E. coli, L. monocytogenes, S. enteritidis, S. typhimurium P. fragi, S. cerevisae, and A. niger, with MIC and MBC of oil in the range of845-2008 and 4184-8368 mg/l, respectively. The EO showed significant antiproliferative activity against human cancer cell lines (HepG2, Caco2, MCF-7, and THP-1), most effective against Caco2. The oil also showed cancer-specific activity against skin melanoma A375 cells and inhibited LPS-induced nitric oxide production in RAW 264.7 cells. (21)
• Antiovulatory / Seeds: Previous studies showed anti-implantation, estrogenic. antiovulatory, abortifacient activities of seeds in rats and mice. This study evaluated the antiovulatory activity of chromatographic fractions of crude PE extract of seeds to elucidate its active ingredient. Fraction II reduced the number of healthy follicles and corpora lutea but increased the number of regressing follicles. Prolonged proestrus and estrus phase was attributed to direct estrogen effect. Results suggest the chromatographic fraction II has potential use as contraceptive in females. (see study 20) (22)
• Anti-Osteoporosis / Nanoparticles / Leaves: Study evaluated the efficiency of C. medica leaves extract nanoparticles (CM-NPs) against osteoporosis prompted by Rosiglitazone (R) in Swiss albino rats. A significant decline in total BMD (bone mineral density) was found in DM+R treated rats, along with significantly low gene expression of OC, COL genes and higher ACP5 mRNA. Expression values due to R treatment were amended by CM-NPs administration. DM-rats treated with R also showed significantly high MnPCEs and 8-ODdG/2-dG ratio, which were inhibited by CM-NPs. Results suggest the combination of R and CM-NPOs reduced the risk of osteoporosis in the animal model. (23)
• Anti-Inflammatory / Acute Colitis / Pulp and Peel: Study evaluated the anti-inflammatory effect of extracts of pulp and peel on a rat model of acute colitis. Total flavonoid contents for peel and pulp extracts were 6,25 and 37.5 mg/g equivalent to quercetin, respectively. Rats received three doses (150, 300, and 600 mg/kg) of peel and pulp hydroalcoholic extract for 5 days. Both citron extracts demonstrated great anti-inflammatory and antioxidant effects by decreasing MDA and MPO levels comparable to reference drugs (dexamethasone and sulfasalazine). The citron extracts significantly reduced colon weight, ulcer index, score, and area, along with decreased pathologic parameters of inflammation, cryptal damage, and leucocyte infiltration. (24)
• Gold Nanoparticles / Inhibition of Hepatocellular Carcinoma / Leaves: Study reports on the synthesis of AuNPs using leaf extract of C. medica. The synthesized AuNPs showed selective inhibition on the proliferation of HepG2 (human liver cancer cell line) via generation of ROS and MDA, reduction of GSH and SOD activity, and overexpression of Bax/Bcl-2 and Caspase-3 mRNA. The NPs also regulated the Wnt signaling pathway through upregulation of phosphorylated GSK-3ß and downregulation of ß-catenin and Cyclin-D1 protein level. (25)
• Copper Nanoparticles / Antibacterial: Study reports on the biosynthesis of copper nanoparticles (CuNPs) using lemon extract as reducing and stabilizing agent. By agar well diffusion, the CuNPs showed potential antibacterial activity against G(-) bacteria compared to G(+) bacteria. (26)
• Anthelmintic / Roots and Seeds: Study evaluated the ethanolic extract of roots and fractions and petroleum ether extract of seeds for anthelmintic activity against Pheretima posthuma using measures of paralytic and death time in an invitro assay. All tested extracts showed considerable anthelmintic activities, and the root extract was more active than the seed extract. (27)
• Antibacterial / Antibiofilm Activity / Pseudomonas aeruginosa / Fruit Juice Based Carbon Dots: Study reports on the synthesis of carbon quantum dots (CDQs) from Citrus medica as a natural carbon precursor, and evaluated the inhibitory activity against Pseudomonas aeruginosa. The CDQs inhibited the growth of bacteria at lowest concentration level of 1.25% (v/v). It also moderately inhibited biofilm formation at concentration level of 0.07% (v/v) for both clinical and control strains of P. aeruginosa. (28)
• Sedative / Hypnotic / Leaves: Bijapura (Citrus medica) leaves powder with honey is mentioned in ancient text to induce sleep in patients with insomnia. Study evaluated the sedative and hypnotic effects of leaves powder along with honey as anupana (adjuvant) in albino rats The leaves powder along with honey significantly (p<0.01 and p<0.05) reduced numbers of square crossed and locomotor activity in the Open Field test, and significantly potentiated pentobarbitone-induced sleep duration. Results suggest C. medica leaves powder has sedative and hypnotic activity without affecting muscle tone/coordination in animals, and supports its traditional use for insomnia. (31)

Availability
- Wild-crafted.
- Cultivated .
- Supplements, extracts, capsules in the cybermarket.