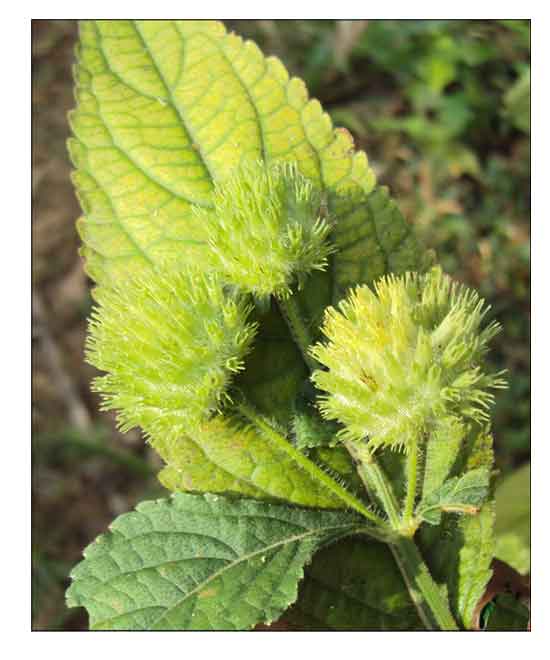 Gen info
- Hyptis is a genus of flowering plants in the family Lamiaceae, commonly known as bushmints. There are about 150 species with about 20 species listed as weeds.
- Hyptis capitata is a species of erect annual shrub of the plant family Lamiaceae.
Botany
Botonesan is a stout, erect, nonaromatic, hairy, annual herb, about 0.5 to 1.5 meters high, with green or purplish 4-angled stems. Leaves are lanceolate, 8 to 14 centimeters long, with toothed margins. Flowers are numerous, crowded in long-peduncles, growing up to 10 centimeters in length and the heads 1 to 2 centimeters in diameter with basal involucres of hairy bracts. Calyx is green, 4 millimeters long, accrescent, 8 millimeters long in fruit. Corolla is white, 6 millimeters long.
Distribution
- Introduced from Mexico.
- From northern Luzon (Cagayan) to Mindanao, In all or most islands and provinces, as a weed in settled areas, occurring in open, waste places, fallow rice paddies, etc.
- Native range of the species is Florida, Mexico, to Tropical America. It is an annual or perennial, growing primarily in the wet tropical biome. (9)
Constituents
• Contains alkaloids, camphor, cyanogenic glycosides and alkaloids.
• Study isolated two new compounds: a lignan and a pyrone; with no alkaloids.
• Yields ursolic acid (3β-hydroxyurs-12-en-28-oic) (UA) (4), a pentacyclic triterpene. (8)
• Alcoholic extract of air-dried leaves yielded a flavonol glucoside. On Hydrolysis, it yielded kaempferol, glucose, and rhamnose. (10)
• Study of flowers for essential oil yielded 46 compounds representing 66.0% of the oil of which non-terpenoid compounds constituted the major fraction (41.0%). Major compounds were oct-1-en-3-ol (23.3%) and linalool (13.8%). An earlier study on aerial parts showed monoterpenes, borneol (16.7%) and piperitone oxide (14.8%) as major constituents. One of the identified compound was hydroquinone (3.8%), a topoisomerase II poison, because of which the essential oil of flowers of H. capitata can't be recommended for perfumery. (13)
- Study of alcoholic extract of dried leaves yielded a flavonol glycosides. Further study by methylration and hydrolysis yielded an aglycone, which was assumed to be 5, 7, 4′-trimethyl-kaempferol and the original glycoside, kaempferol-3-rhamnoglucoside. (14)
- Study for essential oil yielded 48 constituents, 44 (94.67%) from inflorescence and 19 (97.09%) from leaf oil. Inflorescence oil yielded major constituents of δ-cadinene (14.68) and linalool (6.99%), while leaf oil yielded 1-octen-3-ol (34.08%),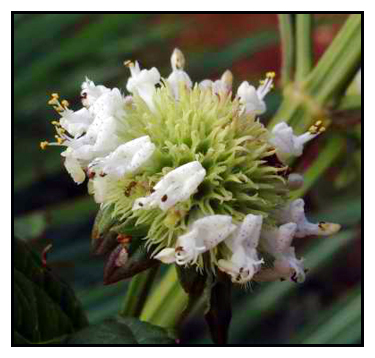 methyl linoleate (17.2%), and germacrene D (11.6%). (see study below) (16)
- GC-MS analyses of root chloroform extract and fraction F2 yielded ferruginol, campesterol, and stigmasterol. (see study below) (17)
- Proximate composition of leaves yielded pH 6, moisture 81%, total ash 15.5%, crude protein 18.38% crude fiber 12%, total carbohydrates 64.63%, total lipids 0.125 mg/g. Vitamin content yielded 19.92 mg/g vitamin C, 0.158 mg/g ß-carotene (vitamin A), 0.519 mg/g tocopherol (vitamin E). Antinutrients yielded saponin 0.32 mg/g, oxalate 0.23 mg/g, phytic acid 0.155 mg/g, and tannin 0.05 mg/g. Amino acid profile yielded aspartic acid, cysteine, glycine, isoleucine, phenylalanine, proline, serine, tyrosine. Mineral composition of macroelements in descending order was C > K 43.4 mg/g) > N > P > Ca > Mg > S, and microelements were Fe (1080 µg/g) > Mn > Zn > Cu. (20)

Properties
- Tonic, stimulant, carminative, vulnerary.
- Studies have suggested cytotoxic, antioxidant, antinociceptive, antibacterial, mosquito larvicidal, cytotoxicity, anticancer, hepatoprotective, catalytic, antiacne properties.

Parts utilized
Leaves, roots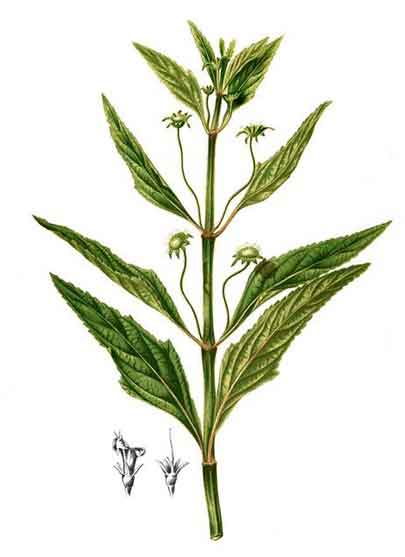 Uses
Edibility
- No reports on edibility or culinary use. Study of leaves showed appreciable amounts of nutrients, vitamins, minerals, and lesser amounts of antinutrients. Leaves reported as unpalatable to livestock. (see constituents above) (20)
Folkloric
- In the Philippines, decoction of leaves used to clean wounds.
- Crushed leaves applied to cuts.
- Decoction of roots used for amenorrhea.
- Used by the Maranaos for dry cough and toothaches; gas pains in infants and convulsions in children.
- The Agusan Manobo of Agusan del Sur apply crushed leaves on wounds and cuts. (21)
- In Leyte, root decoction taken for fever and cystitis. Leaf decoction taken for blood in the stools. Also used for abdominal discomfort, stomachache, dyspepsia, diarrhea, and spasms. (22)
- In Malaysia, used for stomach ache; the young leaves are pounded into a paste and applied to the affected areas.
- In Martinique, used as tonic and excitant.
- In Antilles, used as a stimulant.
- In Costa Rica, plant decoction held in mouth to alleviate toothaches. Also drunk for gastrointestinal distress. In Jamaica, plant decoction used as cold remedy. In El Salvador, plant used as tonic and stimulant. (7)
- In Bangladesh, leaf juice is taken orally for malaria. Root and leaf paste is applied to cuts and abrasions to prevent infection.
- In the French Guianas, whole plant decoction used as cough medicine. Infusion of macerated stem and leaf used as refreshing drink to calm an upset stomach. Infusion of crushed leaves used for persistent colds. (15)
Others
- Forage: Leaves reportedly unpalatable to livestock.

Studies
• Cytotoxicity / Huan Colon HCT-8 Tumor Cell Line: Bioassay-directed fractionation of methanolic extract of H. capitata isolated five triterpene acids including new hyptatic acids -A and -B. Hyptatic acid-A and 2α-hydroxyursolic acid demonstrated in vitro cytotoxicity in human colon HCT-8 tumor cells. (2)
• Oleanolic Acid / Pomolic Acid / Anti-HIV Activity: Oleanolic acid was identified as anti-HIV principle from several plants, including Hyptis capitata. Study also isolated pomolic acid from H capitata, also identified as an anti-HIV agent. (4)
• Antinociceptive / Antioxidant: An ethanolic extract of H. capitata showed antinociceptive activity with significant reduction of acetic acid induced writhing in mice and mild to moderate antioxidant activity in DPPH free radical scavenging assay. (11)
• Antibacterial Activity / MRSA / Leaf Ointment: Study evaluated the antibacterial activity of a leaf extract in ointment formulation against Methicillin Resistant Staphylococcus aureus (MRSA) infection in albino rabbits. Results showed the leaf extract was not toxic and non-mutagenic and showed promising zone of inhibition on MRSA ATCC 43300, with similar potency as Vancomycin. (12)
• Essential Oil / Hydroquinone / Flowers: Study of flowers for essential oil yielded 46 compounds representing 66.0% of the oil of which non-terpenoid compounds constituted the major fraction (41.0%). Major compounds were oct-1-en-3-ol (23.3%) and linalool (13.8%). One of the identified compound was hydroquinone (3.8%), a topoisomerase II poison, because of which the essential oil of flowers of H. capitata cannot be recommended for perfumery. (see constituents above) (13)
• Mosquito Larvicidal / Antioxidant / Essential Oil: Study evaluated the antioxidant and mosquito larvicidal effects of essential oil of H. capitata against 4th instar larvae of malarial vector Anopheles stephensi. Antioxidant activity by DPPH assay showed EC50 of 22.76 µg/mL for leaf oil and 26.18 µg/mL for inflorescence oil, corresponding to 17.57 µg/mL of ascorbic acid. Both oils exhibited larvicidal effect and lethal concentrations (LC50) of 39.08 µg/mL and 33.19 µg/mL for inflorescence and leaf oil respectively. Results showed EO from leaves and inflorescences are effective antioxidants and can act as inexpensive mosquito larvicidal agents. (see constituents above) (16)
• Cytotoxicity / Anticancer / T47D Cells / Roots: Study evaluated the anticancer potential of roots, stems, leaves, and flowers of H. capitata. Crude extracts were tested for cytotoxicity on T47D and WiDr cells with the MTT method. The root chloroform extract exhibited highest cytotoxic activity against T47D cells (34.90 µg/mL) and WiDr (44.65 µg/dL). Root fraction Fe showed antimetastatic and apoptotic potential against T47D cells. (see constituents above) (17)
• Hepatoprotective Against Oxidative Stress / Leaves: Study evaluated the invitro hepatoprotective activity of methanolic leaf extra t of H. capitata against H2O2 induced oxidative stress in HepG2 cell lines. Extract exhibited considerable free radical scavenging activity (p<0.01). Hepatoprotective activity by MTT assay showed concentration dependent cell viability with maximum protection (63.97%) in H2O2 induced HepG2 cell lines at 100 µg/mL. (18)
• Antiacne / Roots: Study evaluated the antiacne activity of methanolic extract of root against Propionibacterium acnes using agar diffusion method at concentration of 200 µg/ml with chloramphenicol as positive control. Fractions AH1 and AH2 showed strongest inhibition at 85% and 82% inhibition respectively, Results suggest the active fractions have potential to be developed as a natural antiacne treatment. (19)
• Silver Nanoparticles / Catalytic Application: Study reports on a green protocol for synthesis of silver nanoparticles using leaf, fruit, and stem extracts of H. capitata as reducing agents. The catalytic effectiveness of the AgNPs in removing organic dyes from aqueous systems is demonstrated. (23)

Availability
- Wild-crafted.
- Seeds in the cybermarket.