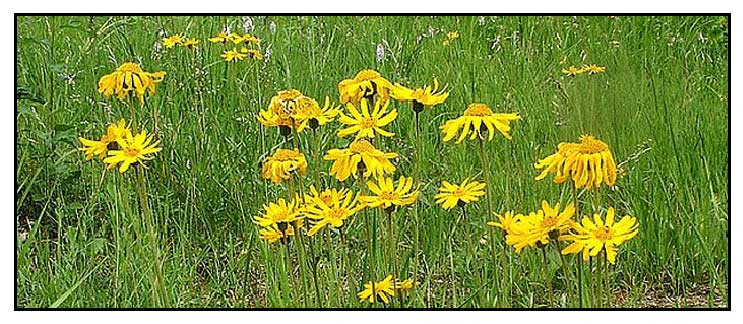 Botany
Arnica is a perennial plant growing to a height of 20 to 60 centimeters. Stems are round, slightly hairy, 20 to 60 centimeters, usually supporting a single flower head. Leaves are bright green, oblong-ovate, short-petioled, most in a basal rosette. The upper ones are smaler and sessile, toothed and slightly hairy, while the lower leaves have rounded tips. Flower heads are 8 to 9, large and daisy-like, yellow-orange, about 5 centimeters in diameter. Fruit is brownish, with a single row of white barbed hair.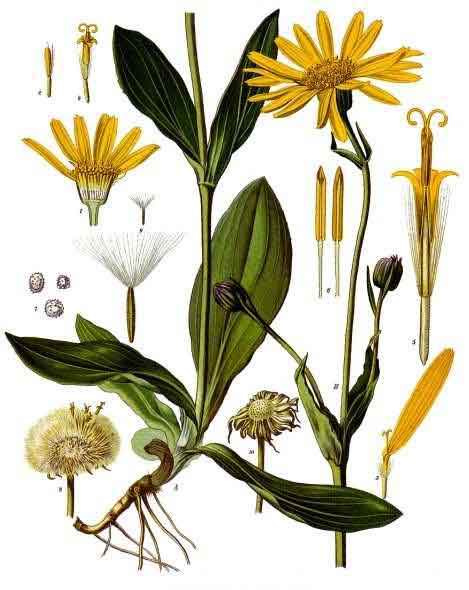 Distribution
- Introduced.
- May be abundant in higher elevations.
Constituents
- Yields traces of non-toxic alkaloids tussilagine and isotussilagine.
- Also yields arnicin (more in the flowers than the rhizomes), a volatile oil (0.3 - 1.0%), thymol (an essential oil), fatty acids, caffeic acid, phytosterols, flavonoids, inulin, carotenoids, resin, tannins, phulin.
- Arnica oil is 50% fatty acids (linolenic, palmitic, linoleic, myristic, etc.) and 50% mixture of thymol, thymol esters, thymohydroquinone dimethyl ether, and phlorol isobutyrate.
- Yields amines (betaine, choline and trimethylamine), carbohydrates (mucilage, polysaccharides including inulin), coumarins (scopoletin and umbelliferone), flavonoids (betuletol, eupafolin, flavonol glucoronides, hispidulin, isorhamnetin, kaempferol, laciniatin, luteolin, patuletin, quercetin, spinacetin, tricin) and terpenoids (sesquiterpene lactones of the pseudoguaianolide-type).
Properties
- Bark is bitter and acrid, the smell similar to apples.
- Considered antispasmodic, carminative, diuretic, emolient, expectorant, parasiticide, vulnerary.
- Considered estrogenic, galactagogue, emmenagogue.

Parts used
Flowers, roots.

Uses
Folkloric
- Tinctures or salves used to promote healing of wounds and bruises.
- Used to soothe muscle aches and reduce inflammation.
- Infusion of flowers used to relive stomach and abdominal pains.
- In homeopathy, commonly used as a tincture, or as a base for compresses and poultices.
Others
- Veterinary: In veterinary phytotherapy, used topically for the treatment of tendon, joint and udder inflammations. Also, for cleaning and treatment of skin and mucous membrane wound, eczema and skin inflammations.
- Tobacco: Dried leaves once used as substitute for tobacco. Swiss mountain guides chewed arnica leaves to prevent fatigue. (17)
- Homeopathy: Whole plant used for homeopathic remedy. (17)


Studies
• Topical Analgesic / Osteoarthritis: A study was done comparing the effects of ibuprofen and arnica gel preparation for symptom relief in osteoarthritis. With the primary endpoints of pain intensity and hand function, results showed the arnica preparation was not inferior to ibuprofen in treating osteoarthritis of the hands. (5)
• Anti-Inflammatory Study: A animal preclinical study was done to evaluate the anti-inflammatory effect of AM 6cF in acute and chronic infllamation models. In the acute model, no inflammatory inhibition was note with Arnica treatment prior to carrageenin. In the chronic Nystatin-induced edema model, there was reduced inflammation 6 hr after the application of the inflammatory agent. In a histamine-induced model, pretreatment blocked the action of histamine in increasing vascualr permeability. (11)
• Inflammatory Process Modulation / Role of Individual Variation: Study concludes proposing two hypotheses: (1) there is no selective modulation of leucocyte subsets by AM 6cH treatment and (2) there is clear interference of individual kinetic variation in vascular events after treatment with AM 6cH. (15)
• Postpartum Bleeding: In a randomized, double-blind, placebo-controlled study, treatment with homeopathic Arnica montana and Bellis perennis may reduce postpartum blood loss, as compared to placebo. (12)
• Wound Healing: Study concludes that after foot operations, Arnica D4 can be used instead of diclofenac to reduce wound irritation. (13)
• Effects on Post-Laser Treatment Bruises / No Statistical Difference: A randomized, double-blind, placebo controlled study of 19 patients to evaluate topical arnica's effect on post-treatment bruising after laser treatment for facial telangiectasia. Results showed no significant difference between topical arnica and vehicle in the prevention or resolution of bruising. (6)
• Homeopathic arnica "No better than placebo": A study looked at 3 groups of patients for carpal tunnel surgery receiving high-potency homeopathic arnica tablets, low potency tablets, and placebo. Results showed "no significant difference" in pain, bruising or swelling between the patient groups. (7)
• Multicenter Trial / Osteoarthritis / Safety and Efficacy: An open multicenter trial investigated the safety and efficacy of A. montana fresh plant gel applied twice daily to 79 patients with mild to moderate osteoarthritis of the knee. Results conclude topical application of the AM gel for 6 weeks was a safe, well-tolerated, and effective treatment of mild to moderate OA of the knee. (8)
• Postoperative Blepharopasty Ecchymosis: A DB, placebo-controlled, prospective study showed no statistically significant differences among Arnica prescribed or placebo in reducing post-blepharoplasty ecchymosis. (14)
• Post-Surgical Pain and Inflammation: Study evaluated the used of A. montana as homeopathic remedy for the treatment of inflammatory conditions in pain management and postoperative settings. Results showed Arnica montana is more effective than placebo when used for the treatment of several conditions including post-traumatic and postoperative pain, edema, and ecchymosis. However, dosages and preparations used produced substantial differences in clinical outcomes. Evidence suggests AM may represent a valid alternative to NSAIDs, at least when treating some conditions. (19)
Toxicity concerns
- Helenalin: Contains toxin helenalin, poisonous when ingested in large amounts, producing gastroenteritis and GI bleeding, vomiting, shortness of breath, palpitations. and coma in children.
- May also cause contact dermatitis, especially in those sensitized by sesquiterpenes of the helanalin type.
- The German Commission E has approved arnica only for use on the skin for treating superficial injuries, effects of accidents, insect bites. It is considered unsafe for internal use.
- Most studies and available scientific evidence do not support most of the claims about Arnica's effectiveness.
- Advice made not to apply to broken skin, broken skin, and wounds; also to avoid on mucous membranes. Do not use with a history of allergy to sunflowers, marigold, ragweed, and other members of the Asteracea family. Raw or pure arnica herb is considered unsafe by the FDA. (18)
Herb-Drug Interactions / Caution
• Antihypertensives: Arnica may reduce hypotensive effects.
• Anticoagualants / Antiplatelets: Arnica may potentiate the anticoagulant effect of coumarin constituents. This effect has not been documented in humans. (Also see: Herb-Drug Interactions)
• Pregnancy: Avoid during pregnancy because of possible uterine stimulant action.
Availability
Wild-crafted.
Oil, tinctures, gels, creams and ointments in the cybermarket.